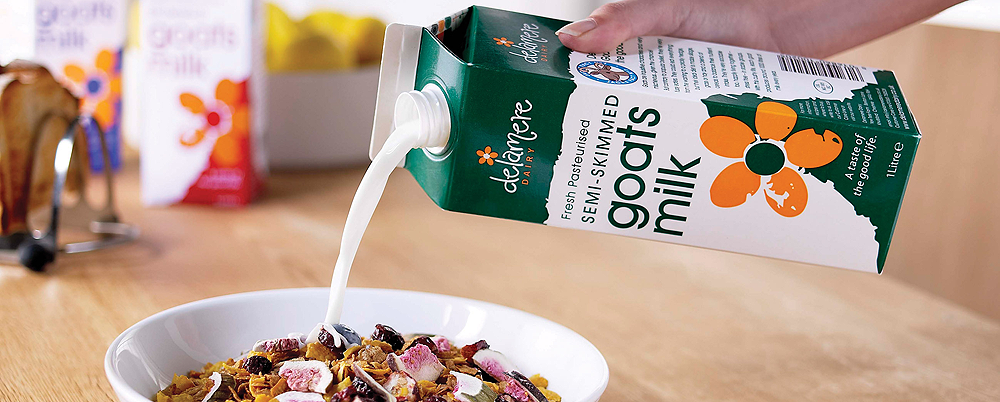 Liquid gold
With a food industry heritage that dates back more than 100 years, Framptons is a leading manufacturer of egg products, experts in liquid food and beverage processing, and has over a decade of experience in contract packing
Today, Somerset-based family business Framptons, is a multi-award winning entity and the largest gable top extended shelf life (ESL) liquid egg manufacturer in the UK, yet its history can be
traced back to 1898, when one George Frampton founded an egg production and packing facility in the uniquely named village of Street. The modern-day iteration of the company began to take shape in the 1960s, when George's son Norman acquired its current factory in Shepton Mallet.
Fast forward more than 40 years, and Framptons is known for being an expert in liquid food, beverage processing and egg blends for the manufacturing, bakery and foodservice industries, and ready-cooked omelettes and scrambled egg for the catering, leisure, hospitality and foodservice sectors. From its aforementioned factory, the company packs more than 1.5 million litres of beverages every week in a range of packaging, including chilled and ambient cartons, bottles, bag-in-box and stick packs. Its state-of-the-art filling lines enable it to offer outstanding service to its customers who benefit massively from Framptons' expertise in packing goods such as milks, smoothies, milkshakes, ice cream mixes, dairy alternatives, fruit juice and iced coffee.
From a product perspective, Framptons' own range of ESL liquid egg goods include whole egg, egg whites, egg yolks and scrambled egg mix, while it can also create bespoke mixes for quiches and bakery products. The company produces cooked and uncooked scrambled egg, sushi egg sheets and omelettes for major fast food and hotel groups throughout the UK.
Consistent quality
The company's one kilogram gable top carton of liquid scrambled egg has become one of its flagship creations. Able to sit conveniently within a fridge, it is an easily pourable product – through a re-sealable cap – which produces a first class, tasty and consistent scrambled egg. As an easy-to-use, cost and space saving option for mass scrambled egg production, it is little wonder that it has become a favourite addition to the kitchens of busy hotels and other food outlets.
The company is similarly proud to be the largest supplier of ready cooked omelettes in the country, both plain or with filling, for fast food outlets. For one particularly well known 'quick service' bakery chain, it was tasked with creating an omelette that could be cooked quickly, kept warm for the consumer to buy, and retain its flavour, texture and mouth feel. Framptons' omelettes are frozen, making them easy to manage through the supply chain and blessed with consistent quality, while the unique recipe used to make them means that they are an ideal choice for a low-fat, high protein menu that favours high nutritional content. Framptons is also one of the UK's leading suppliers of omelettes into ready meals.
Another arena in which Framptons has carved out a particularly strong reputation for itself is in new product development (NPD), where over the years it has helped many of its customers to create innovative offerings that are now commonplace in UK major multiples. In fact, the company's many years of experience has meant that it has created hundreds of unique blends based on individual concepts and business needs, with end product ranging from iced coffee, fruit juices and milkshakes to protein drinks.
In recent times, among the biggest trends that the company has encountered have been the rise in popularity of functional drinks – typically intended to convey health benefits – and plant-based milk alternatives. A case study example of the latter arose when one of its major clients approached it to assist in the development of a new coffee drink that would fill a gap in the market for a UHT dairy-free beverage in an 'on the move' pack format.
Having discussed the potential interest with some of its retail customers, during which it was greeted with a very enthusiastic response, the client in question tasked Framptons with devising the best recipe and strategy for creating such a product. The company initially explored all plant-based options potentially open to them, before deciding to base the product on oats. This would give the drink a good neutral base that would not affect the coffee flavour, as well as providing associated health connotations that consumers could relate to.
After several rounds of sample adjusting and tasting, with final recipe tweaks taking place within Framptons' NPD kitchen, the first batch of this new dairy free coffee beverage was made, complete with printed packaging. The result for the client was a product that was moved quickly to market, has displayed considerable growth potential to date, and has since extended from being packaged just in a 330 millilitre grab-and-go pack, to now include a one litre take home version.
Meeting challenges
Having already earned its stripes as a proven developer of exciting new products, Framptons was boosted further still in September 2018, when it announced that it had secured funding from finance provider Leumi ABL. The fund will enable the company to invest further into future new trends which will include plant-based milk drinks, functional food products, vegan omelettes and nut milks.
This exciting new range of products for retail, bakery and foodservice customers means Framptons can continue to meet new challenges set by its customers head on and with the same 'can do' attitude that has served it so well for close to five decades.