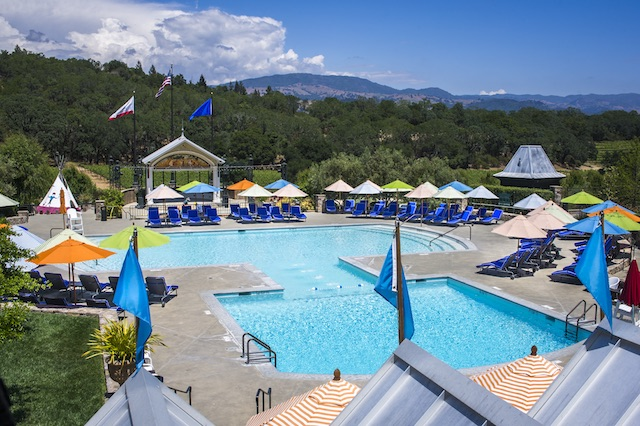 Francis Ford Coppola Winery
Francis Ford Coppola Winery is unlike any other in California's wine country, breaking down traditional wine barriers through continuous innovation.
Nestled in northern California's Sonoma County, Francis Ford Coppola Winery provides a guest experience unlike any other in the wine region. The Academy Award-winning director drew inspiration from the Tivoli Gardens in Copenhagen after purchasing the former Chateau Souverain winery in 2006 to create a one-of-a-kind place where families would wanted to stay the entire day.
"I've always been influenced by the idea of Tivoli Gardens, which was the inspiration for ultimately all modern amusement parks," Coppola says. "I remember the beautiful theater pavilions with the curtains painted with peacock feathers that had little ballet performances. At Tivoli, there were rides, but more important than the rides were the cafés and the refreshments, and just the sense of being in a children's garden, a 'pleasure garden' for all people to enjoy, which perhaps is the best phrase to describe what we're creating here. This vision was replicated at places on Coney Island like Luna Park and George C. Tilyou's Steeplechase Park, or Palisades Park. These were basically wonderlands, and I thought Francis Ford Coppola Winery could become such a park for the family to go and enjoy, where there are things for kids to do, so they can be close to their parents who are sampling wines and foods."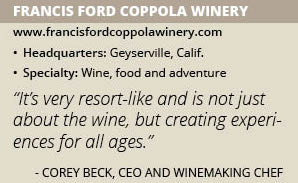 Francis Ford Coppola Winery is also an experiential facility. "I've often felt that modern life tends to separate all the ages too much," Coppola says. "In the old days, the children lived with the parents and the grandparents, and the family unit each gave one another something very valuable. So, when we began to develop the idea for this winery, we thought it should be like a resort, basically a wine wonderland, a park of pleasure where people of all ages can enjoy the best things in life – food, wine, music, dancing, games, swimming and performances of all types. A place to celebrate the love of life."
The Geyserville, Calif.-based winery hosts 150,000 tourists annually with a large portion of visitors between April and mid-October when the swimming pool, totaling 3,600 square feet, are open. After a day of swimming, 32 cabines provide guests with a changing room and hot shower before taking a formal dining experience at Rustic, Francis' Favorites. Rustic features international and traditional Italian dishes with an emphasis on family-style cooking.
Francis Ford Coppola Winery also features a culinary garden, four regulation-sized bocce courts, a movie gallery, a performing arts Pavilion, a teepee that encloses a children's library, a park area with game tables and several venues to host events and live performances.
"We are one of the first in the world to have a winery and swimming pool open to the public," CEO and Winemaking Chief Corey Beck says. "It's very resort-like and is not just about the wine, but creating experiences for all ages. As families go on vacation and mom and dad want to go wine tasting, what do you do with the kids that's fun for them? That's where we really excelled."
Leading in Innovation
Francis Ford Coppola Winery's willingness to think of wine differently and outside a 750-milliliter bottle with a cork has made it an industry leader in innovation, Beck says. "Our Sofia Minis are sparkling wine in 187-milliliter cans that we started in 2003," he adds. "That was 15 years ago and well before the canned wine phase took off. We were an early adopter because wine can have barriers and Francis wanted to help take down those barriers, making it unique and fun and a different experience."
At Café Zoetrope, Coppola's San Francisco-based restaurant, Francis Ford Coppola Winery began putting wine in kegs in 2000 and serving it on tap. "The wine keg business has taken off, but we have been doing it for the past 17 years," Beck notes. "We figured it's no different than putting beer in a keg. It's a wonderful vessel."
Five years ago, Francis Ford Coppola Winery led the charge to change a California Department of Alcoholic Beverage Control law that prohibited wineries with more than two restaurants from making spirits. The craft distillers amendment was passed two years ago that allows a winery with more than two restaurants to own and operate a spirits company.
A Place for History
The Family Coppola last year launched Great Women Spirits in the northern California market, featuring a collection of small-batch, house-crafted and classically styled vodka, gin and brandy as unique and remarkable as the women they honor. "Francis is inspired by history and innovation. He's always wanted a spirits company and to honor different women throughout history. For example, our gin is called Ada Lovelace who was credited in the 1800s as the first computer programmer," Beck says. "To create our spirits, we use botanicals we grow here at the winery and natural spring water that comes from the estate."
Less than a year later, this award-winning spirits collection is showing early signs of success, now available in ten markets including Florida, Hawaii, Louisiana, Massachusetts, New Jersey, Nevada, New York, Texas, Washington and both Northern and Southern California. "We're already exploring the idea to have our own distillery here in Sonoma County and our vision is clear," Beck states. "We want for it to be a destination distillery much like what we've created at the Francis Coppola winery."
A couple years ago, The Family Coppola launched the Virginia Dare Winery, which was named after the first Caucasian female born in the new world in 1583, Beck says. "It was a booming wine company back in the '40s and '50s and Francis wanted to resurrect it," he adds. "In North Carolina, the Virginia Dare play is performed every day and a wonderful story. We launched the winery and Wero Restaurant, featuring unique fare with a focus on native ingredients."
"Virginia Dare Winery highlights the genesis of American winemaking, so it makes sense that our new restaurant would celebrate our country's indigenous foods," Coppola says. "My goal is to present a menu inspired by the culinary traditions of the earliest inhabitants of North America."
A World of Possibilities
As the cannabis industry continues to expand, Corey and team think about potential future opportunities. "We know there is a lot of crossover with the cannabis consumer in wine and spirits," Beck notes. "We need to look at how we as a winery continue to evolve and incorporate what's happening in the cannabis world and not turn a blind eye to it. One of my quotes to the team here has been, 'We need to disrupt our business before our customers disrupt it for us.'"
Francis Ford Coppola Winery is also looking at partnerships and emerging wine regions in the United States to continue to stay relevant. "Each state makes wine in some form today and these markets are now emerging and people want to consume and eat more local," Beck explains. "We want to look at investing or recreate what we have done here with the winery and create that experience somewhere else. Nowadays, partnerships to leverage our consumer base with another industry's consumer base is beneficial for both of us."
As the company continues to look at ways to evolve, Francis Ford Coppola Winery will continue to break wine barriers. "We are looking outside a traditional business model," Beck says. "I think 85 percent of wine is made traditionally, so how do we break those barriers and reach younger consumers and provide them with an amazing experience?"