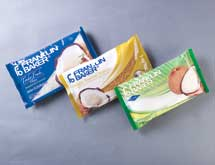 Franklin Baker's coconut-based products are used by every major food corporation in need of the Philippine Islands-grown fruit. Desiccated, toasted, sweetened and value-added coconut are used for food applications such as, but not limited to, confections, cereals, pastries, cakes, desserts and baked goods.
"Franklin Baker coconut is the preferred choice of major brand owners that use coconut as a food ingredient," Business Development Manager Sunil Gersappe says. "Some of our customers have been with us for 50 years or more. Over the years, Franklin Baker's success has mirrored the growth and expansion of our major clients all of over the world."
Franklin Baker ships its products to more than 25 countries worldwide with North and South America as its key markets. To help ensure on-time delivery commitments and service levels are met, Franklin Baker contracts with the largest containerized shipping companies in the world to move its cargoes, such as APL Limited, a global container transportation services company.
Franklin Baker's clients depend on this reliability and, soon, food industry titans won't be the only ones calling in orders. The company is in the midst of launching two new products that will usher it into new markets and add to its existing product portfolio.
"We are also looking at different possibilities, including launching Virgin Coconut Oil [VCO] by the third quarter of 2011," Gersappe explains. "VCO has had remarkable success in the United States and we believe this growth will be sustainable given the strong and continued preference for health and wellness products.
"In addition to VCO, we will also venture into the business of manufacturing coconut water concentrate [CWC]," Gersappe continues. "We have signed agreements with major equipment suppliers and expect to commence shipments  within the fourth quarter 2011 from our San Pablo facility. We also expect to  commence supply from our Davao facility by the second half of 2012."
Franklin Baker's VCO is a natural, chemical-free product that is freshly-pressed – similar to virgin olive oil. Gersappe says coconut is now recognized for more than just taste and health benefits. Cosmetic and personal care companies have shown greater interest in using VCO for use in their products given its scent, moisture and beauty-enhancing benefits. Some vitamin companies have offered this product in a capsule form and positioned it as a daily health supplement.
"If you use the Google search engine  and type the key word 'coconut', there are millions of pages about people's positive experience with coconut, specifically coconut oil and how wonderful it is – how it energizes, refreshes, heals and helps overall wellness," Gersappe says. "This is the first time [Franklin Baker] is looking at VCO for non-food applications."
To meet future demands from new and existing markets, Franklin Baker has invested significantly to expand its Philippine operations. "We currently have two manufacturing sites  and both facilities manufacture our flagship product line, desiccated coconut," Vice President of Marketing John Huang explains. "Our processed and value-added coconut products are manufactured in our [San Pablo]-based plant, and pretty soon our [Davao]-based plant will also be capable of manufacturing our processed and value-added coconut products."
In 2008, Franklin Baker commissioned its new desiccated coconut manufacturing plant inside its Davao facility. This new facility has a rated production capacity of more than 17,000 tons annually and received its ISO: 17025:2005 FSMS certification last year.  A new microbiological laboratory was also set up last year to supplement its existing laboratory in Luzon. The company also expects to fully commission the new process and value-added coconut product manufacturing facilities by the fourth quarter of 2011.
All of these new developments came after Kraft Foods Co., which had owned Franklin Baker since the mid 1980s, sold the latter to a private investment group, Andorra Ventures Corp. in 2006.
Huang, who has been with Franklin Baker for nine years, says the new management has made strategic decisions to fast track growth and maintain its quality leadership as evidenced by its facility investments.
"The company is definitely on track in its growth strategy," he says. "The new owners of Franklin Baker have made significant investments since taking over, and they believe these investments will provide significant returns to its shareholders."