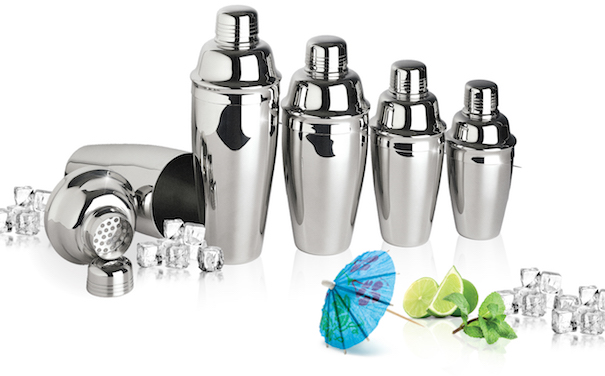 With nearly 50 years in business, Franmara Inc. thrives with a dedication to quality, a loyal workforce and family values.
Franmara Inc. is the result of Founder Frank Chiorazzi Sr.'s vision and love of wine. The company continues to remain a leader in the industry with the strength of President Frank Patrick Chiorazzi's focus on strategy and Vice President John Chiorazzi's dedication to the company's human element. With strong family values and ongoing love of wine at the helm, Franmara continues to be important to its hometown of Salinas, Calif., as well as a leader in the global foodservice industry.
"My father started this company and by always emphasizing the restaurant equipment industry, we have become specialists in this wine service area," Frank Patrick Chiorazzi explains. "Our benchmark for quality has always been the restaurant professional since the company started in 1970."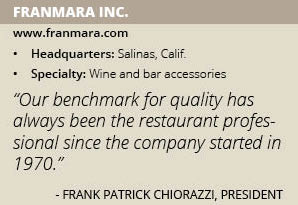 He notes Chiorazzi Sr. loves wine and established Franmara in 1970 because he believed the wine industry would progress in America. He was correct, and the market began to take off in the later '70s, while now consumers' tastes continue to evolve and become more mature.
"My father has always enjoyed wine, and his experience in trying to open wine bottles and looking for the right opener helped to launch this company," Chiorazzi says. "My parents were on a trip to Europe and he found one corkscrew that he liked. This company started with one corkscrew, and we grew from there. It was all about his love of wine and wanting to find the perfect opener."
Today, Franmara – a combination of Frank Sr.'s name and Mary, his wife – offers nearly 400 different wine openers, ranging in price from $0.40 to $2,000, as well as high-speed systems that can open 500 bottles in an hour. Over the years, the company also developed a barware line, which has grown significantly in the past five years, Chiorazzi notes. He has taken over his father's role of traveling the world, especially Europe and Asia, for the highest-quality items for wine bars.
"We make sure items are made with our own tooling so there is a high level of quality control," he says. "We are always very focused on quality and we take pride in still being family owned. My father handed it over to my brother and me, and I feel very much a part of this business because I've been involved in it since I was nine years old. We hope to keep the company's reputation and the quality because that is very important for us. We want to always deliver products that the foodservice market will appreciate."
Important Contributions
Franmara recently acquired another company so it can have an East Coast office and serve customers faster. Although the company only sells to the distribution market, Chiorazzi still considers trends among consumers in what is offered in the company's catalog. He explains barware is growing considerably, and also consumers are increasingly drinking finer wines and want them to be decanted. Instead of aeration devices that were popular in the past, people today prefer traditional decanters to allow the wine to breathe and open the bouquet. Wine storage products also are rising in popularity, and Chiorazzi notes items like this draw the attention of larger companies.
Franmara 2"There always is a lot of interest in my company from others in the industry," he says. "We are such specialists and large companies know us because of our quality, but no one could match our selection of corkscrews or wine coolers. We carry a lot of products that wineries can give away to restaurants and customers, so some foodservice dealers have picked up on it and we do a lot of decorating for them because it's good to promote clients' names. We try to be vertically integrated and bring in product in bulk and repackage it however they need it. We do a lot of private-label work and do everything in house to control the quality."
He stresses Franmara's quality is important to everyone in the company, and the loyal employee base is key in ensuring quality is maintained. In fact, Chiorazzi believes dedication to its staff will be important in the company's ongoing growth. He notes his brother, John, is great at human resources, and Frank Patrick enjoys knowing every employee while focusing on strategy and product development.
"I want every person who works here to be respected and given the dignity they deserve," Chiorazzi says. "Everyone's contribution is very important to me and it's also important that it doesn't matter what your job is here, everything is key to this business. This is a very hardworking, great crew and we are almost 80 percent female with our employees. Our current staff creates a more collaborative and supporting and nurturing work environment. Money is not what motivates me – I want people to feel respected and know they can come here and feel good about what they do."