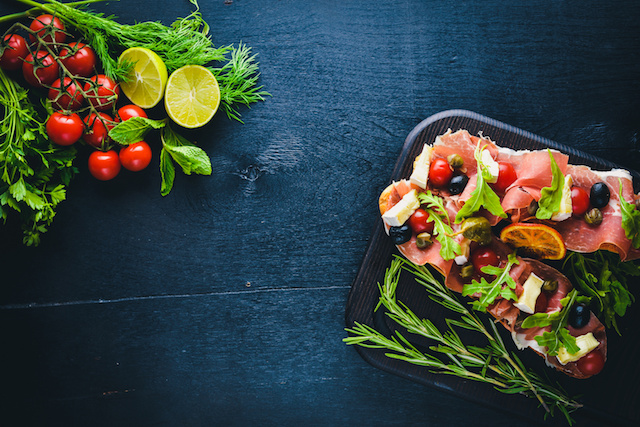 Fratelli Beretta USA Inc.
Fratelli Beretta USA extends the legacy of its parent company with quality meats and passion for its work.
No matter whether a person buys a Fratelli Beretta USA Inc. salami or a product from its parent company in Italy, they can count on consistency. "We guarantee to the consumer that the flavor profile and the experience will be the same if you buy in the United States or go on vacation in Italy," Simone Bocchini says.
Bocchini is the president of Beretta USA, the U.S.-based operation of Fratelli Beretta, a provider of salami and other specialty meats. The company's history stretches back to 1812, when Carlo Antonio Beretta received ownership of his family business from his father in Barzanò, Italy.
Over the years, the company opened a butcher shop that supplied the town. After World War I and II, Fratelli Beretta expanded its operation with a factory and grew its distribution capacity across different Italian regions.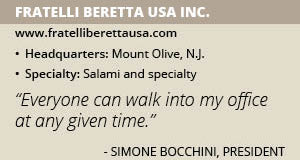 After the company saw success in supermarkets, brothers Giuseppe and Vittore Beretta invested and diversified it further by producing packaged salami for widespread sale and consumption. In the 1970s, the two grew awareness of the product by taking part in major international food fairs.
Going Stateside
In 1997, Fratelli Beretta made its move into the United States with the purchase of a production facility in South Hackensack, N.J. At the time, Bocchini says, the company made Italian-style salami for the American market that was distributed in the Tri-State area of New York, New Jersey, and Connecticut, as well as northern Pennsylvania.
The introduction of Italian-Style product in U.S. was not an easy task. Most of the consumers were in the typical Italian market and Mama's and Papa's operation. The situation changed when media sources like the Food Network began highlighting and explaining the advantages of European products, including flavor profiles, that helped expanding the distribution of these products.
This grew demand for Fratelli Beretta's product, which led drove it to acquire Busseto Foods and its production facility in Fresno, Calif. in 2007. "That one gave us two great advantages," Bocchini says, noting that one was the extra capacity, allowing the company to make more products.
The other, he explains, was that it gave Fratelli Beretta a position on the West Coast. But over time, the company saw demand increase so high from retail and foodservice clients that not even an addition to the Fresno facility helped.
"That's when we started the construction of our latest location," Bocchini says, explaining that Fratelli Beretta began construction on its 200,000-square-foot facility in Mount Olive, N.J., in 2014 and opened it in 2015.
With additional capacity and new innovations, "We started experimenting with new packaging and new products," he says, noting that Beretta USA has enjoyed strong growth over the last three years. "Right now, between the three locations, we employ almost 280 people."
The company also focuses on salami, prosciutto, coppa and bresaola products. Currently, "We have between 25 to 40 different varieties [of salami], packaged in different serving sizes," Bocchini says, adding that these range from three to 24 ounces.
Its Mount Olive facility also gives the company the capability to make prosciutto all natural with pork and salt. "We can cure for sometimes between 10 to 12 months," he adds.
Today, Fratelli Beretta USA's products have distribution throughout the United States. "We also export products to Canada and Central America," Bocchini adds.
Embracing Change
Beretta USA's current projects include a focus on freshness. "They are trying to move a lot of product from behind the counter to a more convenient way to grab and go," Bocchini says, explaining that the company is investing in innovative packing so that products bought on a shelf have the same quality as those bought in a deli.
"This is a change that we're trying to embrace," he continues. "The next few years to come are going to be [focused] more towards convenience, but with tremendous advancement in quality."
Another focus for Fratelli Beretta USA in 2019 will be snack food products. "Everyone is looking for something convenient in different locations," Bocchini says. "It can be a mid-morning snack, or a small meal substitution as well as your after dinner craving."
But this will not be the company's first venture into the snack food realm. In June 2018, it launched 27 different varieties of snacks, featuring salami, prosciutto, breadsticks, cranberries, olives, provolone cubes and other ingredients.
"Customers have an overall experience with a two-and-a-half ounce package," he says, adding its snack line has earned a positive reception. "It's been very well accepted. It's addressing a need that is very present."
Making It Easy
Beretta USA's Mount Olive location has benefited from an investment in technology even in a process that is century old like the art of making dry cure meat.
Implementing robotics and information technology, "We were able to take away all the heavy lifting involved with the process," he says.
The main motivation for these additions was not financial, he asserts. Instead, "We're focused on creating a safer and less stressful environment for the worker, allowing repetitive process and heavy lifting of Salami racks and prosciutto to machine," he says.
Beretta USA keeps researching at new innovations to this day. "We're constantly not only looking at our competitors but what are the needs for the customers," Bocchini says. "[Consumers] are looking at convenience and quality at the same time, new flavor [profiles] and new [ways] of enjoying our product in different [occasions]."
The Family Business
Fratelli Beretta is currently in its seventh generation of family leadership. "They are involved in the day-to-day operations," Bocchini says, adding that this gives the large corporation the feel of a smaller, family owned enterprise.
For example, when the company sees a consumer trend in the marketplace, "The decision making is made very quickly to make an investment for a specific line," he says. "We can make those decisions in the matter of a day."
The company also has nurtured a culture where it looks for passion for the business in its employees. "We can teach technology and we can teach the product," Bocchini says. "[But] the key is passion."
For example, Bocchini has two longtime managers that did not know much about salami before coming to the company. But their enthusiasm for the business made them invaluable. Today, "One is my supervisor of dry curing of salami," he says, adding that the other oversees the curing of prosciutto.
Fratelli Beretta's culture also has nurtured longevity among its staff, who appreciate its family atmosphere and open-door policy. "Everyone can walk into my office at any given time," he says. "That mentality is throughout the company."
Behind the Brand
Fratelli Beretta provides extensive training to its employees through Beretta Academy, which operates from the company's corporate headquarters in Trezzo sull'Adda, Italy. "The purpose of this institution is to training the new generation to pass down what cannot be written," Bocchini says.
According to the company, the Academy is meant as a place to cherish and expand the arts and secrets of the Italian tradition of food, especially dry curing product. "Here, there is a commitment to preserve values and pass them on to future generations," Fratelli Beretta says. "In essence, Beretta Academy has always existed," it says, noting that it was founded within the company in 1812 or shortly thereafter. "Then, in 2011, it took material form as it became a place, a physical location for the experience of the tradition that is behind the brand."
The Academy also sustains a daily internal dialogue in its team to engage traditions, grow mentally and culturally, and learn by action. "It is a space to contribute personally to the enduring establishment of a long-lasting reality from a history that already spans over 200 years," the company says.
While the Academy presents its students with challenges, it also gives them rewards. Bocchini notes that his current vice plant manager experienced that first hand, after attending the courses in Italy, and been the first to his class, was offered the position in U.S. and is a great part of the organization.
A Broad Focus
Fratelli Beretta often takes the perspective of the consumer when it comes to its marketing strategy. "We put ourselves in the consumer's place [and ask] what would we like to have," Bocchini says.
While millennials are often the main focus of marketing campaigns at other firms, the company does not like to alienate other generations, including baby boomers or generation X. "We do different strategies based on the focus of everyone," he says. "We don't want to discriminate."
Charities also are a major focus for Fratelli Beretta. "We are trying to give back to the community as much as we can," he says, noting that the company recently partnered with the city of Mount Olive for a food drive.
Good Growth
Bocchini is proud of Fratelli Beretta and how it has been able to achieve its goals. For example, "We broke ground [for the Mount Olive facility] in June 2014, with a crazy objective to open by the one-year mark," he recalls.
Thanks to the collected efforts of everyone involved, "We were able to open in May 2015, two weeks shy of the mark," he says, noting that this is a reflection of the company's philosophies. "The Beretta family has a very proactive approach."
The family was confident that its team could get it done. "I said, 'Do you believe this thing is going to work?' and they said 'Yes,'" Bocchini recalls. "They went for it. I've been with them for 16 years and I'm very proud."
He predicts a strong future for Fratelli Beretta. "We see a lot of more consumers being exposed to this type of product," he says, adding that this is being accomplished via magazines as well as cooking and traveling shows.
Through this exposure, he says, consumers will be able to see and experience the quality of Fratelli Beretta's products. "We see this increase in knowledge and consumption to be good for the growth of the company," he says.
A Big Deal
Fratelli Beretta USA has a large footprint in the United States with its production plants, which measure more than 340,000 square feet combined. Together, they can produce a great variety of typical Italian-style dry cured product including mortadella, coppa, pancetta, bresaola, salami and cured prosciutto.
Currently, Beretta USA and Busseto's brands are available in U.S. major retailers, including ShopRite, Sam's Club, Costco, Hannaford, Wegmans, Winco and Meijer. "Additionally, they can be found in major restaurants, traditional food stores, and small specialty food shops," it says.
Introducing a Tradition
Fratelli Beretta's recent product introductions include Prosciutto di Carpegna, a specialty of Italy's Marche region. Previously, the product had not been available in the United States until the company announced itself as the exclusive producer and importer in June 2018.
"Prosciutto di Carpegna has been enjoyed in Italy for centuries and I am so proud of our family to be able to introduce such a special tradition to the United States for the very first time," CEO Alberto Beretta said in a statement. "This is some of the most exclusive prosciutto to be made in the world and has an incredible history and tradition."
Carpegna, the company notes, is a village within a territory between the Emilia Romagna, March and Tuscany regions of Central Italy. "Fratelli Beretta's Carpegna production facility is located in the heart of this territory in the Montefeltro Mountains," it says.
"It is here that the history of Carpegna prosciutto has taken root, formed by age-old traditions and pork curing techniques that date back to the 1400s," the company continues. "Day after day, Fratelli Beretta's prosciutto is tended by hand as it slowly ages amid curing traditions of the area that have been proudly preserved from the Middle Ages and continue to be handed down from generation to generation."
Currently, the company says that Prosciutto di Carpegna is made in a single plant where 10 master butchers — also known as maestri salumai — are the keepers of its secrets. "To cure the prosciutto, the salumai use the famous sweet salt of Cervia exclusively and they have developed a secret coating blend of lard and spices," it says.
After a 20-month curing process, "They prick each prosciutto with a horsebone needle along specific points of the leg," Fratelli Beretta continues. "They declare the process complete by designating each one worthy to be labeled a 'Prosciutto di Carpegna DOP.'"
Developing People
Fratelli Beretta has opened an American branch of its Beretta Academy at its location in Mount Olive, N.J. "Now established also in the United States, the Beretta Academy provides an education training process … on the core values and work method of team members," the company says.
"In a classroom setting course of 40 hours, the five core values of the company are learned, allowing our professionals to excel both individually and thrive through their performance on a team," it says, noting that these values are: team, method, performance, intensity and communication.
"These are the five key words that have continuously captured Beretta's corporate identity, and that are transmitted within the exclusive reality of the Beretta Academy," it says. "The Academy is the guardian of the development of this model — a school of thought and action — because here we do not develop products, but people."