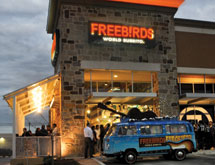 Some businesses specialize in taking the traditional routes to success, but FREEB!RDS World Burrito prefers not to, Vice President of Franchise Development Chris Cheek says. "We're not normal," he declares. "We don't do things like other restaurants do."
The Emeryville, Calif.-based chain serves burritos, bowls, tacos, nachos and salads that are made from scratch daily and served in an eclectic, "rock and roll roadhouse" environment, President Jim Mizes says. "We appeal to those who seek an experience as opposed to just food, and who want something a bit different, and, we think, better," he states.
According to Mizes, the origin of FREEB!RDS goes back 25 years when two friends, Mark Orfalea and Pierre Dube, started the company in California. "[They] were hippies in Santa Barbara [who] had a great idea to open a burrito restaurant," he explains.
After the concept enjoyed rapid success, one left California to open restaurants in Texas, which also became very successful. In 2007, Tavistock Restaurants LLC purchased the concept, which now has 87 locations in California, Texas, Kansas, Missouri and Oklahoma. "We've more than quadrupled in the last five years," Mizes adds.
He adds that the restaurants have a diverse menu that includes four different burrito sizes, four tortilla flavors, 11 different sauces and 17 additional toppings. "It's endless," he says. "There are 35 trillion combinations. You can see how you could visit a FREEB!RDS on a frequent basis and not get bored."
Growing the 'Tribe'
Mizes, who joined FREEB!RDS last year, says he immediately fell in love with the concept after encountering it. "The atmosphere in the restaurants was unique, overwhelming and fun," he says.
Like the restaurants' environments, Mizes says its employees are an integral part of the experience. "They're creative, they're engaging, and they're thoughtful in terms of connecting with the guests," Mizes says. "In today's world of plop-and-serve, I thought we created a unique one-on-one connection, and I wanted to be part of it.
"I think we're quite successful at helping people understand we're not normal," he says, noting that he is proud of the company's current restaurant staff, which it refers to as its "Tribe." "They deserve recognition [because] they bring the brand to life."
The restaurant prides itself on long retention of its key employees. Longtime managers include Johnny Jacques, its culinary leader, and Jamie Williams, its regional manager in College Station, Texas. "Johnny started out with us many, many years ago, and is the keeper of our recipes and how we cook," Mizes says. "Jamie started as an employee while attending Texas A&M and is a shining example of promoting from within and growing with the company."
Vice President of Operations Peter Gaudreau started with the firm when it only had 19 restaurants. "Peter is responsible for growing our tribe into what it is today," Mizes says.
FREEB!RDS plans to grow through additional franchise locations. While its first franchisee recently opened his third location, "He has a number of restaurants slated for next year," Mizes says.
He adds FREEB!RDS will keep its franchisees focused on developing in areas where they live and have restaurants with other brands. "We believe our franchisees will have greater success by expanding within their known territories rather than expanding into new markets."
Reaching Out
FREEB!RDS focuses on charitable efforts through its philanthropic division, FREEB!RDS World Works. "It is our way to give back," Mizes says. "We can inspire people to do good."
So far, FREEB!RDS has focused on helping families in need. For instance, "We work with our community partners and we put together a Christmas dinner for them in our restaurants," he says. Some of the organizations FREEB!RDS has partnered with include:
• Penny's From Heaven Foundation
• Tarrant Area Food Bank
• Arlington Animal Shelter
• Operation Kindness
• Trees for Houston
• Special Olympics of Lubbock
• Project R.I.D.E.
• Heroes For Children
• The Sunshine Kids
• Bay Area Meals on Wheels