Fresh & Co.'s diverse menu and healthy options helped the company grow to new heights.
When it comes to food, Fresh & Co.'s philosophy is fresher than fresh. The New York, N.Y.-based restaurant chain specializes in locally grown and chef-inspired foods with fresh ingredients delivered daily from area farms.
"Our concept is health-orientated food that is seasonally driven," says George Tenedios, the company's CEO and co-founder. "We try to buy as much local products as possible."
ST Management Group, which operates Fresh & Co., has seen the fast-casual business flourish since 2010, when it was founded. The chain has 13 company-owned locations in New York and three more scheduled to open this spring. Its typical restaurant ranges from 1,400 to 2,000 square feet. "We're also looking to expand into New Jersey and some of New York's other boroughs like Brooklyn and Queens," Tenedios says.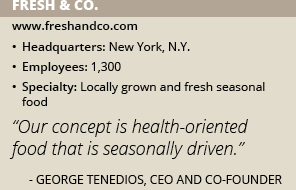 Aspiring to grow its own produce, the company recently acquired a 36-acre farm on Long Island. The farm should be fully operational by spring 2018. In addition to growing produce, the farm will host a variety of culinary classes for the Food and Finance High School in New York City.
Healthy Alternatives
Fresh & Co., which generates roughly $50 million in annual revenue, values healthy eating. Foods that contain synthetic fertilizers, antibiotics, pesticides and other additives won't be found on the menu. Instead, vegetarian-fed, hormone-free poultry and meats, non-GMO foods and organic ingredients take their place. "We believe in clean eating," Tenedios says.
The menu is peppered with more than 80 menu options that include a variety of salads, homemade soups, signature sandwiches and cold-pressed juices. It offers an assortment of vegetarian, vegan and gluten-free options as well. "It's a menu for all demographics," Tenedios says.
The company discovered that innovative food products help attract repeat businesses. One of its most unique and popular dishes is a barbecue jackfruit bowl. It features cauliflower rice, shaved radishes, chipotle-pickled carrots, daiya cheddar and carne lime asada-marinated jackfruit served with a house-made agave barbecue sauce. "A vegan alternative, it's been a huge hit for our stores," Tenedios says.
Multiple Options
Giving its customers a large variety of options makes Fresh & Co.'s brand unique, Tenedios says. The chain offers a full breakfast, lunch and dinner menu. Most of its competitors specialize in only one category.
In addition, the food chain is known for offering variety within the menu. For example, up to 12 different types of soups could be offered on any give day.
Customers can create their own omelets from a choice of more than 20 ingredients or choose from one of seven chef-designed salads. They can also design a "market fresh plate" that includes one of seven protein choices, one of two grains and two of five sides.
Sharing is Caring
One of Fresh & Co.'s many mottos is "Feed. Share. Give. Repeat." The company supports local organizations that desire to make their communities a better place to live. These include Friends of Karen, a nonprofit organization that supports families with terminally ill children.
ST Management, which also operates the New York-based Café Metro chain, has donated around $400,000 to charity in the past few years, Tenedios says.
Fresh & Co. stores often host promotions to raise money for a cause. If a customer donates a dollar, he will receive a 10 percent discount. The company matches their customers dollar-for-dollar.
Giving back to the community and maintaining a hands-on approach with its vendors are key to the success of Fresh & Co. "We have partnerships and relationships that are near and dear to us," Tenedios says. "We are a very family-orientated company. That helps us succeed in this market. We are a company that was born in New York and our success is in New York."
In addition to an evolving menu with fresh and healthy ingredients and strong community relationships, Fresh & Co. also attributes its success to a high level of customer service. Almost 80 percent of Fresh & Co.'s executive team has advanced through the ranks. Its average employee has been with the company from five to 20 years. New employees receive about 100 hours of training and managers are trained from three to six months.