Fresh From the Start Brands
There are certain words that are used so frequently in marketing that they almost lose their meaning. In the food industry, one of those words is "fresh," which is used to describe so many different products that the meaning of the word has been diluted to the point that it means nothing more to many people than "not frozen." On the other side of the coin, however, are the companies of Fresh From the Start Brands – Hapco Farms, Powerhouse Produce and Freshouse.
With their intense focus on local sourcing, highly efficient logistics and strict quality control, Hapco, Powerhouse and Freshouse don't treat the word "fresh" as just another marketing buzzword – it's the bedrock of their entire operation. Partner and President Jamey Friedman explains that the companies' entire focus is centered around providing their customers with produce that's straight from the farm, with as little time in between as possible.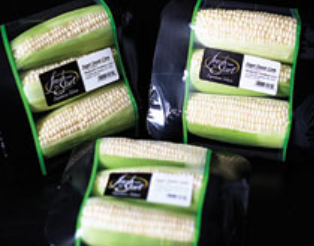 Based in Riverhead, N.Y., with locations on the East Coast, the Southeast and in California, the companies specialize in packaging produce such as potatoes, onions, peppers and citrus fruit for retailers. The original company, Hapco, was founded in 1945 by Friedman's and CEO Andy Pollak's grandfather, Henry Pollak. According to Friedman, Pollak was a fertilizer manufacturer who sold to potato farmers on Long Island. When several farmers paid Pollak in potatoes due to hard times, Pollak began selling the potatoes himself and within time was acting as a sort of sales agent for the growers. Eventually, the company took advantage of the rise of the supermarket and began packaging private label potatoes for retailers. This led the company to begin sourcing other produce year-round from other parts of the country, but even today potatoes are tops.
"This company was based on potatoes, and it's still our largest volume item," Friedman says. "We probably move 300 loads of potatoes a week to our customers."
Hapco opened warehouses in Maine and Long Island in the 1970s, and one of its most significant advancements came in 1996. That year, the company opened a facility in Pennsylvania to better serve its customers in that region. The facility featured railcar loading, allowing the company to bring in bulk potatoes by train and pack them as customers
needed them. This facility became Powerhouse, and in 2002 Powerhouse opened another railcar-accessible facility in Atlanta to serve the Southeast markets. A similar facility opened in North Carolina in 1997 became the foundation for Freshouse. Hapco Farms is led by Vice President Eric Scannelli, while Vice President Dan Dubinsky holds the reins at Powerhouse.
According to Friedman, the companies' strategy of locating close to its customers and using a combination of rail and trucks to transport produce is the backbone of its success. With a combination of product variety, flexibility and efficiency, Hapco, Power­house and Freshouse have become valuable partners to their many customers. "We've developed as a company a just-in-time service for our customers," Friedman says.
On the Rail Line
The decision to bring in produce by rail has been an important distinction for the companies, mainly because it allows them to avoid many of the supply issues that can come with trucks. Friedman says trucks can be difficult to find, they often encounter delays and they don't haul as much as freight trains can. The companies' belief in the potential reliability of rail was so strong that a rail consultant was brought in to coordinate a more efficient use of their rail resources. At the time, Friedman says, the three operations combined were utilizing approximately 300 to 400 rail cars each year, but after converting some of its truck operations to rail that number reached 1,500.
"That way, we were able to have even more supply for our customers," Friedman says.
That led to the creation of Railex, a separate logistics company that specializes in moving produce for Hapco, Powerhouse, Freshouse and others. Having Railex available to provide rail logistics and balance the companies' use of trucks has been especially helpful in recent years, Friedman says. "Transportation is a big challenge because it's a number that always seems to be moving because of fuel rates and availability," he says.
Another significant advantage the com­panies' facilities provide is their prox­imity to customers. This means retailers don't have to order large amounts. Also, the fact that the facilities handle so many different varieties of produce gives customers a greater feeling of security than they would have working with other distributors, Friedman says.
"We're unique in the fact that we carry a wide variety of items, but we consolidate it and ensure the quality is top-notch before it hits customers' doors," he says. "They could mix it all on a truck and bring in a fresh load every day, keeping their inventories low and the products fresher."
Customers appreciate this because many of them want to be closer to the farms their produce comes from, but working with farmers directly sometimes results in inconsistency in the supply of products. Friedman says the Fresh From the Start companies have the facilities farmers don't, plus the fact that they source from many different farms means they can bring in product in anticipation of orders and maintain high quality.
Many distributors can claim that advantage, but the Fresh From the Start companies' vertical integration offers customers the ease of working with a distributor as well as the quality assurance that comes with working directly with the farmers. "What we have are birddogs at the source," Friedman says, referring to employees who spend time visiting the farms the companies' source from, and some farmers move their entire crops through the companies. "We have long-standing relationships with the growers."
Technical Achievements
Inside the facilities of Hapco, Powerhouse and Freshouse, the companies boast the technology and know-how necessary to provide numerous packaging solutions for its customers. Friedman says the companies utilize packaging equipment manufactured by Volm Companies Inc., which are capable of handling the significant volumes of potatoes, onions and other produce they process. Many of the processes in these facilities also utilize automated grading lines, sizers and baggers.
The companies also handle a lot of private-label work for their customers, and Friedman says this often includes assisting with the design of packaging. In some cases, he adds, the companies provide customers with 100 percent of the design work for their private label produce packaging.
Hapco, Powerhouse and Freshouse put that expertise to work for themselves, as well. The companies package their own brand of produce, called Fresh From the Start. Friedman says the companies have been successful with these products and hope to keep the ball rolling with the introduction of new products such as its Fresh Sides steamable bags of potatoes. Fresh Sides allows consumers to add seasoning and two fresh ingredients into a resealable bag and provide quick, healthy, quick side dishes in seven minutes without the cleanup and mess. Hence, no pots or pans. "That's one of the things we like to do – we like to get creative," he says.
Local Heroes
Friedman says he sees a major shift in the produce business on the horizon, and it's being presaged in one of the major trends affecting grocery stores right now. "Four years ago, the big buzzword was 'green,' and now the big buzzword is 'local,'" he says.
As consumers become more health-conscious and incorporate more vegetables into their diets, organic and natural foods play a big role. Consumers have become more aware of what they eat, > > and also want their produce to be as close as possible to what Friedman calls "field to table," meaning they want produce as fresh as possible going through as few steps as possible. This, combined with an interest in supporting local farmers, has led to many consumers seeking out produce from regional farms rather than national producers.
Also working to push the produce industry toward more local sourcing is the fact that a lot of produce sold in the United States is grown in Mexico. Friedman says not only are there concerns about stability and food safety when dealing with produce from another country, but the rising cost of transportation makes Mexican produce even less practical. "Mexico is far away when it comes to the East Coast," Friedman says. "Those are big freight rates."
As if that weren't enough, Friedman says recent weather patterns are creating harsher winters further south. Colder weather in Mexico has resulted in a lot of lost crops and higher overall produce prices. Although Hapco, Powerhouse and Freshouse have the logistical strength to shield their customers from these effects, this is another reason why local sourcing is becoming more popular. "[Our customers] know the weather is bad, but they're not affected by it because we take care of it – we take the bad product out before it gets to them," Friedman says.
In recognition of the boom in locally sourced produce, Hapco, Powerhouse and Freshouse have made substantial efforts to closely align themselves with smaller farms. Friedman says the companies now have close partnerships with farms that total 600 acres of potatoes in California and 1,800 acres of broccoli and cauliflower in Maine. The companies also expect to have ties with nearly 350 acres of broccoli in South Carolina by this fall. "We're trying to be forward-thinking as far as reinvesting in the ground," Friedman says, adding that he believes it will be very important in the years to come for produce companies to concentrate their efforts on regional sales and production.
Wave of the Future
Along with the companies' efforts to support and benefit from locally sourced produce, Hapco, Powerhouse and Freshouse also are looking into ways they can guarantee fresh produce without having to be concerned with weather patterns at all. Friedman says the companies are planning on making its first foray into greenhouse growing next year.
The companies' first greenhouse project is expected to begin growing in South Carolina, and Friedman adds the company also is exploring the use of hydroponic farming as another alternative to traditional farming. He says the companies are making a "huge investment" in the concept, and notes that their efforts could prove to be a game-changer for the produce industry.
"Usually, greenhouse people are greenhouse people, and distributors are distributors," Friedman says, noting that he believes the companies will be among the first to transition to a greenhouse program.
Branching Out
From the home office in Riverhead, Friedman watches over these three operations as well as Railex. He says keeping sales under one roof is important for him, as he views each one of the companies' facilities as service arms. Friedman anticipates further growth by adding new facilities in locations such as Florida.
With a significant change in the way produce in the United States is sold quickly approaching, Friedman says regionally focused distributors with close ties to local farms that guarantees strict quality assurance will be the ones who stand to benefit most. "And that's what [Hapco, Powerhouse and Freshouse] are doing," he says.