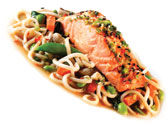 Shopping the seafood section of grocery stores is not always the most pleasant of experiences. Ac­cording to surveys of seafood purchasing habits, the No. 1 reason many shoppers do not purchase more seafood than they do is because of questionable freshness, "fishy" aromas and also because they don't have the time and are often unsure of how to prepare it.
The surveys, conducted by seafood processing and packaging company Fresher than Fresh, gave the company valuable insight into the expectations of potential customers. The findings resulted in what Fresher than Fresh calls a revolutionary packaging system for fresh and frozen seafood meals using a combination of insight and new technologies.
Fresher than Fresh has developed a fully case-ready packaging system using gas-flushing tray-sealing equipment that modifies the air inside the package. In a sterile foam tray, the company replaces the ambient air by increasing the volume of nitrogen and CO2 and reducing the oxygen, which inhibits the spoilage bacteria from multiplying. This modified-atmosphere packaging (MAP) can extend the shelf life of fresh seafood three times longer than traditional grocery store ice counters, according to Fresher than Fresh.
"In fact, we can offer fresh and refresh MAP seafood items, completely case-ready, that have a 10-day shelf life, maintained at 38 degrees F," President Ronnie Wrenn says. "People would eat more fish, more often if they were confident that it was truly fresh. If consumers were able to buy fresh seafood with the same confidence they have when buying fresh chicken, it would drastically increase seafood purchases on the retail level. To purchase seafood on Wednesday and confidently serve it on Saturday would be huge."
Another unique feature of the company's MAP package is its freshness-indicator label. This label is designed to change color when activated by a period of time and its relationship to temperature. The system allows the company to understand the analytical degree of product freshness going in the package and how long the product will remain fresh at various temperatures.
"We program, or calibrate, the freshness indicator labels to change colors when the package either has surpassed the maximum amount of time or was exposed to higher temperatures," Wrenn says.
In spite of what the use-by date on the label says, if the freshness indicator reads in the freshness zone, the product in the package is fresh.
"We want the consumer to have a great experience every time they buy one of our products," Wrenn says. "Our products are designed to be convenient, delicious, healthy, and most importantly, fresh."
The company introduced another innovative product earlier this year, branded Starboard Steamers. The Steamers are a line of handmade, complete seafood meals that cook from frozen in less than 5 minutes. This one-of-a-kind product was developed using Cryovac/Sealed Air Simple Steps vacuum skin packaging technology.
"We have three distinct advantages that separate and elevate our steamer meals in comparison with our steam in the bag competition," Wrenn says. "First, the Simple Steps tray and vacuum film technology allows our meals to cook gently and evenly throughout, producing a well-cooked product. Second, we make all of our sauces from scratch in-house, use only the highest-quality organic vegetables rice and pasta and, of course, super-fresh seafood. The third advantage is our freezing methods. Most people don't really understand the dynamics involved in freezing."
Sales Assistance
Fresher than Fresh believes it is important to provide support services to its grocery store customers to help them improve their seafood sections.
Food safety and quality are more important than ever in today's market, and Fresher than Fresh works closely with customers to ensure they sell only the highest-quality seafood.
"Retailers who can easily merchandise fresh seafood while providing verifiable assurance that the product is fresh and safe will win in this competitive landscape," the company states.