In the interest of picking the best franchisees, Freshslice Pizza skips the royalty and advertising fees.
Freshslice Pizza takes a contrarian approach to franchising by not charging a royalty fee to franchisees. So how does the company make money?
"We make our money selling the stores the [pizza] dough," Vice President James Cooper says. "Part of that goes to the marketing budget and the rest goes back to the company." Freshslice does not make money for selling such items as, for example, soft drinks. While the corporate office negotiates a deal with PepsiCo for beverages on behalf of its franchisees, the corporation doesn't take any money.
The corporation does make a little money by designing and building equipment for its franchisees such as display warmers, Cooper says. It also saves money by buying ingredients in bulk. The lower operations cost, Cooper says, has a number of advantages.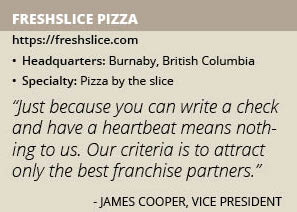 First, the company can sell its franchises for less than most, about $250,000 Canadian including franchise fee. A lower operations cost means the company can be picky about who it allows to own a franchise. Freshslice Pizza figures that ultimately, it's the franchise operator who will determine whether a particular restaurant is successful – less so the brand or location.
"Just because you can write a check and have a heartbeat means nothing to us," Cooper says. "Our criteria for entry are very strict. We push on operations and quality control. If you can prove yourself to us, we'll let you run your own business."
A second advantage is the company doesn't need to audit its franchisees about sales so corporate can get an accurate cut of sales. "Our relationships with franchises is, I think, a hell of a lot better than most, Cooper says. "Also, imagine all the infrastructure I'd have to hire to verify getting an accurate royalty." Finally, a lower cost of operations to the franchisee means a lower cost to the customer. A 16-inch pizza from the warmer at Freshslice costs $11.99 Canadian.
Expansion
Freshslice Pizza was founded by Ray Russell who immigrated from Iran in 1987 after completing high school. He studied civil engineering and moved to Vancouver, where he started a construction business.
"In the late 1990s, there was a downturn in the real estate economy over here," Cooper says. "He knew a restaurant near his office that was selling pizza. It was the profitability he saw on pizza vs construction. He thought, 'Why not sell by the slice instead of a whole pizza?"
The company now has two corporate locations for training and 68 franchises spread around the province. It is currently expanding into the adjacent province of Alberta and also plans to expand into Washington state although it hasn't determined a timeline for the United States.
To get ready, the company has turned is focus inward. "For the last two years, we stopped focusing on expansion and completely focused on operations," Cooper says. "We demand a high score of compliance from franchisees. We wanted to make sure we are running flawlessly in our area before going into someone else's backyard."
It appears to be working. The company has increased same-store sales by 12 to 17 percent per year for the last four years, Cooper says.
With operations under control and its lower-cost franchises, the company's main limitation to expanding appears to be the production limits of its commissary, where it produces the pizza ingredients which are delivered each day to restaurants. "We can service Alberta and Washington state," Cooper says. "We would have to build [another] commissary for further afield expansion."
Another challenge for Freshslice Pizza is rather unusual. On Oct. 17, the country of Canada legalized recreational marijuana. Due to the northern climate, much of vegetables the company gets from March to November are grown in suppliers' greenhouses. "We are losing some greenhouse space to pot," Cooper says. "We went to renew a contract for peppers and found out they are switching to growing marijuana. It's an oddball challenge."
Make it Fast
Freshslice, as its name suggests, sells mostly pizza by the slice. About 80 percent of its business takes place in store with the remainder being delivery.
Its restaurants aim to get customers in and out in 90 seconds, Cooper says. Customers can choose from among the pizzas on display in the warmer, whose number and variety vary by time of day depending upon consumption records at each individual store.
The menu is focused. It's mostly pizza along with chicken wings, cheezy bread, soft drinks and a dessert offering. Freshslice offers gluten-free pizza and has tried nontraditional toppings such as a salad, but find that most consumers go for the classic toppings. "Meat, mixed meat and chicken outsell the lighter calorie options," Cooper says.
The company ranks employee productivity by stars with one star being least productive and five stars – which is what it requires for a store manager – the most productive. The more productivity and stars, the more an employee gets paid.
"We recommend manager profit sharing at the store level," Cooper says. "We also open the door to restaurant employees joining the head office team as a business coach or zone director or other jobs and publish how much they would make in all restaurants. We want to pay people more for doing a better job. A well trained, better-paid person does a lot more for our brand. We have multiple examples of those who worked in stores who now own them."
As for its peers, Cooper has only one piece [pardon the pun] of advice for other pizza makers. "Make a great pizza so everybody eats more pizza," Cooper says. "Every time someone gets a bad pizza, it doesn't do anything for pizza [industry]."