GO COCO-NUTS
When businessman Franklin Baker began supplying flour to Cuban merchants, it seemed like he'd landed the worst business deal in history.
Forget dollars and cents, the Cubans paid him with a boatload of coconuts. Literally. But rather than sinking this particular business venture, the genius entrepreneur from Philadelphia came up with a masterplan.
"He thought about what he could do with all those coconuts and started desiccating them," explains Ferdinand Dela Cruz, CEO and Chief Sustainability officer of Franklin Baker Company of the Philippines.
"Then when the business started selling the desiccated coconut, Mr Baker wanted to make it convenient for home and industrial bakers. He invested in machines to make the product better, eventually shut down the regular flour mill business and moved to desiccated coconut, starting a factory in New York."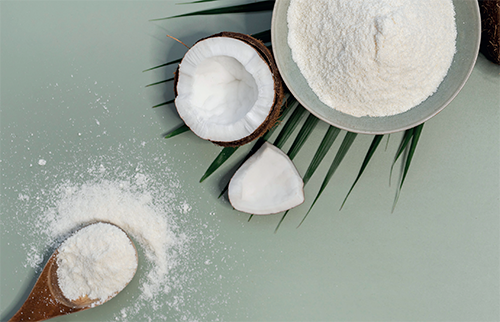 That first coconut deal was back in 1894. Having discovered that a great supply of top-quality coconuts could be found in this part of the world, Franklin Baker incorporated a company in the Philippines in 1922. Now, 128 years on, Franklin Baker has a turnover of over $100 million and, as a company carrying his name, has become one of the world's premier supplier of coconut ingredients to the food and beverage market.
The company, with three manufacturing plants in the Philippines, two warehouses and an office in the US processes over 1.6 million coconuts per day. In its long history, Franklin Baker has exported coconut to several countries around the world for many decades and has worked closely with some of the world's biggest food and beverage brands.
This year, the company is celebrating its 100-year anniversary of creating a thriving desiccated coconut industry in the Philippines.
These days, the firm's three production plants are also a global supplier of coconut water, virgin coconut oil, coconut flour and private label retail products. Most well-known for its desiccated coconut – a popular ingredient in bakery and confectionary goods – Franklin Baker has set itself apart from the competition in terms of quality and reliability.
This has been achieved by listening to feedback from customers and developing variants of desiccated coconut, from regular and toasted to sweetened. Most important, of course, is the high-grade quality of the company's products, which is a direct result of innovating processes over a long period of time.
Gold standard
The firm is also ahead of the game in product and process verification capabilities, operating microbiology and chemistry laboratories that are accredited to ISO 17025 standards. Its pathogen detection system uses an automated method that features polymerase chain reaction (PCR) technology to detect presence of Salmonella and Listeria, amplifying a target DNA sequence and subsequent polymerization. This advanced system is more sensitive (detecting more microorganisms) and results are out much faster (less than 24 hours) compared to other microbiological methods.
"We take great care of the quality of our products, from the time the coconuts are harvested until they are packaged and delivered to our customers," says Ferdinand. "Aside from being Grade AA & AA+ BRCGS certified which confirms our commitment to maintaining the highest standards of food safety, product quality, and regulatory compliance, we have minimal customer complaints relative to the volume that we produce. We are the gold standard in terms of desiccated coconut as indicated in our BRCGS Global Food Safety Standard (BRCGS), which is adopted by over 22,000 sites in more than 130 countries. Our policies and procedures provide a backbone towards a strong compliance related to product and packaging quality, which are in accordance to strict regulatory, company and customer requirements." Aside from third-party certifications such as Non- GMO Project Verified, Fair Trade USA, BRCGS, USDA, JAS, and UE Organic, ISO 9001:2015, ISO 22000:2018, HACCP, FDA Philippines, GMA-SAFE, AB PAO Accredited Testing Laboratory, SEDEX, Kosher and Halal certifications, Franklin Baker holds the 2016 – 2023 Award of Excellence, American Master of Taste & Gold Medal Endorsement, as well as the 2018 – 2023 Beverage Champion by Chefs in America.
Making the workplace a positive environment and supporting the coconut community in the Philippines where production takes place is hugely important to Franklin Baker.
Ferdinand emphasizes that the fact that generations of Filipino families have worked for the company is testament to the loyalty and level of care Franklin Baker has delivered to its employees over the years. The high level of employment created for so many families and individuals has resulted in Franklin Baker becoming an iconic company in the Philippine food industry.
"We work with coconut farmers and that is one of the attractions for employees here," explains Ferdinand. "There is a sense of mission that we are not just exporting goods, we are actually exporting the best coconut products the industry can provide – and we are also helping coconut farmers have an outlet for the produce they harvest.
"We are able to contribute in a meaningful way to the community and the farmers that we work with. I think that resonates very well with the people. We have shareholders on the board and a management team who genuinely want to take care of our business partners, particularly the farmers."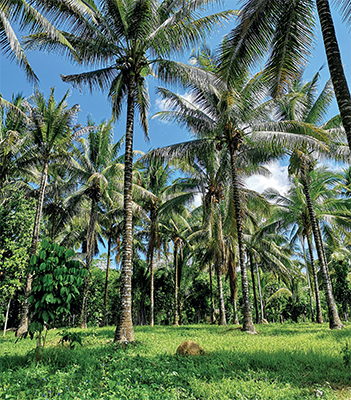 Future ventures
Since sustainability is a priority for the company, Franklin Baker has initiated projects that not only enable farmers to earn more and become better businessmen, but also increase their awareness of climate-related practices. In keeping with its desire to help the coconut farmers, Franklin Baker is a co-founder of the Coconut Coalition of the America's (CCA), a non-profit organization established to uphold sound and credible science, and promote responsible communications as well as sustainable practices in the coconut industry.
Improving operations and innovating its practices is a natural process for a business that has been leading the way in its field for more than 125 years. It was this strength in finding new solutions and adapting to change that allowed Franklin Baker to continue operating throughout the pandemic.
Seen as an essential company in the global food supply chain, Franklin Baker carried on doing what it does best, but worked extremely hard to take good care of its staff, ensuring they were safe, protected, and healthy.
With the pandemic behind us and a strong year of trading so far in 2022/23, what does the remainder of the year look like for Franklin Baker? More products and more growth.
"We are excited to venture into the coconut milk and cream market," revealed Ferdinand. "We are developing packages and solutions for customers in this area, and of course we have done well with what we have previously produced for the market.
"In the medium term, we will be introducing more new products, embracing new challenges, and we are very excited to continue to propagate the Franklin Baker brand across new channels and new geographies."
With the Russian-Ukrainian war in Europe, high levels of inflation, and uncertainty in the markets, it may not seem like the ideal time for any company to be making grand plans for the future. But Franklin Baker does things differently, similar to what the owner did, 128 years ago.
"We are always optimistic," says Ferdinand. "While there is uncertainty, there are still opportunities for this market to thrive, especially with the mega trends of health and wellness and shifts to a plant-based diet.
"There are a lot of developments in these areas, which favor the future of what we do. We are still a sunrise industry – and I think this industry is ripe for product innovation. Already known for quality, reliability and innovation in the industry, we intend to be more known as an advocate and champion of sustainability in the future."
www.franklinbaker.com