From kitchen table to multi-million pound business: how Belvoir Farm took the UK adult soft drinks market by storm
Nature is real. Nature is imperfect. Nature is beautiful. Belvoir Farm (Belvoir) holds these truths to be self-evident.
Tucked away alongside the wild hedgerows between Grantham and Nottingham in the Vale of Belvoir, there is a 2000-plus acre farm and family-owned business that is currently taking the adult soft drinks market by storm. But, first, a lesson in pronunciation.
Following the Battle of Hastings in 1066, so the story goes, a Frenchman stood atop a hill in what we now know as the Vale of Belvoir and said the following: Quelle belle voir! Or: What a beautiful view! However, over the next hundred years, French names were anglicized to reinstate English authority.
As a result, Belvoir is now (technically) pronounced beaver – just like the animal. Either way, though, the curious part of all this is that nature is inextricably bound up in the meaning of the word. And that is something crucial to the brand that bears its name.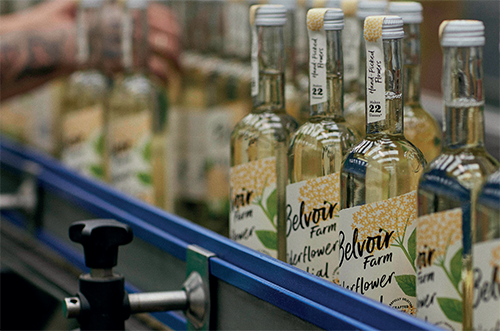 Proud to include no artificial preservatives, flavourings, colourings, or sweeteners across its impressive range of cordials, sparkling juices, and botanical sodas, Belvoir is family-owned and run – and it is quickly approaching its 40th anniversary.
Established as only a mildly successful fruit farm by Lord and Lady John Manners in 1984, it was soon clear that something had to change to keep the business viable. Therefore, when harvest season came around, the Manners decided to press any unsold fruit into juice and make some cordials with it – all by themselves. And it tasted good. Really good.
As Frank Fitzgibbons, Production Director at Belvoir, tells Food Chain, that is the basis for everything customers now know and love about the brand. Perhaps most famous for its elderflower cordial, Belvoir has upscaled its operations dramatically to meet growing demand.
Originally taking place on the Manners' kitchen table, says Frank, Belvoir soon moved into an upgraded but still relatively small facility. It was very labour intensive and manual, often relying on the local public to come and pick the elderflower at harvest time. "The business sold just over 1000 bottles to local food stores and farm shops in its first year," he explains. "By the time I joined in 2003, production had grown to two million bottles every year, and that has just skyrocketed over the years. Last year, for instance, gross sales rose to £27 million. We are now producing 22 million bottles annually.
"We have a very well-automated site and are constantly investing in the business," Frank goes on. "In 2015, we established a new, purpose-built factory to create capacity and enable us to meet the increasing demand for our products. Since then, we have invested heavily in modern filling and capping machinery, packing equipment, and processing kit for our juices and elderflower infusions. Back in 2008, we really had to start investing – and quickly. The business was starting to grow exponentially in terms of distribution, and thus we had to begin integrating sophisticated technology into our processes. We continue to do so today. One example of that is our sixty-head filler machine, which was purchased in 2019 and has improved our line speed and throughput by 40 percent."
Nature at its source
Despite the monumental surge in production demands, little has changed in terms of the recipe. To this day, Belvoir still follows the original one used by the Manners in 1984. As the saying goes: if it is not broken…
"Even with that continuity, we have still increased our range of products alongside company growth," reveals Frank. "Stock Keeping Units (SKUs) have increased steadily since we started, and while we are still very much an elderflower-based business, we do also sell other juice-based products in tandem. Several years ago, for example, we created a sparkling raspberry lemonade, and that has proved very popular. We also love ginger! We produce delicious ginger cordials and ginger beer, and also often look towards the seasons. That means summer punch or citrus drinks when it is warm, and winter cordials or berry punch mixes when it is cold.
"Above all, though, we pride ourselves on quality," he adds. "We source real, natural ingredients. We do not cut back on them.
It is all about what we source, how we source it, and then, of course, how we produce it. Though our bottling processes are now automated and upscaled to meet volume demands, we make the liquid using very simple techniques to maintain the integrity of our ingredients and keep them as natural as we can. The elderflower, for instance, is made with fresh flowers picked that day in the local community and from our own 60-acre organic plantations, and we do very little with it apart from infuse it with water, sugar, citric acid and lemon juice and let nature's magic take its course."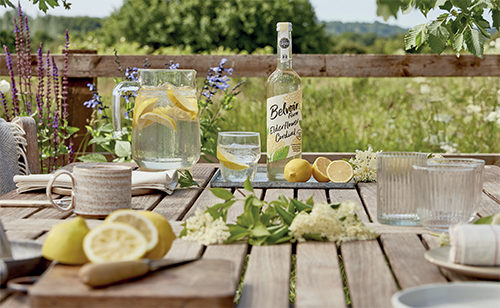 Award-winning flavor
For this decidedly simple approach to crafting adult soft drinks, Belvoir has garnered a lot of attention from the critics. Earlier this year, for instance, the company was named 2022 Soft Drinks Brand of the Year by The Grocer Gold Awards. Moreover, in the last ten years alone, Belvoir has received 21 Great Taste awards and another 4 this year.
Yet all that recognition and plaudits has not made the Leicestershire-based company complacent. "New product development is very important to us," asserts Frank. "Recently, we launched a range of botanicals, which was spearheaded by our in-house innovation team. In terms of size, the team is relatively small. However, as a unit, it works incredibly hard to find and source new and exciting ingredients. As a result, we have been able to continue our success outside of elderflower cordials, and we are seeing strong interest in these new botanicals. In fact, we have gained some key distribution contracts and awards recognition based on their flavour alone!
"We are very adept at launching new items, such as sparkling juices or botanical creations, and are proficient in getting them to market quickly," he continues. "We pride ourselves on the transition from initial concept to end product; we are able to act quickly and maintain high standards throughout. Saying that, though, if we do not have it right then we will not rush it – again, quality and taste come above all else."
As a brand, Belvoir is also insistent that it maintains standards for ethics and sustainability. For Frank, the fact that Belvoir's roots are as a farming business, and therefore bound to the environment around it, must inform decisions the brand makes when it comes to its place in relation to the living world.
"Over our 2000-plus acres of arable land, we have planted thousands of trees and new hedgerows, installed bird boxes, we grow land just for winter bird feed and we set up beehives," he reflects. "It is all about being genuine and caring for the environment. To that end, we joined forces with Certified Sustainable and Carbon Quota. Together, they measure our activities with regards to sustainability, and how we interact with the local environment."
Since 2018, Belvoir has reduced its carbon emissions by 36 percent – a figure that has been independently validated by Carbon Quota. More recently, the company was awarded a top tier Gold Award from Certified Sustainable, demonstrating that the soft drinks producer has practiced good waste management.
"For a company of our size, we think that is terrific, and it motivates us to work even harder towards our ambition of becoming carbon neutral by 2030," details Frank. "We are now zero waste to landfill too, and have been for more than a year. Other initiatives helping us on our environmental mission include the installation of solar panels across our main site and the planting of 28 acres of wildflower and 10,000 trees through the Countryside Stewardship Scheme."
Recently, Belvoir has been exploring the value of television advertising, leading a campaign to show its commitment to everything we have talked about thus far; from high-quality ingredients to sustainable production methods, the company intends to expand and amplify its ethical framework going forward.
"We are currently in the process of putting together a new three-year business plan that takes into account the current economic climate and global situation," notes Frank. "So, the goal is to continue doing what we are good at; producing quality adult soft drinks with integrity while also introducing new ideas to the market.
"We want to become a leader in our field – not a follower," he concludes. "We are very proud of what we do, and we are hoping to keep that momentum going in difficult times. The headwinds are challenging. However, we have a steady crew and the ship is sailing in the right direction."
www.belvoirfarm.co.uk