Nathan's Famous (Nathan's) has stood the test of time. Launched all the way back in 1916, the popular legacy restaurant brand quickly amassed a strong local following for heavenly hot dogs and crave-worthy crinkle cut fries. More than a century later, Nathan's still proudly serves up the flavor of New York, but on a much larger scale.
Alongside its signature specials, including the Original All Beef Hot Dog and Chili Cheese Fries, Nathan's offers a range of best-in-class burgers, New York-style cheesesteaks, and fried chicken classics. From the onion ring-laden BBQ Bacon Tribeca to the pickle-topped New York Attitude, Nathan's creates an experience equally aimed at the discerning fast-casual foodie and the regular Joe hungering after a comforting all-American bite.
With nearly 400 restaurants and virtual kitchens all over the world, plus a further staggering 80,000 points of distribution (covering both retail and catering services), there is more than likely a chance to chow on Nathan's unique fare near you. As the oldest hot dog chain in the US, the company's reputation precedes itself; customers all over the world are tucking into Nathan's and getting a taste of the Big Apple.
Dream team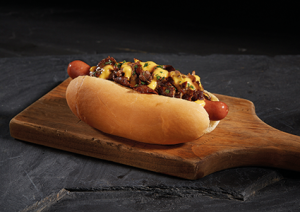 Nathan's-branded products are currently available in restaurants and fast-food takeout locations, in addition to stocked goods in grocery stores, supermarkets, and club stores. Yet the original Nathan's restaurant, for those that want to see where the legacy began, still stands on the corner of Surf and Stillwell Avenues in the Coney Island neighborhood of Brooklyn, New York City.
Today, the restaurant is an icon and remains open 365-days-a-year. Once just a stand slinging frankfurters, roast beef, and hamburgers with fried onions for five cents, the location has grown to nearly a full-city block. It has nearly 50 registers, and in the summer tourist season, it requires crews of 200 to meet the demand.
To get an insight into the wider business, we recently sat down with Phil McCann, Vice President of Marketing at Nathan's. "I have worked with the business for more than two decades," he begins. "In fact, Nathan's was one of my original accounts while working on the ad agency side of things. Then, I was hired to head up marketing in-house at Nathan's back in 2015.
"Our menu features not only our signature hot dogs and fries, but also a wide range of iconic food," he adds. "Our commercial footprint is flexible: we have carts selling hot dogs, fries, and toppings, plus stand-alone restaurants (ranging from 300 to 3000 square feet) with drive-thrus. The style of these locations may be described as a New York City loft aesthetic: vintage look, high ceilings, lots of light, and plenty of open air. Some new locations are being built from the ground up; others are being renovated or tweaked to reflect all or some of the new look.
"What I like about working here is the teamwork, particularly on the restaurant division team," Phil continues. "Most of us have worked together for many years, and we are a hardworking group; all of us wear many different hats. We have a passion for quality; this is delivered by our restaurant teams and franchise operators and can be seen in the maintenance of our restaurants and customer service."
Love what you do
While, at least in name, Phil is the Vice President of Marketing, he is also involved in many other aspects of the business – from research and development to purchasing and sales, as well as design and retail management. Each day, his role is different, and that is precisely why he loves working at Nathan's.
Best-in-class brand
With over a century in business, it is safe to say the company has experienced a wide range of geopolitical and economic uncertainties. So, how is Nathan's dealing with rising costs, labor shortages, and disrupted supply chains in the wake of the pandemic and recent global tensions?
Phil breaks it down for us. "Unfortunately, the entire industry is struggling with several issues and uncertainties," he admits. "The pandemic was hard on all of us, but it was especially tough for small business and restaurant owners, many of whom were forced to close due to restrictions or stretch resources to make up for lost sales in any way they could.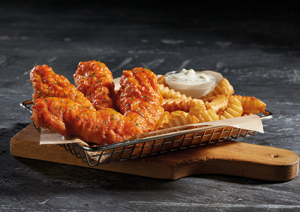 "The unfortunate reality was that many couldn't, and those that made it through are still struggling today," Phil notes. "Our goal is to give these restaurant owners a best-in-class brand that has more than 100 years of recognition packaged in a quick, easy-to-open strategy aimed at driving revenue fast. Hence, for a limited time, we are offering potential franchisees a 50 percent reduced franchise fee if they commit to converting their shuttered or currently open restaurant location to a Nathan's store. The conversion program offers flexibility with design, equipment, and infrastructure – often using the restaurant's current arrangement – to save costs and open quickly."
Robust relationships
Regarding labor issues, Nathan's is incentivizing good performance for its crew and is determined to offer quality of life benefits. "Treating people well is imperative for us," says Phil.
"As to the rising prices, we are trying to stay ahead of the game," he goes on. "One example includes our transition from corn oil to canola oil. This change uses a less expensive product that still delivers the same quality and flavor. We also have paid very close attention to our ordering processes and elimination of waste, while also renegotiating contracts with suppliers to benefit both parties. For example, we understand we need to take a cost increase, but also negotiate the increase down as well as lock-in the price for next year."
Yet, for Phil, the supply chain – and difficulties procuring items from equipment to paper products – has perhaps been the biggest challenge. "We simply try and stay in constant contact and discussion with our partners, vendors, and distributors to circumscribe wider issues," he explains. "We give our partners realistic projections and see where we can improve and work with them. If we can, we try and help the distributors by cutting back on deliveries to help with the US trucking shortage.
"Looking at the year ahead, we have a busy schedule," he concludes. "We will be opening several ghost kitchens in Belgium, France, India, and the Netherlands in the coming months, and expect to open new restaurants in Egypt, Brazil, and Mexico by the end of 2023. Domestically, we are working on opening new sites in Florida, Pennsylvania, and Arizona.