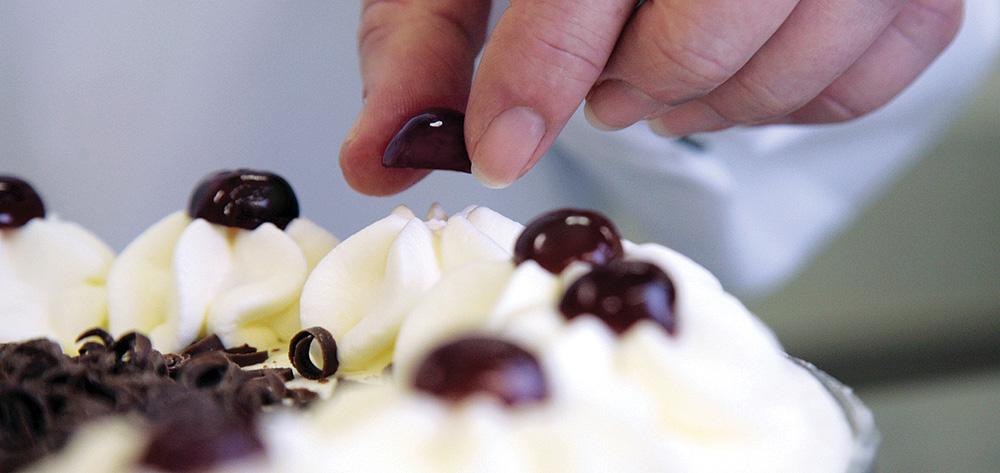 Have your cake and eat it
Fronhoffs has five generations of experience in creating high quality confectionary goods for the retail market
With a long-standing history dating back five generations to 1857, the Fronhoffs family business has grown to be an international supplier of quality cakes and gateaux. The company's 200 employees still bake a wide range of confectionary products in adherence to the family tradition that founded the business, with the key aspect is to maintain the taste of home-made cooking even throughout the deepfreeze range. With headquarters and key production taking place in Germany, the organisation has recently signed a contract with Givesco to jointly develop the business.
Regina Fronhoffs, executive director, outlines Fronhoffs' background: "The company is 152 years old, we had our 150th celebrations in 2007. It started as a local bakery and in the 1970s my father-in-law decided to make the transition from traditional bakery production to very specialised deep-frozen production. They moved from the centre of the village to the industrial areas and built up a factory, the business has continued to grow ever since.
"We create cakes and gateaux with cream and fruit including well known classics such as blackforest gateaux, chocolate, raspberry, strawberry and nut flavours. As well as our normal lines we do seasonal products for Christmas and Easter, and products for events such as children's birthdays. For example, we do a 'Windbeutel', which is a traditional German gateaux and a ladybird cake, which is one of our most popular children's products. In addition to the regular gateaux we also produce cut cakes and slices, as well as an assorted line. So, for example, you can have a cake of 12 slices with three of them being chocolate, three hazelnut, three cheesecake and three blackforest, all within one package. "


Fronhoffs works alongside such blue-chip confectionary names as Coppenrath & Wiese, Erlenbacher and Pfalzgraf to create original and innovative products. The company is always facing the challenge of creating a product that customers easily understand and find appealing as well. Clients are heavily influenced by the traditional concept of Fronhoffs while at the same time desiring something new and different. It is this winning combination of tradition and innovation that makes its unique recipes so successful in the marketplace. The company caters to three main customer groups; retail, home delivery services and distributors to hotels and restaurants.
Regina outlines one of the business' latest innovations: "We had a big success with a summer gateaux product we designed for a customer last year. It sold more than either we or our client expected, it is now listed and has a really good prospective for the future. Having a good client to work with, joint product development and attractive pricing for the product, in conjunction with having our own in-house development team, resulted in its inordinate success."
She adds: "We are continuously developing new products for a number of reasons, one of which lies in the fact that the home delivery services continuously launch new catalogues, and they like to have new products and something different to put in the latest editions. The time and requirements of the industry denote the type of product we create, ensuring that we stay strongly innovative." Fronhoffs' comprehensive range also contains lactose free and diabetic products accommodating the health sector and responding to customer demand.
The economic situation has had an effect to a greater or lesser extent on most companies across the world, including Fronhoffs. The organisation has experienced a drop in orders, but has found that its customers have remained loyal and have shown no sign of crashing. The company puts such loyalty down to the three main elements of having a good quality product, acceptable pricing and good customer service.
Regina outlines her view on the future: "I believe the recession will lead to people looking for alternatives and our ability to work with customers to design and produce competitive products will hopefully result in our increased popularity. We are highly competent in the creation of 43new product concepts, accompanied by a traditional background of innovation, and these values will hopefully see us through the economic downturn. Though we may not be heavily expanding in the near future, the recession brings an opportunity to do our research in the company and the product portfolio, to come out even stronger than before."