Recipe for success
Frostkrone Food Group specializes in the manufacture and sale of frozen finger food and snack products, and has set itself apart as an innovative trendsetter
As it stands in 2021, Frostkrone Food Group is a large international company, operating from seven locations across the globe and employing more than 800 members of staff. This impressive position has been reached over the years thanks to a combination of approaches, including new management, an investment partner and embarking on a program of acquisitions.
FoodChain spoke to Frédéric Dervieux, CEO of the Frostkrone Food Group, and he explained how, over the past five years, the company's turnover has risen from approximately €60 million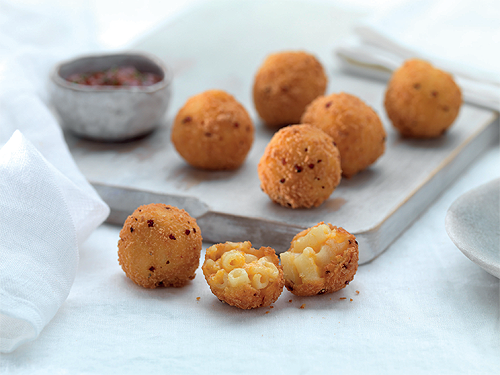 to more than €250 million. He began with some background. "Since its founding in 1997, frostkrone Tiefkühlkost GmbH has established itself as an innovative trailblazer in the sector of frozen convenience food. In 2002, the company began specializing exclusively in the developing and producing of deep-frozen finger food and snacks, thus taking a bold and brave and indeed visionary step forward," he said.
"I took over management of the company in 2013 and since that point, we have worked consistently at internationalizing the company and our turnover has continuously increased. Then 2017 saw the Munich-based holding company EMERAM Capital Partners GmbH investing in frostkrone and it has since become a strong partner at our side."
This signified the start of the Frostkrone Food Group, which at that point was a medium-sized company with two locations in Germany. "By then we had quite considerably ramped up both our turnover and also the size of our workforce. We had reaped success on the European market and were known for our innovations in the world of deep-frozen finger food and snacks," added Frédéric. "In 2018, we acquired the two locations in France, the companies of Piz'wich Europe SAS and Varenne Gastronomie SAS. Rite Stuff Foods Inc. in the USA followed in 2019 and Innovate Foods Ltd in 2020. This year we welcomed Abergavenny Fine Foods Ltd into the Frostkrone Food Group."
Food concepts
Given the major role that acquisitions have played in the organization's recent development, Frédéric explained a little more about this strategy and the integration of Innovate Foods and Abergavenny Fine Foods into the Group. "When it comes to finger food and snacks, we want to be the one source solution for the trade and food service sectors. That is why, in the case of acquisitions, it is very important that they can deliver the necessary diversity so as to enrich the range of the entire Company Group," he explained. Thanks to this method, companies added to the Group have to fulfil at least two of the following three criteria:
They extend the geographical reach of the Frostkrone Food Group and have regional contact partners on the spot
They can offer additional contacts in the various markets at a national and international level
They possess new technologies and new product ranges
"In return, the companies that join the Frostkrone Food Group profit from the existing Frostkrone range and the Group's worldwide contacts," Frédéric continued. "So, because the product selection is extended, the end result is that there are reciprocal chances to achieve increased turnover for both parties with existing customers and, in addition, new customers can be gained."
Abergavenny Fine Foods not only enriched the Frostkrone Food Group with its diverse product range and fantastic contacts to the entire British food market, but also with its creativity when developing new finger food and snack variations. "With Abergavenny Fine Foods, we are lucky enough to have a strong partner in our team who possesses great expertise in the free-from market and chilled business. What is more, they cultivate excellent business relationships with Australia and Japan. We certainly wish to exploit this chance and continue extending our export business. Plus, the fact that we now have two locations in Great Britain is great news for our customers there."
Thanks to these changes and evolutions, Frostkrone Food Group provides an incredibly varied selection of delicious and exciting finger food and snack variations. These are on offer to an international clientele found in food retailing and in the food service sector. "Our product range is available throughout the world in countries such as those in Scandinavia, in the Netherlands, France, Spain, Portugal, Great Britain, Switzerland, Eastern European locations, the Middle East, in Asia and in the USA," Frédéric noted.
"The diversity of our deep-frozen finger food and snacks is enormous," he continued. "It ranges from popular snack ideas (such as Lava Bites, Chilli Cheese Nuggets or Apple Love Balls) through the practical and tasty Pizza Pockets, which can be prepared in the oven or microwave in just a few minutes, right up to treats like hearty potato specialties made of original Idaho potatoes or exquisite appetizers and fine food delicacies like Petites Corolles Salmon."
When developing new products such as these, the Frostkrone Food Group is inspired by trends and by the wishes of consumers. Frédéric highlighted that the business also uses the complete spectrum of raw ingredients from around the world, as well as advising customers on including suitable products in their portfolios. "They are always pleased to receive ideas and concepts when launching their various promotions," he said. "The result of such collaboration is that for many years we have developed strong ties to our customers and have nurtured trustworthy co-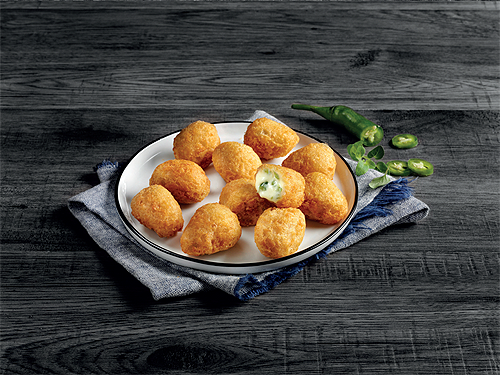 operations. We create concepts together with the aim of giving the consumer as extensive a selection as possible and maximum diversity in the freezer and in the food service sector.
"Thanks to our international orientation with regional locations in individual countries, our business can offer short distances and swift communication. We enjoy a permanent exchange of ideas and can react to the wishes of our customers in a most flexible way."
As Frédéric identified, Frostkrone Food Group is extremely ambitious in the area of new product development and innovation – always wanting to be one step ahead of trends or in his words 'reinventing food completely'. "Other companies develop finger food, we conceptualize it," he declared. "When we develop new products, we set no limits whatsoever – neither to the raw materials nor to the ideas. That's how we remain open to everything. One strength of our business is that we can handle all the major raw ingredients such as cheese, meat, fish, poultry, fruit and vegetables. That makes us amazingly flexible. Furthermore, not only do we use the extensive experience and the industry-specific expertise of our employees but we also collaborate with international institutes and conduct consumer studies.
"Hitting the pulse of today's lifestyle that is followed by the young, active, career-minded target group, who are always looking for new and different finger food and snacks with a modern feel – that is the aspiration and that is how our product developers quantify their innovations."
Frédéric went on to reveal that a current hot topic in this area is street food from all around the world, which can be enjoyed at home and in the office. "It goes without saying that it has to be quick and easy to prepare so that you can have a snack on the fly any time you like," he said. "We take a look all around the world – at the moment digitally rather than live – and we are constantly in search of new inspirations that we can turn into sumptuous finger food and snacks."
While Frédéric gave readers a small taste of the product range previously, it's worth returning to some of the latest releases to really illustrate the extent of its innovation, and the intensive research and development that goes into each and every product before they ever hit the menus or shelves. Three ranges in particular really encompass the originality and creativity of the group – Green Date, Crunchy Homies and Favorizza.
"Green Date is a free-from snack range and it places its trust in and relies entirely on natural ingredients: there is absolutely nothing here that shouldn't be here. Guaranteed," stated Frédéric. "The various kinds of vegan snacks are made up mostly of vegetables and are fruity and light with curry, or tangy and earthy with kale or they are even BBQ-style. They are available with or without a coating, are gluten-free and also free of preservatives and flavor enhancers and they are not pre-fried. The deliciously crunchy bite with the scrumptious kick for your taste buds is provided by the tiger nut.
"Crunchy Homies are the tasty bestsellers from Frostkrone," he continued. "Thanks to their special crispy coating and the new technology used, they've never been so incredibly crunchy. And these come in different flavors: Crunchy Mozzarella Sticks, Crunchy Chilli Cheese Nuggets, Crunchy Cream Cheese Paprinos and Crunchy Cream Cheese Jalapeños.
"Favorizza are pizza snacks redefined," he went on. "They can be quickly and easily prepared, which satisfies our requirement of always creating new and exciting items that are uncomplicated to serve. The selection is huge: it ranges from the breakfast snack through the veggie option right up to hot and spicy bites. One example would be the 'Early Bird' buns in the bacon-omelet variety or the vegan 'V-Style' buns with the tasty 'Hummus & Mint' flavor."
These ranges clearly illustrate the extensive nature of products on offer – to produce such a diverse selection requires sophisticated manufacturing facilities, and a targeted strategy aimed at continuous improvement and maximum productivity. "Every year the Frostkrone Food Group invests substantial sums of money in the extending of its cutting-edge production plants and also in well-thought-out digital solutions," Frédéric confirmed. "Last year, for example, we had a new ultra-modern finger food production line built at Rite Stuff Foods, with the installation going into operation at the beginning of this year. Several tons of finger food and snacks are produced and packed on the new line every day, e.g. crispy Mozzarella Sticks, hot and spicy Chilli Cheese Nuggets and Jalapenos Poppers, all for the deep freezer.
"This year, among other things, major investments are scheduled for Germany where we once again plan to ramp up our product capacity. Similarly, more investment is planned at Abergavenny Fine Foods before this year is out."
Working in tandem with the state-of-the-art facilities are a reliable and efficient set of suppliers, and as Frédéric noted, the collaborative approach adopted with customers is also successful at this stage in the supply chain. "We have many suppliers with whom we have been collaborating on a basis of trust and confidence for a long time now," he said. "Here at the Frostkrone Food Group we attach great importance to long-term co-operation projects. Of course, all requirements and quality standards have to be just right. But usually it's possible to check all this out pretty quickly. When it's right and expedient to do so, we also like to include our suppliers in our projects. We have come to realize that such co-operation can be profitable, even lucrative, for both parties concerned. We get to know one another better and that always promotes teamwork and a good collaborative effort."
He continued with details about the special relationship that Frostkrone Food Group has formed with GEA Food Solutions, which is an important supplier to the business and the two companies have been collaborating successfully for years. "GEA offers complete product solutions which take the stress out of line-oriented planning," explained Frédéric. "These solutions include facilities for grinding, mixing, shaping, coating, cooking, roasting or frying and also freezing and all this in a seamless, fully automatic process.
"In order to satisfy demand for the most popular fast food products at an international level, it is vital to have a high-precision process that provides excellent, reproducible results. Collaborating with GEA has enabled us to increase our plant capacity and output with a kind of technology that delivers results of a high quality.
"Together we have developed a tailor-made solution which creates perfectly formed finger food variations, crispy on the outside and light and fluffy on the inside, variations that resonate so well with consumers."
It is evident from talking to Frédéric that ultimately it is the consumer that remains at the heart of everything the business does, and so when the first Covid-19 lockdown was introduced and retail demand was high, the business had to act swiftly to address the new challenges. "By the time of the second lockdown, we were then prepared," said Frédéric. "We adapted our hygiene concept to suit the new requirements in the same way for all our production sites. For without a doubt, the guaranteeing of safety for our customers and for our employees had top priority. We arranged our staff in different teams, separated from one another, with the aim of being able to keep operating continuously. Meetings were held almost exclusively via video call. We developed flexible working models for parents with small children. Many of these measures will also remain in place in the future, such as a fixed appointment every day for our Management call.
"At the same time, we have topped up our stocks so that no shortages will occur. During the two lockdowns, our deep-frozen finger food and snacks were really in very great demand by the consumers. Our customers in the trade and in the food service sector rely on us and we feel obligated to provide them with all their needs. Incidentally, exchanges with our customers and suppliers really intensified during this time. We are now collaborating with them even more closely."
Growth plans
The past years have witnessed the overcoming of challenges and impressive growth at Frostkrone Food Group and going forward Frédéric and his team have plans to continue on its successful trajectory. "We wish to rigorously expand our position worldwide but nevertheless grow in a prudent way," he revealed. "We are already a leading innovation driver in the field of deep-frozen finger food and snacks in Germany, and also enjoy superb positioning in Great Britain. So as to be successful on the market in the long run, we are focusing on the development of trendy and exciting product innovations. With these we hope to captivate consumers and also to continue building on long-term customer relationships.
"For in the future, too, we wish to grow in a mindful and cautious way. We will also be looking to see which other companies suit us and share our vision. In the end, it's all about giving our customers in the trade and in the food service sector even more benefits. On the one hand, that means bringing about more variety and introducing new manufacturing processes. And on the other, we feel there is the important need for a good national or indeed regional link-up. Short production and/or delivery routes preserve and protect the environment – that encompasses delivery of raw materials right up to the supplying of the finished product.
"We have endless ideas and plenty of courage to continue taking the world of finger food and snacks by storm!"