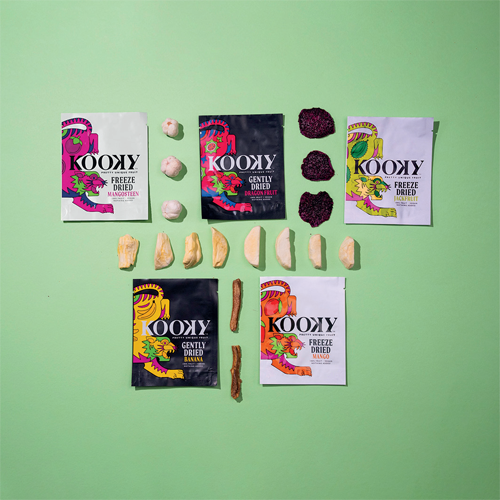 Luckily, Kooky has it covered with a range of exotic super fruits that are as good for kids as they taste.
Kooky's quirky product range includes freeze-dried, light and crispy jackfruit, mango and mangosteen, and gently dried, soft and chewy banana and dragon fruit.
Sustainably sourced in Thailand and naturally dried with absolutely nothing added, the beautifully unusual snacks are 100 per cent fruit, making up one of your five-a-day. Packed with nutrients and vitamins, the mouthfuls of fruity goodness also have vast benefits, contributing to the healthy growth and development of kids whilst giving them the chance to try previously unexplored fruits.
Kooky is the brainchild of two mothers, Aline Burgmann and Deena Tan, who met at the school gates. Bonding over their Asian roots and Western upbringings, they quickly recognised a shared passion for exotic fruits that are difficult to find in the UK. The duo created Kooky, intending to bring the best fruits of the East to the West by utilising unique relationships with Thai farmers that serve to empower local producers.
Discussing the new business venture, Deena said: "As mothers ourselves, we know first-hand how difficult it can be to find lunchbox snacks that are tasty, yet nutritious and which children will enjoy eating. We hope Kooky will inspire parents looking to spruce up their kids' packed lunches by providing a convenient alternative to fresh fruit, whilst offering children the opportunity to try fruits previously unavailable to them."