Full Moon Bar-B-Que does things right for its customers instead of cutting corners.
At Full Moon Bar-B-Que, there's something for everybody on the menu, Partner David Maluff says. "We have the best barbecue…pork, ribs, chicken and turkey," he says. "We also sell the best U.S. farm-raised catfish sourced from Mississippi. [It's] a very broad menu that people can enjoy."
The Birmingham, Ala.-based restaurant's roots go back to a barbecue stand that Pat James, a former football coach for the University of Alabama, opened in 1986. "It was a very small, 50-seat restaurant," Maluff says, noting that he and his brother, Partner Joe Maluff, bought the company in 1997.
Today, Full Moon has 12 locations, including that original stand in Birmingham, which is as "a landmark," David Maluff says. "It's a go-to place because it has an eclectic type of atmosphere. It's a cornerstone of our company and my brother holds court by meeting and greeting every customer that walks through the door."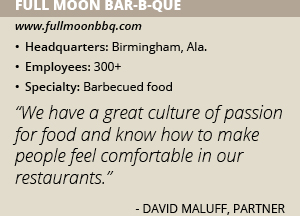 The Maluff brothers credit their success to their dedication to the business. "My brother and I have been in the restaurant industry our whole lives," David Maluff says. "We have a great culture of passion for food and know how to make people feel comfortable in our restaurants.
"Our customers are our No. 1 priority," he says. "No matter who is eating that plate of barbecue, that's how you should serve food to everyone. If you have that same type of passion and integrity to do things right, it'll resonate throughout the employees."
Fine Food
Full Moon is set apart by its menu, Maluff says. Unlike some competitors, its locations feature a firewood-burning pit that they cook pork, chicken and ribs on. Although it can be expensive to have wood burning in the pit for 12 hours daily, it reflects the type of commitment and passion the concept was founded on.
"That's true blue barbecue," Maluff declares. "We're not here to cut corners. We're here to do it right."
He also highlights its "Chow-Chow", a spicy sweet relish that is a staple in Southern kitchens. "We put that on every sandwich and every plate," he states, noting that it is popular with customers. "We also sell it via retail through many grocery stores."
The restaurants also offer smoked chicken wings, which appeal to consumers looking to eat healthier. "We marinate them overnight," he says. "They're delicious and served with our own Alabama white sauce."
Full Moon is also known for its famous Half Moon Cookies, which are made from scratch and baked fresh daily. "We dip half of the cookie in rich melted chocolate," Maluff says. "We sell about 4 million cookies a year."
A New Level
Full Moon is proud of its catering business, which Joe Maluff has grown to serve clients with a fleet of 53 vehicles. However, "It's all about our personal relationships with the customer," he asserts. "We just take care of them as if it were our family function."
He adds that this involves going beyond the extra mile. "If you really don't have anybody that provides tables and chairs [for your event], we'll do that for you with no extra charge," he says. "We'll give them whatever they need, as long as we get to cater their event."
David Maluff adds that Full Moon not only caters to weddings and special events, but also large corporate functions. "[Joe] has taken the catering business to whole different level," he says, noting that it serves up to 10,000 people daily.
It also provided a helping hand to bay areas that were hit by Hurricane Katrina, Joe Maluff recalls. In addition to providing survivors with sandwiches, "We were [serving] 1,000 to 1,500 [people] for breakfast," he recalls. "We do whatever it takes to make it happen."
Something Special
Full Moon plans for continued expansion, David Maluff says. "I see us still growing at an average of one to two stores a year," he predicts, adding that the company is not interested for growing for the mere sake of growing.
It is cautious when choosing franchisees. "We want someone that has a passion and the values like we do," he says. "Usually, we expand from within looking for opportunities for our employees and managers to grow long term with our company.
"We are confident we could grow to the surrounding states around us, such as Mississippi or Georgia, but we're in no rush. We're still young, vibrant, profitable and having fun."