Fullei Fresh prides itself on not only educating its peers, but also its customers about sprouts and healthy eating.
In 1938, Manny Wong's father started growing bean sprouts in Havana, Cuba, to serve the Cuban Chinese community. Then in 1978, Manny Wong launched Fully Inc. in Miami as a bean and soy sprout grower, and later on tofu manufacturer.
Since then, the company has evolved into Fullei Fresh and produces more than 18 varieties of sprouts, including bean and soy sprouts. The Miami-based company has one of the largest selections of sprouts, which are grown hydroponically indoors in a controlled, sanitary environment without the use of any pesticides, additives or preservatives.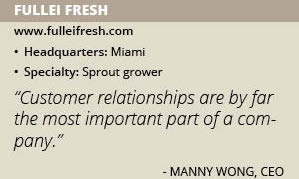 In addition, Fullei Fresh's products are shipped daily to its distributors and wholesalers via its fleet of refrigerated trucks. The company works with Fullei Specialty (now known as The Fullei Fresh Marketplace), its sister company, which promotes a lifestyle of health and wellness within the community.
Keys To Success
Fullei Fresh is celebrating its 40-year anniversary this year. CEO Manny Wong attributes the company's success to its focus on quality, service and customer relationships instead of price. "Customer relationships are by far the most important part of a company," Wong says. "It's just like the old saying: 'you can fool some people some of the time, you can fool all of the people some of the time, but you can't fool people all of the time.' There aren't enough honest business people out there."
Wong notes that some companies "steer customers in the wrong direction," whereas Fullei Fresh aims to not only provide quality service and products, but also educate its customers. To further that initiative, Fullei Fresh applied for a grant through Cultivating Change to assist in the building of its new health and wellness community space this spring.
The Fullei Fresh Marketplace will operate the facility, which is set to open its doors in April. The grand opening will feature a series of speakers, workshops, cooking classes and more. "Our goal is to educate the community about sprouts, but more importantly, better eating," Wong explains. "We'll also discuss the importance of exercising, and bring in speakers to discuss health issues." The facility will be 1,500 square feet and construction will begin Feb. 1. "We're going to start small to see how it works out in the community," Wong says. "If it goes well we will expand and implement several health and wellness classes, including yoga."
In addition, Wong is a lead instructor for The Sprout Safety Alliance (SSA), which develops a core curriculum, training and outreach programs for stakeholders in the sprout production community. The SSA's goal is to enhance the industry's understanding and implementation of the requirements in the FDA Food Safety Modernization Act (FSMA) Produce Safety Rule, and best practices for improving sprout safety.
"So far I've taught 72 students from growers to state and federal regulators," Wong says, noting he's traveled from the east to west coast and Canada.
"I'm not only going out there as an instructor, I'm also learning," he says. "I bring input and tips back that I feel would be helpful, too."
Further Expansion
Food safety is No. 1 for Fullei Fresh. The company aims to set the standards for food safety, while providing its customers with the highest quality products and the best service it can.
Fullei Fresh recently expanded its building by 12,750 square feet to not only ensure it was still producing safe foods, but also to adhere to the requirements in the FDA Food Safety Modernization Act (FSMA) Produce Safety Rule. "We spent over $1 million to expand and remodel our building," Wong says. "We are also the first facility in the United States to be in compliance with the FDA's new Sprout Safety Alliance guidelines."
Wong notes that its key partnerships are excited about the company's growth and want to be a part of it. "We're also partnering up with different corporations, like Sysco and Produce Alliance, to promote a better eating lifestyle," he says. He adds that Fullei Fresh's nearly 50 employees are "the anchors" of the company.
"We give them credit because they are a great group of employees," he says proudly. "Quite a few of them have been with the company for at least 10 years. Without them our process is a little bit tougher.
"They know what I look for and expect out of them is a quality product," he continues. "At Fullei Fresh, it's not just about packing something. Our employees pay attention to packaging, and growing the products. They have been a very big part of our growth and expansion."
Looking Ahead
Fullei Fresh is aiming to grow strategically by tapping key partnerships. "We have several new contracts," Wong says. "One of them is in the state of Texas. Although we've operated in the state for seven years, we're expanding our network and moving forward in other parts of the state."
The company also has rolled out new packaging this year that meets FDA regulations. As Fullei Fresh moves forward, Wong says he is most proud of the company's brand recognition. "It's amazing when you talk to people and they actually recognize your brand," he says. "Branding, to me, is the most important thing for a company."
Ultimately, Wong wants consumers to know that sprouts are nutritious and encourages more people to look into eating healthier. "Everyone should include sprouts in their daily diet," he concludes.