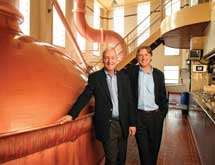 Beer is not just one drink any more than wine is – as wine is produced in red, white, rose and hundreds of other varietals, so is beer. It is not just the familiar light lager sold at ballparks, but also pale and red ales, porters, stouts, brown and wheat ales, saisons and hundreds more. However, for long periods in the United States, the average person would not have heard of these varieties.
In 1991, when microbrewing was just starting to expand in the United States, FX Matt Brewing Co. – which had been producing beer since 1888 – decided the microbrewing trend was here to stay. Its Saranac Adirondack Lager had won as best American premium lager at the Great American Beer Festival, which is the craft brewing industry's premier event. "We made the decision in 1991 that the best thing for us as a company was to focus on the Saranac brand rather than historic regional beers we had made such as Matt's and Utica Club," Chairman and CEO Nick Matt recalls.
"At that point, Saranac was 1 percent of our sales, and it was not an obvious decision," he concedes. "It certainly has worked out. Today, Saranac is more than half our sales, and it frankly is really the reason why we are somewhat unique and why we're doing quite well. I would not want to be making this brewery operate on selling Matt's and Utica Club."
The company kept Utica Club but discontinued Matt's. "Utica Club is a Pilsener lager," Matt explains. "It is a light-bodied, more mainstream beer. The problem with trying to sell Utica Club is you aren't very different. You have to make a product consumers want to drink because they simply like it better. If you do that, you will be successful."
Packaging Variety
By 1993, FX Matt Brewing Co. had introduced additional styles to complement its Adirondack Lager, such as Saranac Golden Pilsener – a more fully hopped Pilsener beer – and Saranac Black and Tan, which is a mixture of stout and the company's Adirondack Lager.
"A young woman who had joined us a year or two earlier said we should put them all in one six-pack, so people could try all three with one purchase," Matt remembers. "The production people were absolutely horrified by this. My brother F.X., who had grown up in the production ranks, just about fell off his chair when he heard. It originally started as a trial vehicle. What we came to find out is that the craft beer drinker likes variety and mix. So today, our Adirondack Trail Mix package, which has four different Saranac beers in it, is one of our best-selling packages and has been for almost 20 years."
The company also offers mixes of its seasonal beers. "Our philosophy as a brewery is to make beers that are distinctive but also drinkable," Matt emphasizes. But following a trend in microbrewing toward extreme beers, FX Matt Brewing offers specialty brews under its High Peak series."High Peak is actually the exception to the rule," Matt concedes. "As people were making higher alcohol and much higher hopped beers, we said to our brewers, 'Why don't we show we can do this, too?' We made an imperial India pale ale and an imperial stout. They're much bigger beers. Saranac Imperial IPA is available year-round and Saranac Imperial Stout makes guest appearances seasonally."
Fire-brewed
In 2008, a blaze started accidentally from welding in the packaging facility, which was a wing of the original brewery. "We lost our capability to package beer from the end of May 2008 to the end of June, and if you could pick a bad time to not be able to package product, that would be it – in the beer business, anyway," Matt stresses. "Today, we have rebuilt our packaging facility almost totally with a brand new warehouse we didn't have before. We made lots of improvements to our brewery and our whole area."
Because of the fire, a new bottling line and can-packaging line were installed. FX Matt Brewing's contract brewing accounts for 35 to 40 percent of its business, Matt estimates. The company also acquired the Flying Bison Brewery in Buffalo, N.Y. FX Matt's beers are distributed in approximately 20 northeastern states.
Sustainable Brewing
FX Matt Brewing – one of the last independent, family-owned breweries in the United States – is investigating installation of an anaerobic digester to treat the brewery's wastewater and spent grain and generate 30 to 40 percent of its electrical requirements. Previously, the spent grain that is left over after being boiled to make beer was sold to dairy farmers to feed their cows. "If you drive around here, all the cows are smiling," Matt jokes. "There is a benefit – the cows produce more milk when they are eating the grains from the brewery."
After the fire, a geothermal heating and cooling system and more efficient lighting were installed. "We're focused on running a better business and growing our business, and at the same time, having some fun," Matt declares. Helping to achieve that goal is Saranac Thursdays, a series of concerts at the brewery every Thursday in the summer that is attended by up to 2,500 people and raises funds for the United Way. "We've been averaging $30,000 to $35,000 every year we give to the United Way from Saranac Thursdays," Matt maintains.
Getting the Word Out
Willy Wonka has nothing up on FX Matt Brewing – the company hid golden tickets in its 12 Beers of Winter variety packs of beer that entitle the holder to a night at the brewery. "It involves brewing some beers, a behind-the-scenes tour, a five-course dinner with Nick and I and a bunch of magical surprises," President Fred Matt promises.
FX Matt Brewing publicizes the promotion through social media, the website and radio promotion.
The company also has a cable television ad running, advertises on billboards and offers a lot of samples of its products at concerts, art or charitable events and stores where its beer is sold. For the future, Matt sees continuing the company's successful soft drink line and moving into higher-end niches. One new niche he mentions is organic beverages.
"What's really cool about us is we've got a great family heritage," Matt emphasizes. "You can't get any more authentic than us, and we've successfully reinvented ourselves into a brewery in the craft brew business that is really kicking butt. It's not like we saw craft brewing as a fad – if you go back to our heritage and look at what we were brewing in the early 1900s and up until Prohibition, we were brewing IPAs and pale ales and brown ales and stouts. This whole craft movement is a return to our roots."
Matt came to the company with a Master of Business Administration degree and a background in advertising. "I grew up always thinking I'd like to work at our brewery some day," he concedes. "I didn't know if I would have the opportunity, and thankfully, I did, and it's been a blast!"