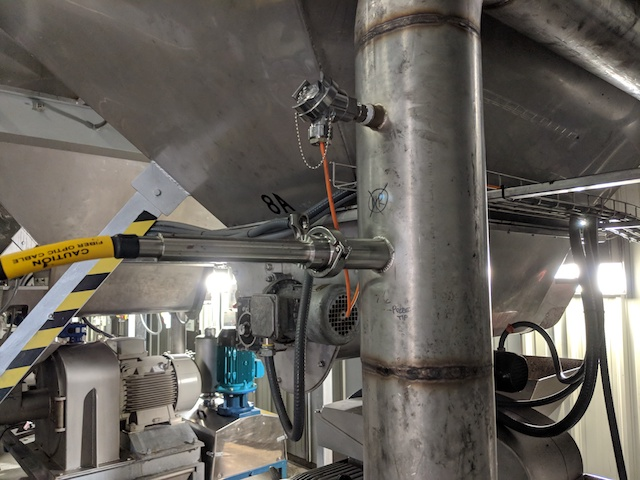 Galaxy Scientific offers a wide range of analytical solutions to food manufacturers using NIR spectroscopy.
Whether you are brewing beer or processing seafood, Galaxy Scientific has a solution to save you time and money and improve your product's quality. The company is dedicated to producing high-performance, portable and rugged analytical instruments and offers a wide variety of solutions for the food and beverage industries using NIR (near-infrared) spectroscopy.
The Nashua N.H.-based company – which also serves the chemical and pharmaceutical markets – helps food manufacturers improve their process quality. It works with them every step of the way, from incoming ingredients through processing to finished food products.
Galaxy Scientific's FT-NIR spectrometers are ready for field, laboratory or process use, with options for fiber-optic probes, or large area sampling for inhomogeneous solids or transmission measurements.
Galaxy Scientific info"The food industry has really started to realize the value of NIR spectroscopy," CEO Richard Jackson says. "The industry is moving into more automation and we are a part of that trend. The use of a spectrometer saves time, money on labor and can lead to a more consistent quality."
Breakthrough Solutions
Galaxy Scientific's field portable FT-NIR spectrometers combine an advanced, permanently aligned interferometer with novel software algorithms to provide breakthrough solutions to the most challenging online and point-of-need near-infrared applications.
Samples can be analyzed in the field or at a process line, rather than be taken to a laboratory – which can save time.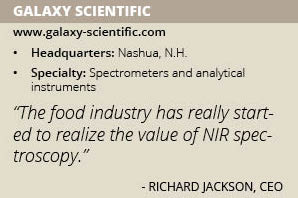 The primary methods used in the laboratory are often very time-consuming. "There's a big drive in many industries to get rid of some of those time-consuming methods and replace them with something much faster and easier to operate," Jackson says. "One of the advantages of what we do and make is that it's fast and it can be operated by just about anybody."
Food manufacturers are among Galaxy Scientific's largest customers. For food industry applications, NIR spectrometers can be used for measuring the properties of olive oil, the amount of protein in wheat or the amount of moisture in flour – to name just a few.
An Alternative Method
A common application is measuring the amounts of moisture, protein and ash in flour. "And that's where NIR offers another advantage," Jackson adds. "If you want to do primary measurements for moisture, protein and ash, those are three separate measurements that require different lab methods and a chemist. But our technology does them all at once. It reads out all results from one measurement in under 30 seconds."
Snack food is another common application for NIR spectrometers. For example, some of the measured parameters in potato chips are moisture and oil content. Those are important parameters, but current lab methods for testing are often time-consuming and involve expensive primary methods.
Galaxy Scientific 2NIR spectroscopy is an alternative, reliable method for fast, cost-effective and real-time monitoring of parameters at all stages of different food manufacturing processes. It is mainly used to improve food products' quality and consistency as well as reduce waste and processing cost.
Depending on the specific food process, NIR spectroscopy can be used to analyze incoming raw ingredients and at different stages in the manufacturing process. It is often used to analyze finished products prior to packing.
Galaxy Scientific also has customers that use their QuasIR products for alcoholic beverages analysis. In the case of beer, for example, alcohol content, original gravity and original extract have all been successfully correlated with NIR spectra using calibration models.
NIR Spectroscopy saves manufacturers time and money on raw materials, processing, fuel and labor by using real-time feedback during the fermentation process. Spectrometer data is used to optimize processes such as changing enzymes, process parameters and nutritional supplements.
There are many applications for NIR spectroscopy in the food industry. Galaxy Scientific offers a wide variety of FT-NIR products that can help manufacturers of both solid and liquid based food products. Some of the main food applications are edible oils, meats, dairy, grains, liquor, seafood, snack food, spices, chocolate and baked food products.
To educate food and beverage manufacturers about the uses of NIR spectroscopy for applications in the food industry, Galaxy Scientific developed a new website, nir-for-food.com.
"The site covers a whole range of different types of food and beverage applications," Jackson says. "If you're a seafood manufacturer, you can see what spectroscopy can do for seafood. You'll also see applications for coffee, beer and alcoholic beverages and many others. We believe if more people in the food industry have this type of information, then they will see the value of NIR instrumentation."