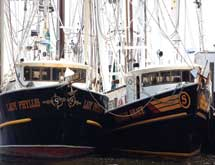 Garland F. Fulcher Seafood Co. Inc.
After nearly 70 years in business, Oriental, N.C.-based Garland F. Fulcher Seafood Co. Inc. knows what it takes to stay successful. Co-owner Jeffrey Styron attributes the company's longevity to its ability to provide a quality product from a name that its customers trust. "Our honesty and integrity has taken us a long way," Styron remarks. "We stand behind our product and we've been able to develop a good name in this business, as a result."
When the company was founded in 1941, its primary product was fish but, in 1973, a new management team purchased the firm and grew the business into additional markets. "After my father, Sherrill Styron, became involved with the company in 1973, he started producing crab meat, which became the No. 1 seller throughout the next 30 years," Styron explains.
Styron's father grew up in a family of commercial fishermen, and eventually taught marine occupation courses in a local high school. "He was known to be a very good businessman who understood how the industry works," Styron says. "He also had a great deal of experience performing accounting work, and developed a strong reputation throughout the community. Eventually, Garland F. Fulcher contacted my dad and asked if he wanted to work here and take the company into the next generation."
Focused on Quality
Today, Garland F. Fulcher's full line of seafood has grown to include flounder, scallops, oysters, snow crab leg, soft-shell crab, shrimp and more. The company operates as a wholesaler, processer and manufacturer of seafood products for restaurant and retail clients throughout the Southeast. Today, its most popular products include flounder, scallops and shrimp, Styron notes.
Styron attributes the firm's success in the industry to its ability to foster customer loyalty. "We've built up a list of customers who stick with us," he says. "We make sure that if a customer needs something from us, we're there for them. This is the most important part of developing customer loyalty. It takes time, but if you work with customers to give them what they need, and service them in a dependable, reliable way, you will gain customer loyalty in time."
Overcoming Challenges
The industry has changed significantly in recent years and, with increasing regulations placed on commercial fishing, companies face a number of challenges. "There were no regulations on fishing 15 years ago," Styron says. "We could catch whatever we wanted to but, these days, we have to have a permit to catch flounder, and we're only allowed to catch so many per year."
Today, commercial fishermen are only allowed to catch flounder for approximately four months per year, which makes imported flounder even more appealing to certain customers. "Many companies started using imported flounder, because they can get it all year round," Styron admits.
Garland F. Fulcher strives to remain on the forefront of these issues by working with lobbyists who represent the rights of commercial fishermen.
Maintaining Quality
Quality is a priority at Garland F. Fulcher, and the company maintains strict controls over its products, as a result. "We follow all Federal HACCP plans, and we're inspected once a year by the state and by FDA," Styron says.
"By following these plans, we're able to track each order. If we sell a pound of crab meat and there is a problem with it, we can look at our plan, see exactly where it came from and what happened to it. This would allow us to figure out what happened and fix the issue."
Rewarding Hard Work
Garland F. Fulcher treats its employees like family and strives to reward their hard work whenever possible.
"This is a great place to work," Styron stresses. "We are all very honest in what we believe in, and never do anything that will leave a bad taste in our mouths."
To ensure employees are satisfied, the company gives out incentives. "We often reward our employees with seafood as a thank you for their hard work," Styron notes. "We pride ourselves on treating our people well."