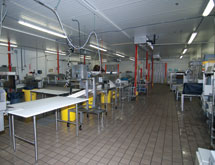 Gary's Seafood and Specialties
Supplying fresh fish to resorts, hotel restaurants and natural foods grocers throughout the Southeast is a 24/7 business. "Everybody wants that fish by 11 a.m.," emphasizes Gary Reed, owner of Gary's Seafood and Specialties. To provide that, Reed's employees start filleting fresh fish from all over the world at 10 p.m. the previous night. The company runs two shifts processing fish six days a week.
Reed's salespeople let customers know in the morning what fish are available, so customers can decide what they want. "The salesmen fax the customers a price list on Monday, and those fish that are on that price list we will have throughout the week," Reed explains. "We'll hold those prices on that fish and do it again Monday." The salespeople have a cutoff time for receiving orders based on the order's destination. "Some local places can call in the morning and we still get it out," Reed maintains.
Fish are prepared first for the most distant customers – those in Miami, Naples and West Palm Beach, Fla. – and then for the local accounts. "It's a real job to get the stuff out, especially cutting it by hand," Reed points out. "We bring in a lot of farm-raised salmon, both from Canada and Scotland. Farm-raised is a pretty stable supply. One supplier has 14 million farm-raised salmon."
Gary's Seafood and Specialties supplies fresh and farm-raised fish to its commercial customers – such as white tablecloth restaurants, resorts, hotels and some Whole Foods stores – from southern Georgia throughout the Florida peninsula, along with some high-end hotels and clubs in the Caribbean. Most fish are supplied by the company's 40 trucks, but the Caribbean and other out-of-state locations are served by overnight air. The company's longest truck runs are from Orlando to Miami and Naples.
Besides from Canada and Scotland, supplies of fresh fish are flown in from Guatemala, Ecuador, Panama, Trinidad, Alaska and New Zealand. "We really pretty much deal direct," Reed declares.
Step Van Start
For Gary's Seafood nowadays, distributing thousands of pounds of fish is not a problem. But when he started in 1990 in a modified step van, he could not have handled more than a few hundred pounds.
"I modified the van, refrigerated and insulated it," Reed remembers. "The chefs would come in and order what they want, and we would fillet it on the truck and bring it into the restaurant."
His next expansion was into an old fire station. "Eventually, we got another building that was a former veal packing plant – a 5,000-square-foot facility – and ran in there for 10 to 12 years," he says. Then he built a new facility in Orlando that has 15,000 square feet for fish processing and storage.
His warehouse across Amelia Street from that facility houses packaging and other supplies.
Leapin' Lobsters
Gary's Seafood has a warehouse in Miami and an agreement with one of its suppliers of imported fish and seafood to use the supplier's warehouse in Naples for cross-loading of seafood from the suppliers' trucks to Reed's trucks. The same cross-loading is done in Sarasota.
Reed maintains that his company has the largest lobster holding facility in the Southeast. Located in Winter Park, Fla., it has two giant tanks 50 feet long by 30 feet wide by 4 feet deep filled with up to 42,000 pounds of live lobsters in vats that float. "You separate them out by their weight, so you have rows of them floating in these plastic vats," Reed explains.
The lobsters are trucked in twice a week from Maine under refrigeration in boxes with seaweed, gel packs and wet newspapers that are covered with a special insulation. "They run straight from Boston or southern Maine to Orlando," Reed declares.
Sustainable Sources
Fish are rated for how sustainable their supply is by environmental organizations. "Probably 90 percent of our customers want sustainable seafood," Reed estimates. "That is getting really big. Everybody is moving that way."
Gary's Seafood also sells hundreds of specialties, such as Kobe beef, caviar, olive oil, beans, rice and private label foods. The specialties division is run like a business within Gary's Seafood by Tom Neeley, specialties manager.
Prices for seafood have been rising and availabilities of some fish, such as tuna last year, have been short. Reed says the competition is getting "pretty fierce," but he still inspects his suppliers' facilities regularly and does not skimp on the quality of the fish he buys.
"We buy it whole and fillet it ourselves," he maintains. "We get to see what the fish looks like in a whole state so we can tell the quality of the fish. You have to be tough with your suppliers so your customers are satisfied. We've always had a really tough back door. If it's not coming in good, it's not going to go out good."