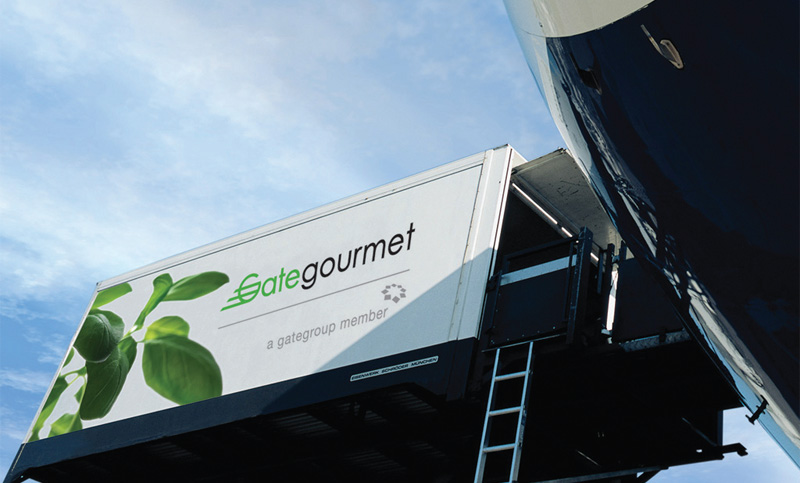 Fine dining
Already one of the leading airline food providers, Gate Gourmet's string of recently signed contracts looks to guarantee continuing success
Gate Gourmet is the world's leading independent supplier of catering to the air and rail industries. As such it delivers a wide range of foods globally, meeting strict quality standards.
Gate Gourmet itself is part of the wider gategroup, the world's leading independent provider of in-flight products and services. In addition to Gate Gourmet, the Group is comprised of a number of other brands including deSter, Elan, eGate Solutions, Gate Aviation, Gate Safe, Harmony, Performa, Potmstudios, Pourshins and Supplair. The operations of these companies can be split into three areas: catering and hospitality, provisioning and logistics, and onboard solutions.
Gate Gourmet caters on average 5000 mainline flights daily and produces 200 million meals per year. The company operates 97 flight kitchens in 26 countries throughout five continents.
Gate Gourmet has a large and varied client base. Being able to cater for the diverse range of its customers' culinary needs, and to produce food of a consistently high quality, requires expert skill. The company employs a number of head chefs that specialise in regional and diet-specific cuisines. Therefore it is able to provide the full range of meals for ethnic dishes, medical requirements, lifestyle choices and religious customs.
It also adheres to the strict regulations of the Hazard Analysis and Critical Control Points (HACCP) system, which is essential to the health and safety of the final product; to ensure a thorough process.
However, the delivery of the food is as important as the quality of the food itself. The average long haul flight between, for example, the US and Asia involves over 200,000 items, from food to cutlery and drink to napkins. Combine this with more than two million flights a year and Gate Gourmet has its work cut out. To help accomplish this task, the company runs a fleet of nearly 1700 state-of-the-art high loader vehicles and tailors the assembly of meals exactly to its customers' requests. From receiving ingredients to loading a packed meal onto the plane, it aims to have a maximum turnaround time of 48 hours, therefore guaranteeing freshness. Gate Gourmet also handles the post-flight offloading, cleaning and disposal of its products; recycling materials is important for the company to reduce environmental impact, whilst re-usable items such as cutlery and trolleys are sterilised before undergoing safety inspection.
Despite recent challenges for gategroup such as the financial downturn and the Icelandic ash cloud, which had an impact of 21 million Swiss francs on revenue, the company has maintained excellent underlying performance. The first half of 2010 saw operational profits of 40.5 million Swiss francs, an 11.8 per cent gain in constant currencies over the same period in 2009, whilst EBITDA was 93.8 million Swiss francs. Gate Gourmet's success at winning new business such as in North America with Virgin Atlantic, and in Switzerland with Singapore Airlines, have made significant contributions to the Group's success.
As a result there have been a number of new investments. Gate Gourmet Amsterdam recently undertook a major refurbishment of its facilities as a result of extending its contract with Delta Airlines, whilst the opening of a new purpose-built flight assembly centre at London's Heathrow airport has given Gate Gourmet new space to increase the flexibility of its operating model. The company has also gained a foothold in Tokyo Haneda where a new runway opens in October, whilst also recently completing a new eco-friendly facility at Ecuador's Guayaquil airport.
The next few years for the company look bright. With the market swinging back into action, the IATA has changed its financial forecasts from a global industry loss of nearly $3 billion to a profit of $2.5 billion. Though the European market is expected to continue experiencing a loss in profits, Gate Gourmet's international presence means it is well positioned to ride out the turbulence and continue prospering into the future.