GATE Hospitality focuses on local sourcing for its four landmark clubs in northeast Florida while maintaining each property's uniqueness.
GATE Hospitality's four prestigious properties in northeast Florida are known for their distinct identities and the company focuses on ensuring its landmark clubs maintain their uniqueness. "Each property has its own little element of history within the city of Jacksonville," Vice President of Food and Beverage Operations Steven Jones says. "The properties stood out as landmark clubs and now with all four together, it unifies that statement. They are the landmark clubs of northeast Florida."
Herbert H. Payton opened his first gas station in 1960, founding GATE Petroleum in Jacksonville, Fla. He expanded rapidly throughout eight southeastern states, but in 1972, the energy crisis motivated management to diversify the business beyond service stations. GATE began acquiring concrete plants, real estate for development and hospitality properties.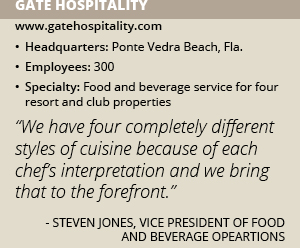 Over a period from the early 1980s and up to most recently in 2004, GATE Petroleum purchased the clubs: Ponte Vedra Inn and Club, The Lodge & Club, The River Club and Epping Forest Yacht and Country Club. At one point, the company also owned Deerwood Country Club, but sold it prior to purchasing the River Club. "For the most part they ran as independent properties," Jones says. "In 2013, the GATE Hospitality Group was formed to oversee the management of the four properties."
In addition to the diversity of each club, Jones says he believes it's the dedication to service that has always set the properties apart. "Service has always been a big part of the thumbprint of all these properties," he adds. "If you look back at the personnel, we have a lot of longevity to the teams, which means we have consistency and standards being passed from generation to generation. That's always a great asset."
Culinary Cook-Off
Each of the four properties is diverse and that goes for the food, as well. The properties have their own executive chefs and food and beverage director to develop seasonal menus made with local ingredients. "Each chef adds their own personality and twist," Jones says. "We have four completely different styles of cuisine because of each chef's interpretation and we bring that to the forefront."
GATE Hospitality Group Culinary Cook-Off is held once a year in January and is an internal cooking competition among all four properties. Each chef gets to view the talent he has on his team and showcase it for the members. "Members get to taste portions, enjoy wine and get to see the talents of the culinary teams," Jones adds. "They compete with an appetizer, entrée and dessert dish in a fun, tasting format."
Each dish is paired with two wines and members choose their favorite. Members vote on their favorite dish and wine pairing using secret ballot boxes that have the name of the club written on them. Members support their favorites and even cheer them on with the chef's headshot on paddles to bring more attention to their team. The 2017 GATE Hospitality Group Culinary Cook-Off is to be held on Jan. 27 and Jones is hoping to increase attendance this year from the 400 members it attracted last year. The Lodge & Club has won the past two years.
"Executive chefs have worked their entire professional lives and done a lot in their careers to be in their position, so this is about their teams," Jones explains. "It's creating camaraderie and bringing the team into the spotlight. There will always be an executive chef, but for this event it's about team and team effort."
The '100-Mile' Cocktail
On the beverage side, the "100-Mile" cocktail was developed by the beverage manager at the Ponte Vedra Inn & Club using ingredients sourced within 100 miles of the property. This cocktail was also featured in Travel + Leisure as a fun July 4th Cocktail.
The teams continually look to innovation in new menu items using local ingredients. "Building and nurturing relationships is very important and there is always something new coming into the market," Jones says. "We are always looking to stay at the forefront of local and sustainable cuisine."
Being a Jacksonville company, GATE Hospitality Group sources as many products in the surrounding area as it can, "whether that is from a small Aquaponic farm where we get our micro greens and lettuces or reaching just over the border into Georgia for grits and rice." "From a seafood standpoint, fresh fish is a big part of the food program and at the Ponte Vedra Inn & Club we source locally for our fish. We know what boat it came from because we source the boats from within a couple of hundred miles and we know how it was caught. Diners can read on the menu what boat was used and what method was used to catch the seafood."
GATE Hospitality Group also emphasizes the importance of embracing "modern diets," such as gluten-free and vegan. "Our chefs have been empowered to incorporate trends into their menus," Jones says. "What's nice is we have a menu on hand in our banquets operations with a choice of four different vegetarian dishes. It enhances the guest's overall experience and you're not just getting a veggie plate."
Most recently, a local company came to the GATE Hospitality Group to introduce a cold-pressed juice that it now sells in the clubs' Gourmet shop and that will be incorporated into the fitness areas. Also about a year-and-a-half ago, the GATE Hospitality Group purchased our own barrel of private-label bourbon and then worked with a local craft brewery to age their brew in the bourbon barrel for three months. The results were a beautifully balance IPA called the "Bold Seahorse" which is available in the Tavern at the Ponte Vedra Inn & Club.
"We put our own spin on the craft beer to get a new taste profile that has been very successful," Jones says.
Facility Upgrades
The Surf Deck Grille, an oceanfront bar located in the Surf Club building at the AAA Five Diamond Ponte Vedra Inn & Club, was a popular but older area of the club that need to be redesigned and rehabbed. "We completely gutted the whole interior and redesigned it for functionality,"
Jones adds. "The space is very well thought out with a condensed kitchen and service area. The whole bar was reconfigured with new draft systems including local craft beers, sparkling and still water on tap."
The Surf Deck Grille was opened up so the space can seat 72 plus another 14 seats at the bar. "The year round venue has already proven to be a real "hot-spot" and continues to be the place to be seen."
Continued improvements at all of the other Gate Hospitality Group properties included:
* A new branded lounge and bar area "Vue34" at the River Club
* A Mariners Deck Bar overlooking the St. John's River at the historic Epping Forest Yacht and Country Club
* The Tavern, a vibrant, social venue featuring a pool table, HD TV's and inspired Craft Cocktails, at the Ponte Vedra Inn & Club
In keeping with the company's philosophy of excellence, The Lodge & Club rooms were renovated last year and the Sea View Lounge and Sea View Grille were also refreshed. The company also invested in the club's kitchen, adding new walk-in coolers and freezers. "I've had the fortune over the past three years to acquire funds to complete capital projects from a food and beverage standpoint," Jones says. "Going forward, we will make capital investments into the properties infrastructure that will help us in the long-term and make them more efficient from an operational standpoint, thus contributing to an overall increase in the quality of product our guests and members can expect".