With its key partnerships and employees, 25-year-old Gateway Casinos aims to improve the customer experience and attract new guests.
Gateway Casinos & Entertainment Limited is the largest and most diversified gaming company in Canada. With locations in British Columbia, Edmonton and Ontario, the Canada-based company has more than 5,900 employees and operates 26 gaming properties with 282 tables, more than 9,500 slot machines, 68 restaurants and bars, as well as 272 hotel rooms. Gateway has had significant growth in the past 12 months, and still has plans to grow aggressively in the next couple of years, according to Corporate Director of Food & Beverage Travis Talbot.
"We have some proposals in and we're currently developing a number of properties in Ontario," Talbot says. "Our executives are always exploring opportunities in various marketplaces throughout Canada."
Its two new properties will be completed in the next two to three years. Additionally, Gateway is renovating several of its existing properties, including a $15 million renovation of the Grand Villa Casino Hotel & Conference Center in Burnaby.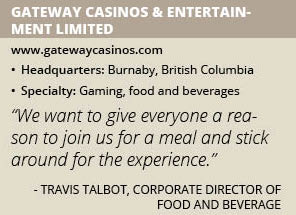 Keys to Success
Gateway attributes it success over the past quarter-century to not only growing by expansion, but by being dynamic and keeping pace with market trends.
"Since 2013, we have invested more than $365 million in our growth strategy, and it all stems from our leadership team," Talbot says. "Our C-suites have an amazing vision as to where they'd like to take the organization. I think part of that is crafting more dynamic and exciting venues including gaming, food and beverages, and the amenities of our hotels."
Talbot adds that Gateway is growing because the company is successful. "You can't grow if you're not successful with your current offerings and what you're bringing to the marketplace," he explains, noting that it is important the company always keeps it guests at the core of all initiatives.
"For us, it's about having innovative, fresh and contemporary offerings," Talbot says. "After that it's about service, engagement and entertainment. When someone comes to a Gateway property, we want to ensure that throughout their entire guest journey they are being stimulated, engaged and impressed. From there they become loyal brand ambassadors and repeat guests."
Gateway's more than 5,900 employees also play a huge role in its success. "Although the inspiration that drives everything forward comes from the leadership team, the frontline staff is really shaping it all," Talbot says.
The company's employees "have their fingerprints on everything," according to Talbot. "Our employees feel comfortable approaching and engaging our executives when they're walking one of the game floors, for example," he says. "We have frontline staff members who sit at our executive meetings to share their insight."
He adds that many organizations allow employees to call information lines or send emails to provide feedback and/or suggestions; engagement for Gateway is not a buzzword. "Our executives are receptive to our employees," Talbot says. He adds that he has worked in various organizations around the world, and had not experienced this "unique environment" until joining Gateway's team.
"Our responsiveness makes us unique," Talbot says. "Being successful does not happen by only having insights or an understanding of the marketplace, but by listening to your employees as well. We don't get caught up in bureaucracy. Our responsiveness is almost instantaneously."
Talbot adds that the company's engagement with its employees also helps with retention. "We have more than 90 promotions year-to-date, and this year seven employees will reach 25-years-of-service milestones," he says proudly. "Our culture is unique because our employees know they're contributing to the growth of our company."
Gateway also engages its employees by provide extensive training for all new employees from those with no experience to incoming professionals. "We have training and development progression planning for all levels," Talbot says. "All of our food and beverage employees receive significant training, including sessions in brand training and marketing.
"There are also opportunities to move from site to site, from province to province, and between all departments within the organization," he continues. "It's our genuine goal to become recognized as one of the top employer and talent brands in Canada."
Innovation On Purpose
Gateway has greatly expanded its food and beverage properties. The company has 68 restaurants and is developing its own proprietary brands. It aims to offer guests a full entertainment package with each brand, Talbot says.
"We're looking to be innovative, so we are creating our own brands that we treat like standalone restaurants or standalone properties that are housed within the gaming and hotel operations we have," he explains.
Talbot notes that Gateway's Senior Vice President of Operations Robert Ward is the driving force behind the company's food and beverage vision and development. He adds that Gateway hosts roundtables to discuss new concepts, market trends and gauge customer interest.
"It's great to be cutting-edge but we work hard to ensure our ambition is tempered so as not to be bleeding edge," Talbot says. "There is still a lot of business sense that goes into building our models. We're not looking to be the trendiest, but show innovation and that we're listening and being responsive to marketplace appetites."
Gateway's leading brands include The Buffet and Match Eatery & Public House, which is a cross between a neighborhood pub and sports bar, Talbot notes. "It has a real focus on elevated levels of food offerings and entertainment," he says. "We offer a lot of local entertainment, which is a big brand pillar of Match."
Its latest restaurant is Chow Lucky Noodle Bar, and it will soon roll out their third Atlas Steak + Fish, a casually-upscale steak and seafood restaurant. "We are in the middle of a $5 million build-out and will offer top-tier quality products that will rival any high-end steakhouses in North America."
Talbot adds that Atlas Steak + Fish's environment will be very different. "For example, it's very female friendly, and we have live piano players who play renditions of pop hits. After a certain time in the evening, we encourage and promote a cocktail culture. We have a late-night lounge vibe including a DJ.
"There are not too many steakhouses in North America who have that type of offering," Talbot continues. "Once again, we're listening to the audiences and our staff. People want to be entertained, and just because they had a terrific meal it doesn't mean they want to end their experience there. They still want to be entertained and are looking for a complete hospitality experience."
Ultimately, Gateway aims to provide a best-in-class experience. "The food and beverage have to stand on their own, of course," Talbot says. "However, we're really looking at how we are entertaining the guest and not just feeding them."
He adds that Gateway knows it can't be "all things to all people," but it is aiming to be accessible and approachable to as large an audience as possible. "We want to give everyone a reason to join us for an exceptional dining experience and have a reason to stick around afterwards," Talbot explains. "So we're very conscientious about the fact that we need to make ourselves accessible, dynamic, and intentional, which means our guests feel comfortable and welcome."
With each restaurant, Gateway prides itself on not taking a cookie-cutter approach. Each property has its own twist on menus, a different footprint and uses various designers to shape a tailored space for each market and property. "For example, with each our Match eateries, you're going to see something different," Talbot says. "We're ensuring we're being innovative and constantly evolving with each property."
Looking Ahead
Gateway is celebrating its 25th anniversary this year. Talbot notes it's "been an exciting year" with its nine acquisitions in Ontario and refreshes of many of its existing properties.
"Right now, we're at the boardroom table with all of our partners and key players trying to come up with new offerings in our food and beverages portfolio," Talbot says. "We currently have four really strong brands, so there's always room to create a new offering."
He adds Gateway's collaborative culture not only keeps innovation and creative juices flowing, but also generates a high level of energy. "With all of that creativity comes a level of passion and vigor, which is infectious," Talbot notes. "It's exciting to work for a company that is so open-minded, receptive and responsive to input. It's also great being apart of a company that is intent on helping its people to grow.
"We have a number people who have worked up through the ranks in the company to senior and executive roles in a somewhat short time span," he continues. "When you talk about growth, it's incredible to see the level that Gateway invests not only in its properties, but also in the growth of its people as well."
As Gateway moves forward, it aims to exceed the standards and objectives it's designated for its food and beverages operation. "Our standards have to keep pace with our impressive growth, too, because we're not just building restaurants, we are building a culture," Talbot says.
"We're always looking into how we can continue to make our offerings better, our people better, and become recognized as innovators in hospitality, entertainment, and talent," he concludes.