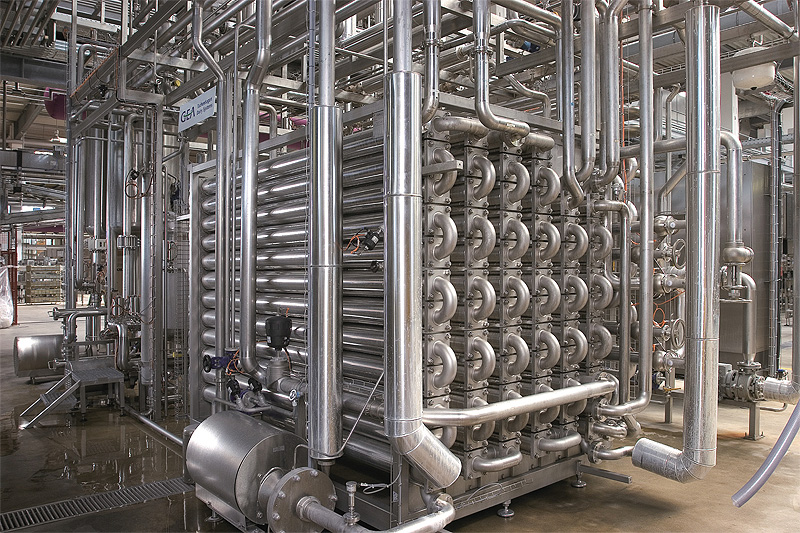 A global presence
Working with clients based around the world, GEA TDS is an industry leader in the manufacture and supply of process solutions
"GEA TDS has a history that goes back to 1856 and from the very beginning the company has been deeply involved in the delivery of machinery to the dairy industry," explains Juergen Henke, marketing manager of GEA TDS. "Over the course of the last 100 years the company has developed piece-by-piece to become the engineering company it is today. In 1979 GEA Group acquired the business, leading to the decision to further diversify the company by taking it into the fruit juice and food processing industries."
One of the world's leading suppliers of process technology for pumpable food, GEA TDS brings together a vast degree of knowledge and expertise in engineering, technology and automation, shared by its 300 employees, 160 of which are specialist process engineers. The focus of the company lies in servicing three specific industries: dairy, fruit juice and food processing. In doing so it works in close co-operation with the global GEA Group to provide the most efficient, reliable and cost-effective processing systems for its customers.
In fact, GEA TDS is part of the GEA Process Engineering division. GEA Process Engineering develops, designs, and markets production plant equipment and processes for the dairy, brewery, food, pharmaceutical and chemical industries. With sales close to 1.3 billion euros in 2010 and 4600 employees working in more than 40 countries, GEA Process Engineering is recognised as a world leader within liquid processing, concentration, industrial drying, powder processing & handling, emissions control, solid dosage forms & sterile products, and aseptic packaging. GEA Process Engineering is a business segment of GEA Group, headquartered in Germany.
Being part of a global network of some 200 companies, GEA TDS is very much an international business: "The market focus of the company is most definitely driven by the clients. So if the global leaders in the food, juice or dairy industries move into the Asian market, GEA TDS will move there also," Juergen continues. "At present Asia is a source of growth, while the other key regions include Eastern Europe and the Middle East, where the company has a nice concentration of dairy and food production lines. GEA TDS also has a strong presence in Western Europe and South America."
The technical strides GEA TDS has taken over a century and a half of participation in the food and dairy industries truly are incredible and the company continues to invest in new technologies and practices in order to continuously improve its performance. In the dairy industry, it has, for many years, provided milk producers an inline UHT process that allows for the separation, standardisation and aseptic process treatment of milk in one step. This eliminates the need for distinct separation and pre-heating steps as well as intermediate storage.
The first range of these inline UHT systems were developed by the company more than 20 years ago and have gone through a steady period of modernisation ever since. Today's systems offer partial stream homogenisation, a technology that makes it possible to use a smaller sized homogeniser to significantly reduce maintenance and time costs. Requiring fewer components while enhancing product quality, the inline UHT process saves both fixed and variable costs, especially those associated with energy consumption.
Recent development
Securing the most cost-effective solution for the customer is constantly on everybody's mind in GEA TDS. A recent example is the development of its sugar dissolving station. Functionally tested for dissolving granulated sugar in a batch process, this system provides considerable savings compared to the costs incurred by those that rely on the use of liquid sugar. Able to handle a truckload of granulated sugar, weighing approximately 25,000 kilograms, in a single batch process, this is subsequently fed directly from the truck into the sugar dissolver, which eliminates the need to arrange intermediate storage.
Heated in a GEA TDS tubular heat exchanger, the dissolving water is supplied to the tank and plays the central role in absorbing the sugar dust produced during filling, making sure that no dust escapes into the ambient environment. A powerful agitator and the circulation of the sugar solution ensures the most effective dissolving process can take place and this unpasteurised sugar is then made available for processing via a filter station. Like many of the applications built by the company, the sugar dissolving station can be easily integrated into the clients' overall plant concept, and each comes equipped with an independent control system for automatic operation.
Such examples of the company's innovative work help detail its commitment to research and development: "GEA TDS always tries to improve upon the technologies used in its processes," Juergen says, emphasising that this is something that occurs in tandem with the company's clients. "Clients are always coming to us in search of improvements to better their performance in their fields of expertise. Allowing the client to have a very hands-on role in the process allows both parties to combine ideas and create new working methods that inevitably benefit everyone involved. What has been found over the years is that this approach to research and development has only further strengthened the relationships that exist between the company and its clients."
The last couple of years have marked a period of significant growth, something Juergen puts down to the stability of the companies GEA TDS works with: "One of the reasons the market has remained stable even during the recent period of financial uncertainty, is that businesses within these industries often have a long-term investment plan in place from day one. This compliments the work GEA TDS does as the projects it generally undertakes can take up to three years to build and fully implement."
With business levels remaining at solid levels, GEA TDS remains poised to venture into new markets and take a leading role in new projects, wherever they may arise: "The company is currently in the midst of a number of solid tenders," Juergen concludes. "These are all projects that range in value from between 10 million and 20 million euros, and in the traditional style of the company these are not concentrated in just one country, instead they very much represent large-scale worldwide undertakings."