On the rise
Backed by four generations of baking success, Geary's Bakery sets its sights on making sure we can all access the best of bread
Having been kept in the Geary family for over 100 years, Geary's Bakery (Geary's) remains traditional, artisanal, and dedicated to quality over quantity. In 2005, Jason Geary took over from his father, Charles Geary, as the head of the company. Staying true to the family business, Jason has been learning to bake since he was just ten years' old, and with his years of experience has launched 'Jason's Sourdough', a new range of sourdough bread products, with the aim of bringing traditionally made bread back into the mainstream.
Geary's recipes have been perfected over 115 years. Evolving from Jason's grandfather's original recipe, Geary's Bakery now offers bloomers, malted loaves, rustic wholemeal and even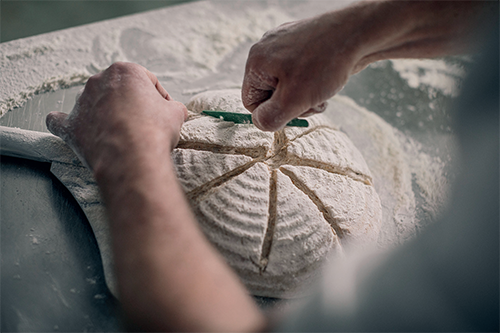 Jason's Ciabattin®, a skilful fusion of ciabatta and sourdough bread. "We supply award winning, long-fermentation artisanal and craft loaves, including both traditionally made sourdough, and open-tin crafted loaves," explains Jason. "We also provide a range of rolls – with particular focus on premium and cheese topped rolls," he adds.
Geary's Bakery is known for upholding time-honored baking methods, as Jason confirms: "We make our own sourdough culture on-site, and use this for both the traditional sourdough range as well as adding to the craft, open tinned bloomer loaves. This gives an unmistakable, difficult to replicate, taste and flavor."
This ethos is carried through the entire bread-making process at Geary's Bakery. "What sets us apart is doing things the more old-fashioned way: slowing everything down and focusing on quality, not quantity," Jason affirms. Revealing how central these values are to Geary's Bakery, he goes on to state: "We're on a mission to make proper bread accessible to more people, by creating loaves that will encourage people to re-imagine how they think about bread and inspire them to raise the bar at mealtimes by putting bread at the forefront."
Keeping up with demand
Despite maintaining traditional values, Geary's Bakery has changed and grown with the times. Upon taking over the family business, Jason moved the company's primary production facility from Ratby, in Leicestershire, to a larger site in Barrow Upon Soar; today the company also runs a second site in Glenfield, Leicestershire. "Investment over recent years has increased both capacity and efficiency," says Jason. "In 2017 we invested £15 million into the brand new, purpose built and customized Glenfield bakery. We are currently looking to invest again over the coming months in order to continue to improve both capacity and efficiency, as well as keep up with the demand and opportunities in the market for artisanal bread."
With larger sites comes the opportunity for further expansion. "At our bakeries, we ferment our own sourdough culture, and have bulk fermentation chambers to ensure the right temperature and conditions for the sourdough," explains Jason. "Other equipment has been bought to specifically keep the traditional ways of baking, providing the best possible quality, whilst still being able to produce at a reasonable scale and level of efficiency."
Jason's mission to re-authenticate eating habits, and compete with larger plant bakeries, is backed by an exciting new brand launch. As of early 2020, Jason's Sourdough has been available across the UK through M&S, ASDA and Ocado. "The Jason's Sourdough range has been developed using our own sourdough culture and recipes handed down through the family over generations; I also add my own unique twist to some of the loaves," Jason details.
Despite launching just two weeks before the outbreak of Covid-19, Jason's Sourdough has seen national success. As of September 6th, products have been available in a selection of Tesco stores, and by the end of the year, they will be available in a further national grocery retailer. "We will have a range of ten loaves and rolls, and the brand will be available in approximately 1200 stores, and online nationally, by the end of this year," Jason announces.
Jason's efforts have certainly not been in vain, as the company has seen fantastic growth achievements in the last few years. "The Unsworth family invested in the business at the end of 2019, which has enabled us to continue investing ahead of the curve in new systems, increasing our production capacity and efficiency," Jason confirms. "In addition, the investment has allowed us to really get behind the Jason's Sourdough brand. As the business continues to grow and develop, we will be investing further in people across the business to manage that growth. The investment has allowed us to seamlessly plan and execute these investments without having to raise significant external debt.
"The experience brought to the team from the Unsworth's years at Aimia Foods has also brought a new dimension to Geary's, and enabled us to focus on winning new business, whilst also retaining our quality and point of difference in the bakery," Jason adds, putting a spotlight on just how important Geary's people are. "Our bakers are where it starts. Their years of experience, skill and know-how is the cornerstone for our development process," he affirms.
Geary's two sites are run by 250 staff members who keep production upand- running 24/7. "To manage this, we need good people and great skills across the business," Jason confides. "As the company has grown, our people have come on that journey with us, and a number of key roles in the management team are filled by people that have been with us for years and come up through the ranks. We support good people with training and give them responsibility, and in turn, those people have stepped up and helped the company grow.
"Most recently, we have embedded our company values. These were created by the employees themselves during one of my regular 'how are we doing?' meetings, held with a cross section of employees across the business; everyone is encouraged to speak their mind and feedback how they see the company from their role. We very much believe in empowering people to make decisions."
Long-term collaboration
Geary's attention to strong business relations goes beyond its own staff members, as Jason reveals: "Partnerships, with both suppliers and customers, have been key to our growth. Building relationships and long-term collaboration is what's important, not just chasing the short-term quick gain." These have always been key personal values for Jason, which are fundamental to the Geary's Bakery mentality.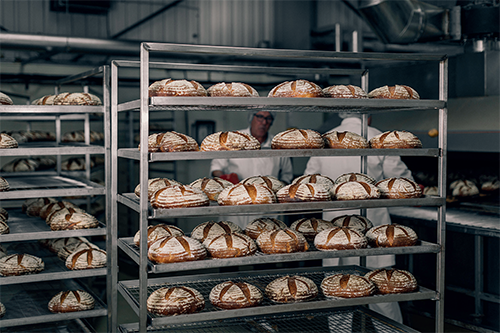 Having been successful for over a century, Geary's Bakery now sets its sights on maintaining that success for the next 100 years. "Sustainability is very much an area we are focusing on improving over the coming months, and again we are aiming to develop key partnerships to help us do this," asserts Jason. "We have recently started working with Fareshare Midlands to ensure all our edible food waste is picked up and put to good use through their efforts. In addition, we only source renewable energy for our bakeries, and we have been working with our packaging suppliers to ensure that over the next 12 months, all our packaging is recyclable."
Whilst doing its part to ensure the future of production through ethical and sustainable practices, Geary's also aims to build a love affair between the British public and Jason's Sourdough bread. "It will take a lot of hard work to deliver that," admits Jason. "However, Geary's revenue for the last year was £31 million, so we have come a long way from the £3.1 million revenue we made in 2007. This year, 2021, we should be closer to £35 million and in three to five years' time we aim to be closer to £50 million," he reveals, illustrating just how bright the future is for this artisanal bakery.
Having emerged successfully from the outbreak of Covid-19, Jason plans to continue working with all customers to develop product ranges, and drive sales. "We are investing in improved capacity and efficiency, in order to make us fit for the next five years' growth. We feel we've had a very busy and productive 24 months, and that success is laying the foundation for the next five years. Covid-19 restrictions allowing, we hope to be able to get out more with our customers, suppliers and industry peers over the coming months," he summarizes.
Having been recently shortlisted as finalists for a number of upcoming industry awards, it is clear that the hard work of Jason and his team is paying off. As he concludes: "The journey never ends. We are all very much enjoying the process and the challenges.
"Passion for food and baking is fundamentally at the heart of what we do, but also at our core is a passion for people, and for doing the right thing. We hope that shows, both in our brand, Jason's Sourdough, and in our own-label partnerships with key retail customers."
www.gearysbakeries.co.uk