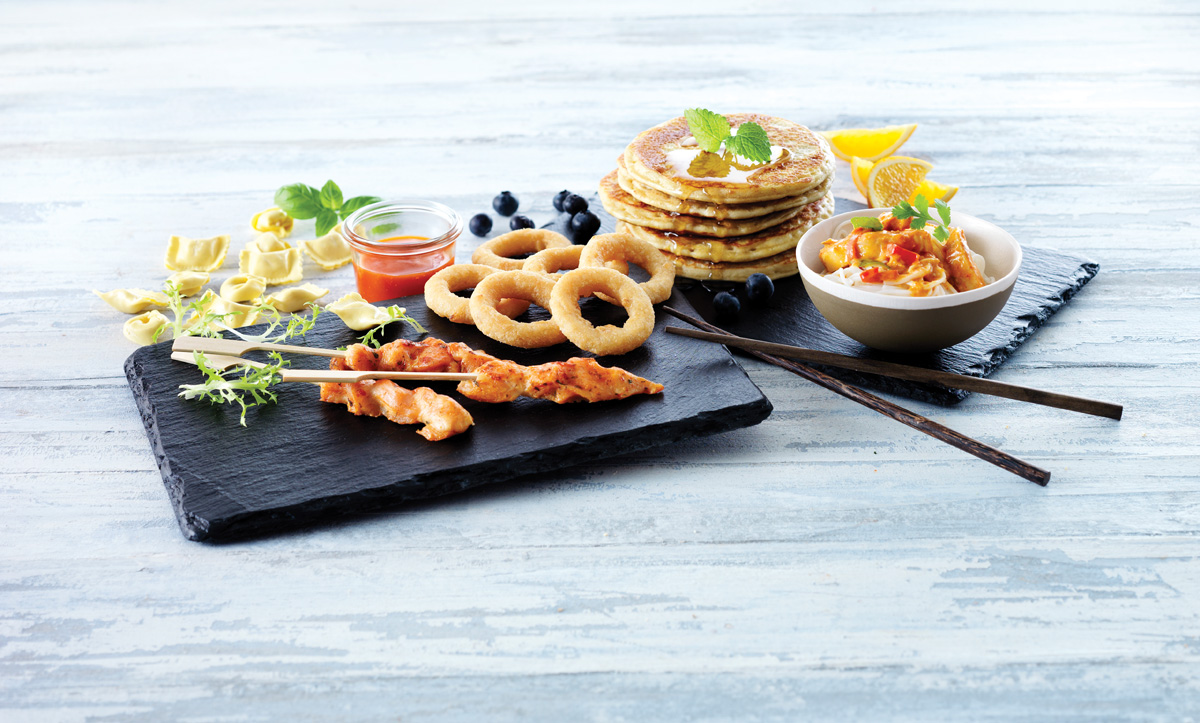 Innovation and success
Geia Food came into existence on the 1st of January 2014 following the merger of Danish companies A Frost, established in 1997, and Mortensen Food, 2003, forming one of Scandinavia's leading food suppliers. Based in Aalborg, Denmark, the company also has one more office in Denmark (Skælskør – Sealand) plus offices in Sweden and Finland from which it is able to serve the entire market. In the merger, both companies were able to bring a wealth of experience and long lasting relationships within the industry to create the leading company it is today. Discussing the move, CEO Claus Ravnsbo says: "The two companies have basically had the same business model being a solutions provider towards the Scandinavian retailers, bringing value to the customers by offering innovative products and concepts at a competitive price. It has been a perfect match."
Geia serves the market across its main product groups: poultry, fish and seafood, fresh and frozen convenience, grocery, beverages, wines and spirits, and ice cream. Operating as a supplier Claus explains: "We have no production. Both companies represent best-in-class suppliers in the Scandinavian market." Most significantly however, the company markets itself as a solutions provider, offering expertise in all areas in order to bring a product from conception to market. Geia's experience and position at the forefront of the Scandinavian market enables it to deploy first class market insight and innovation to bring the right products on to the market at the right price. Its wealth of supplier relationships and expertise in packaging design and logistics, mean that it is able to source, market and distribute these products in the best possible way. Ultimately, the company's standing with both suppliers and customers means that it is able to bring innovative and valued products to the market at the right times, at the right price and in the most effective way.
"At Geia Food we fully understand the dynamics of the retail trade and strive to be a solution provider for purchasing departments," expresses Claus. "Based on our close co-operation with all major Scandinavian retailers and taking into account our broad product portfolio we can provide our customers with a one-stop-shopping solution. We have dedicated key account management in place with a local presence and the customer in clear focus, coupled with a strong logistical platform with day-to-day deliveries all over Scandinavia. We are taking care of the whole process from idea to shop launch."
In Geia's strategy to bring the best-in-class products to Scandinaviait has successfully managed to cast its net further afield than the local area. Particularly, within the grocery segment the company is committed to bringing world foods to the home market, with a strong speciality being Italian sourced ingredients such as olives, pasta, oil and pesto amongst other delicacies. Amongst this Italian offering sit three company developed brands. Pasta di Maria is Geia's fresh pasta range produced and sourced from a family-owned company near Milan. Alongside the core wheat flour pasta, the company also offers wholemeal pasta. Complementing this fresh offering is the Lorenzo brand which provides traditional, white, wholemeal and organic dried pasta produced in Northern Italy's wheat valley, and Cucina brings a range of Italian oils and ingredients to the market.
Innovative ranges
Its convenience segment also looks to the global market to bring innovations into the Scandinavian market as well. "Our Nice'n Easy range of frozen Thai and Indian ready meals is a beautiful product concept," highlights Claus. "All products are produced in Thailand, without taste enhancers and with a genuine taste profile. The head chefs of the famous Rang Mahal restaurant in Bangkok develop the recipes. In all of Scandinavia we sell millions of dishes per year – we have a 40ft container coming into Europe every other day all year round."
Outlining Geia's other brands, it has developed Freezy Monsters, a range of ice-lollies marketed to children and containing no artificial colours or additives; Finest Seafood, an offering of the best quality smoked and frozen seafood; Victor's and Julius Duck, which bring fresh and frozen duck and poultry to the table all year round; and One Energy Drink. The range of brands not only illustrates its sourcing expertise, but also the in-depth understanding of the market demands and marketing quality.
Running parallel to its brand and product portfolio is the service Geia Food offers and the responsibility it acts within. The company lays out a three-point responsibility strategy, which includes the way it deals with both the people it works with and the food that it handles. Firstly it promises to act in good taste to its staff, customers, suppliers and wider community, making sure it is honest and responsible. Secondly, is its approach to food waste with a vow not to let any of its food go to waste. Upon approach of expiration dates food is taken from the warehouse and given to the Danish food bank, a not-for-profit organisation that delivers food supplies to charities across the country. Finally, the company adheres to food safety, operating within quality standards to meet all declarations and food handling regulations in all regions.
The merger between the two original companies in 2014 sets out the company's strategy as one that sees acquisition as a significant opportunity, however, it is clear that organic growth is also a key part of this expansion strategy. "The market is always challenging," notes Claus. "However, we have kept to our strategy and by it increased our sales in Denmark and the rest of the Scandinavian countries. In February 2014 we established the office in Helsinki and since then we have seen a tripling of our business in the Finnish market. The new office in Sweden also means that we are closer to our main Swedish customers and can service them much better in terms of close key account management. With our new team in place we are very confident that our business in Sweden will grow rapidly over the coming years."
This organic growth very much defines future potential opportunities, Claus continues: "We have positioned ourselves as having one point of entry to the Scandinavian markets for our suppliers and therefore it is obvious that an office in Norway will be relevant at some point in the future. Today we service the Norwegian market from Denmark."
As far as the future is concerned, Geia Food is clear it wants to continue offering the leading service it already provides. In a recent press release Claus positively forecasted the Finish business to further double over the next couple of years, and expects a similar result in Sweden over the next three. "In the short term we want to keep focusing on increasing sales throughout our complete portfolio, and continue offering our suppliers a unique point of entry into the Scandinavian market," he concludes. "In the longer term it is about understanding our customers more and bringing them value in every step we take."
With a turnover of around 988 million DKK generated from 55 employees, it is clear that Geia Food does hold a competitive position within the Scandinavian market. The success can be attributed towards the relationships it has established with both suppliers and customers combined with the detailed and comprehensive knowledge the company has of the market in which it operates. By continuing to stay tuned into the customer's needs and market demands, Geia Food will be able to develop and deliver the best value innovations to the market, and therefore secure its future as it continues to expand across the region.