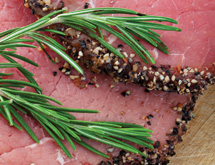 Chicago is a major food town, no question about it. Tourists may come to the city for its hot dogs and pizza – and there are many establishments that excel in those areas – but locals and discerning visitors know where the spots are for the best in fine dining. The name that has been on the top since its arrival is Gibsons Restaurant Group, recognized consistently for the quality of its namesake establishment – Gibsons Bar & Steakhouse.
"Big flavor steaks and chops, fresh fish daily and enormous lobster tails – all matched with an extensive wine list," the company says. "An evening out at Gibsons will include a fun and happening atmosphere with light entertainment, large portions of food and uncompromising service. Gibsons is the Chicago steakhouse."
Gibsons Restaurant Group is much more than its flagship steakhouse, however. The company takes great pride in all of its brands – Hugo's Frog Bar & Fish House, Quartino Ristorante and LUXBAR – ensuring that each concept demonstrates the group's dedication to offering the finest in "simple elegance."
A Local Tradition
Gibsons Restaurant Group got its start more than two decades ago with its namesake – Gibsons Bar & Steakhouse – which the company considers "the pinnacle" of Chicago's famed Gold Coast dining scene.
"Housed in the space made famous by Mr. Kelley's – where Streisand and Sinatra performed – and later occupied by '70s and '80s hot spot Sweetwater, Gibsons continues the star-studded tradition with a nightly procession of the famous and powerful," the company says. "You can trace our history pictorially throughout the restaurant where autographed photographs of athletes, politicians, movie stars, rock stars, entertainers of all kinds, and of course the diehard Gibsons 'locals' appear."
Gibsons is known for its large portions, and large appetites benefit because every bite is packed with major flavor. The company explains this is just all part of the Gibsons experience. "Gibsons Bar & Steakhouse in Chicago is a classic American steakhouse that offers USDA Prime steaks, fresh seafood, huge portions, sides large enough to share, impressively enormous desserts and famously large martinis," it says. "Gibsons is the leading downtown Chicago restaurant."
As a result of the quality menu and dedicated service – its serving staff sets the standard for fine dining in Chicago – Gibsons has a dedicated following. Many consider it a favorite for special occasions or just a place for a great dinner out, and it is often the first place a local recommends to someone visiting from out of town.
"The locals are the heart and soul of Gibsons, some of them enjoying the food, service and party atmosphere three to four times a week," the company says. "They are family, recognized and pampered from everyone in the establishment, beginning with owners Steve Lombardo and Hugo Ralli and continuing through the restaurant staff – many of whom have worked for Gibsons since its inception. How do you become a local? Usually your second trip is enough for the staff to remember you and bring you into the family."
In addition to the downtown Chicago location, Gibsons has two suburban locations in Oakbrook and Rosemont, Ill., and although the menus at each restaurant vary slightly, they all maintain the same level of quality and service.
Focus on Seafood
Although Gibsons Bar & Steakhouse has a range of quality, fresh seafood offerings on its menu, the group's owners were able to take their love of seafood and make it a focus at Hugo's Frog Bar & Fish House. This brand has locations in downtown Chicago and nearby Naperville and Des Plaines, Ill.
"After years of searching far and wide for a location to follow up the highly successful Gibsons Bar & Steakhouse, owners Hugo Ralli and Steve Lombardo found what they were looking for right under their noses," the company says. "In February of 1997, they took the space directly next door [to Gibsons Bar & Steakhouse] and launched what has become the finest seafood restaurant in the city, Hugo's Frog Bar & Fish House."
It is a popular local belief that Hugo's Frog Bar & Fish House was named after "froggy lower halves," which is a signature dish on the restaurant's menu.
The truth, however, is that "Frog" was the nickname Hugo Ralli called his grandfather, General Bruce Hay of Her Majesty's Imperial Forces. Hay's portrait is on display above the bar in the Chicago location, known for its local nightlife and live blues entertainment.
'Elegance in Simplicity'
Gibsons Restaurant Group decided to switch things up a bit for its other two brands – Quartino Ristorante & Wine Bar and LUXBAR. Although both maintain the group's dedication to flavorful menus and high quality, they traded in Gibsons' large portions for a focus on small plates.
Located near Gibsons' downtown Chicago location, Quartino is focused on offering the best Italian menu and is known for quality late-night dining. "Quartino is a bustling downtown Chicago restaurant and wine bar noted for its distinctive Italian small-plates menu, vintage décor and attentive, personable service staff," the company says. "Chef and partner John Coletta has developed a menu featuring Italy's regional specialties including artisanal salumi, Neopolitan thin-crust pizza, house-made pasta and seasonal dishes. Menu items – served in moderate portions and meant to be shared – are perfect for adventurous diners ready for a unique experience."
LUXBAR is the group's version of a neighborhood bar that keeps its high standards on display. Gibsons says LUXBAR was inspired by the work of Adolph Loos, who designed and built an "American bar" in early 20th century Vienna.
"The bar captured an elegance in simplicity; a style that greatly influenced the work of Frank Lloyd Wright and other American architects in the Prairie School," the company says. "This is a special place by design. LUXBAR as a neighborhood saloon is designed to convey that same simple elegance. The food is feel-good fresh, natural and easily understood. Artisanal in style, the menu reflects what the partnership views as an accessible cornucopia of what you might eat on just any occasion. The specialty cocktails are from natural, fresh ingredients: simple elegance.
"The staff at LUXBAR is trained in the customer care philosophy that has made Gibsons Steakhouse and Hugo's Frog Bar & Fish House famous for legendary service. Not just another tavern, our customer will not feel like just another patron. Our customers will feel better for having stopped at the LUXBAR."