The signature swirl
As it enters the 'new normal', Gigi's Cupcakes USA is exploring innovative ways to deliver the delicious treats its customers know and love
When Gina Butler first launched Gigi's Cupcakes more than 12 years ago, she operated out of a single store located just off from Nashville's iconic Music Row, home to the prestigious RCA Studio B, and the birth-place of many a hit record from the likes of Dolly Parton and Elvis Presley. Inspired by the heritage of the 'Nashville Sound', Gina set out to create a history all of her own, delighting many a local with her range of home-baked sweet treats before selling the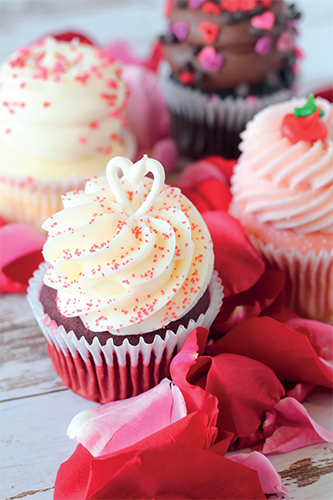 company in 2016. When the parent company of Gigi Cupcakes filed for bankruptcy three years later, FundCorp took the bold decision to purchase the brand, driven by the desire to repay the passion of Gigi's loyal customers with delicious confectionery.
From those humble beginnings, and under the oversight of FundCorp, Gigi's has bloomed into a recognizable brand now operating in 50 locations across an impressive 21 states. Despite its success, the team at Gigi's haven't forgotten their roots. The brand continues to foster close links with the community, with each and every franchise locally owned and operated.
"Ever since we began, we wanted Gigi's to stand apart from the crowd," says Jimmy Durham, Brand Leader at Gigi's Cupcakes. "For anyone and everyone who visits one of our stores, the signature swirl on a Gigi's cupcake is instantly recognizable. Be it Affogato, Cookies N' Cream or Kentucky Bourbon, all of our classic flavors are topped with a tall, sweet spiral of icing, piped by hand to Instagram-ready heights."
Freshly baked app
Bright in color and delicate in design, cupcakes are Gigi's pride and joy. The brand is no one-trick pony, however. "While cupcakes sit at the heart of our kitchens," Jimmy explains, "it goes without saying that we're big fans of other sweet treats, too: cookies, brownies and macaroons bring a little variety to the party! We freshly bake and decorate our products on a daily basis, working around our tried-and-tested core menu while also giving local bakeries the flexibility to bake the best-selling flavors in their regions. Across all our franchises, our seasonal custom mini boxes are a crowd favorite – offering a unique mix of bakes for each holiday season, it provides our customers with a truly tailored Gigi's experience!"
Gigi's has recently sought new ways to deliver bright and bold cupcake designs to its adoring customers. "We launched our freshly baked app, making online ordering easy for take-out and delivery, with added rewards for our particularly loyal fans," Jimmy continues. "The app is available to download straight from our website, with customers receiving one point for every dollar spent across Gigi's stores and website. Best of all, those points can be redeemed for a delightful range of treats in whatever flavor the customer likes, whether they're hungry for a single cupcake, or craving a complete pack of 12! Added to that, we've also made our products available to order through online delivery platforms such as Goldbelly, helping us to introduce even more people to the Gigi's Cupcake brand."
Dream team
Bold and exciting flavors aren't easy to come by; the secret to Gigi's' success is the extensive research and development that goes into creating each new sweet treat. "We're blessed with a rare combination of talent throughout our research and development division," Jimmy says. "The team is made up of Stephanie Babbs, Monique Conejo, and Jason Smith. Thanks to their invention and ingenuity, we're able both to stay true to our rich history, and to remain alert and alive to upcoming trends.
"Babbs is Gigi's longest serving employee, having worked for the company since day one," Jimmy continues. "With her experience of seeing the business grow from where it started to where it is today, she helps bind us to our roots and reminds of the vital traditions that our fans adore. In Monique, we have an extremely talented flavor creator and designer capable of transforming the vision of the team into a new and beautiful creation. Finally, in Jason Smith, our Chief Confectionery Officer, Gigi's boasts an award-winning baker and judge from Food Network, and it's from him that we get our inspiration for new ideas."
As the curators of Gigi's' seasonal menus throughout the year, the work of the research and development team has been well-received not only by the Gigi's franchises, but by Gigi's fans – a fact that is borne out in the company's positive sales growth. As with any successful team, the focus for Jimmy thus falls on how to maintain a positive culture that can promote the fostering and retention of exceptional talent.
"Our business is 100 percent culture," Jimmy says. "While we bake and serve the best treats in the world, our business is based on selling happiness and fun. I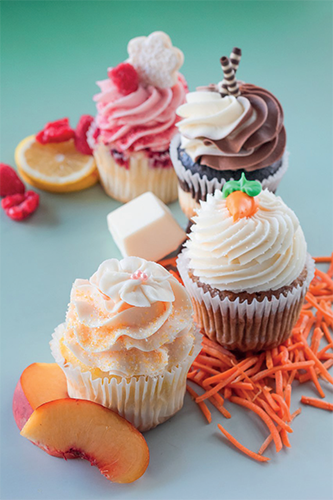 think of each of our locally owned and operated bakeries as one branch within our family tree. If our family, and our brand, are to succeed, then those individual branches need to be happy.
"Luckily, many of our owners have been a part of the Gigi's family for many years," Jimmy continues. "All our franchises are rigorous in their hiring, doing all they can to ensure that the team members they bring in are the right fit for their locally owned families. Today, we can honestly say that many of our employees have been working at their local bakeries for years. For me, there's no better indication of success."
Valued partners
Not to be excluded from this family are Gigi's' suppliers, whose support has proved crucial to the strength of the brand. "We're fortunate to have wonderful relationships with our vendors," Jimmy says. "Over the last year and a half, we've drawn on the strong foundations that we'd built up prior to the pandemic in order to remain strong during these more trying times. As an example, the commitment of Dawn Foods to work with us as a partner has been vital, helping us to ensure that the needs of all our franchisees were met.
"Similarly, we partnered with ordering platform Olo early on in the pandemic, with the goal of moving our sales online and compensating for the restrictions placed on our physical stores," Jimmy explains. "Without their quick action to facilitate that process, helping us to get online ordering up and running across our bakers, we would've witnessed a significant sales loss."
Restrictions on hospitality have since loosened, but Gigi's continues to profit from its partnership with Olo, and has now emerged as a stronger brand within the so-called 'new normal'. "The entirety of the Olo process, including its integration with our Punchh app and Revel POS system, has improved efficiency and profitability at our local bakeries," Jimmy explains. "Physical ordering may have returned, but online ordering continues to grow, providing us with an ever-increasing revenue opportunity.
"While cupcakes will always be at the core of our business, we're constantly searching for bakery items to expand our offerings," Jimmy suggests. "Our model already allows for variations in our menu between our different bakeries, and we'll be looking to capitalize on that flexibility in the months and years ahead to deliver new and exciting products. Beyond that, our aim is to continue driving towards exponential growth. We're already on the way: during the past couple of years, we've opened a few bakeries with positive revenue results, and we continue to see new franchisees entering our system with new energy and excitement."
www.gigiscupcakesusa.com