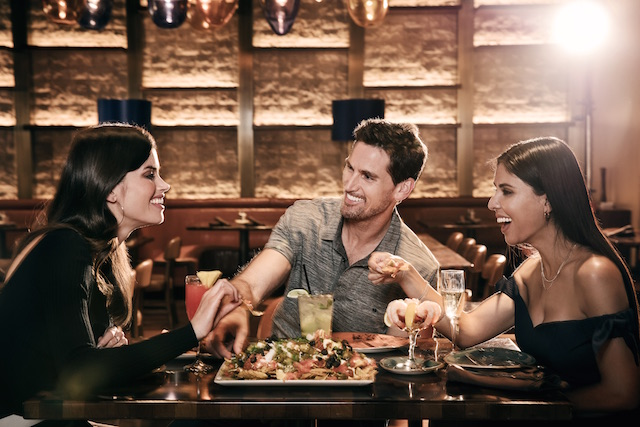 Gila River Gaming Enterprises Inc.
A culture of guest service at Gila River Hotels & Casinos, operated by Gila River Gaming Enterprises, makes the three hotel and casino properties the largest of their kind in the Phoenix region.
Guests at Gila River Hotels & Casinos can expect the highest possible level of customer service from the company's employees. "We believe in guest service first," CEO Kenneth Manuel says. "Our guests tell us that is what sets us apart and what keeps them coming back to us on a regular basis."
The company's guest service culture is built around four elements, each of which is based around the letters in its name. "The letters 'GILA' each stand for something we instill within our team," he adds. "'G' stands for greet, 'I' is for interact, 'L' is for listen and 'A' is for appreciation, which we show our guests."
Gila River Hotels & Casinos guest service department oversees training efforts and regularly visits properties to ensure each of those elements is present. "Those four areas are very important to us," Manuel says. "When new team members come on board, the GILA way is instilled in each of them."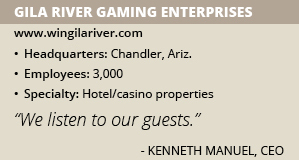 Service is also the focus of the company's recent "Guest Service First" campaign, which promotes Gila River Hotels & Casinos' efforts by giving each service employee a button bearing that slogan.
Prime Properties
Gila River Gaming Enterprises, operator of Gila River Hotels & Casinos, was formed in 1993 after the Gila River Indian Community in Arizona signed an agreement with the state to operate casinos on its land. Today, it is the largest gaming operator in the greater Phoenix area.
The company owns and operates three gaming properties: Vee Quiva Hotel & Casino in Laveen, Ariz.; Wild Horse Pass Hotel & Casino in Chandler, Ariz.; and Lone Butte Casino in Chandler. Both the Vee Quiva Hotel & Casino and Wild Horse Pass Hotel & Casino are AAA Four Diamond status hotels.
The first casino, Lone Butte, opened its initial location in 1994. A rebuilt facility for the casino opened in 2009. Wild Horse Pass Hotel & Casino opened a temporary facility in 1995, followed by a permanent location in 1997. A new, rebuilt location on the same property also opened in 2009. Vee Quiva Hotel & Casino was built in 1997 and operated its initial location until 2013, when a new location opened.
Each location offers restaurants, lounges and food courts. Since 2008, the company has operated branded restaurants including the only Shula's Steak House location in the western United States at Wild Horse Pass Hotel & Casino. The Vee Quiva Hotel & Casino features a Ditka's Restaurant. Shula's Steak House this year was named an OpenTable.com "Top 100" award winner for the third consecutive year.
Gila River Hotels & Casinos' connections to the professional sports world extend beyond hosting restaurants associated with legendary NFL coaches. The company has promotional partnerships with three professional sports teams: the NFL's Arizona Cardinals, the NHL's Arizona Coyotes and MLB's Arizona Diamondbacks.
Listening to Guests
Gila River Hotels & Casinos recently stepped up its customer service offerings even further in July with its introduction of a new loyalty card program. The new card – dubbed simply "THE Card™" – features four tiers that offer perks and benefits to players. Comps earned by users can be used at more than 30 locations on the company's gaming properties as well as at other properties on Gila River Indian Community land, which include Whirlwind Golf Course and Wild Horse Pass Sheraton Grand Resort.
"Just as people think of 'the place to be,' or 'the show to go to,' we want them to think of this as 'THE Card to use,'" Manuel says.
The card's features were developed in response to input from focus groups conducted with players. "We listen to our players," he adds. "When we designed the card we look at things like same-day cash back. For the first time ever, player will be able to earn cash to spend wherever they want." Players can manage their account online as well as through a new mobile app.
Other company upgrades include an ongoing renovation to Wild Horse Pass Hotel & Casino's 242 rooms. This includes new carpeting, paint and furniture. Future upgrades to the casino floor are also planned. "We are always looking at new opportunities to upgrade our properties," Manuel says.
Giving Back
Gila River Gaming Enterprises' three hotel and casino properties actively donate money and time to worthy causes both inside and outside of the greater Phoenix region. The company partners with organizations including the Phoenix Children's Hospital, the St. Vincent de Paul Society, The Gila River Boys and Girls Club, the Muscular Dystrophy Association, the Arthritis Foundation and the Leukemia and Lymphoma Society.