Giraffe Foods prides itself on providing customers with delicious, quality products tailored to their needs.
From their early roots in the restaurant business, the Powell family, owner/operators of what is now Giraffe Foods Inc., realized the substantial opportunity in manufacturing and created their own products to compete against the national brand alternatives already prevalent in the foodservice sector.
Parents Eugene and Efat Powell immigrated to Canada in the 1980's from the United Kingdom and purchased a local family dining restaurant where their children, Ari and Michelle, frequently helped out in between after-school activities and weekends, gaining valuable insights in foodservice, even at a young age.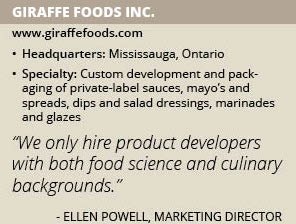 Frustrated by the high prices and market manipulation of the multi-national beverage companies like Coke and Pepsi, Powell sought out other options and began importing soda syrups for their restaurant from a New York-based private label manufacturer of bulk bag-in-box concentrates for automatic dispensing equipment.
Word quickly spread that there was a third choice in town, and Powell began selling to other restaurants, incorporating as Harpo Beverages in 1991 as a distributor of private label beverage syrups. Harpo provided the foodservice industry with a comparable product to the leading national brand at significantly lower costs and with prompt and courteous service, pillars of the successful business they still run today.
With proof of concept and a keen interest in expansion, the Powell family ventured into manufacturing their own products under a new company, Giraffe Beverages in the late 1990's. Son Ari Powell, then attending University of Toronto Law School, set up their first manufacturing plant during the summer between school years, learning all he could about beverage syrup processing and working alongside food engineers and processing experts. Daughter Michelle had now completed her graduate studies abroad and joined the family to head up the operations and accounting for the business.
As the years went on, the business and the family grew, as the spouses of Ari and Michelle joined the family business to lead this flourishing manufacturing business. The senior management team is now comprised of CEO Ari Powell, Vice President of Operations Michelle Powell, Director of Information Technology, Ed Baldor and Marketing Director and Food Scientist, Ellen (Hurwitz) Powell.
From their humble beginnings in a small unit in suburban Toronto, this family business has maintained their family values and pillars of success. Giraffe was recently awarded with Canada's Best Managed honor in 2017 as their reach continues to expand beyond North America, overseas and into the Caribbean and Middle East with products made and shipped from their two locations in Mississauga.
Tapping the Best
In 2017, Giraffe Foods celebrated its 20th year anniversary, an accomplishment that they do not take lightly, says Ari Powell. "With the exception of one tough year following Sept. 11, we have been very fortunate to experience tremendous growth as we expand our offerings in foodservice and retail products and offer a variety of packaging options to our customers," he says.
Michelle Powell agrees. "This was a big year for all of us and a very exciting time to be in the food business," she says. "We're very proud to be where we are today."
Giraffe Foods' love of food and flavor has earned it a reputation for innovation and consistent quality made in its manufacturing and distribution facilities totaling more than 110,000 square feet in the suburban food hub of Mississauga, Ontario, home to some of Canada's largest manufacturers such as McCormick Foods and Maple Leaf Foods.
Ellen Powell notes Giraffe Foods was proud to have been named one of Deloitte Canada's "Best Managed Companies" this year. She adds that the 200-person company hires only top-notch employees.
"We only hire product developers with both food science and culinary backgrounds so they not only know the science behind what makes it work, they also know how to make it taste really, really good and that's what our customers are counting on from us," she says.
The first interview at Giraffe Foods is "pretty standard," for food developers, but if the candidate is lucky enough to make it to the second round of interviews, his or her skills as a product developer are challenged as the management team carefully scrutinizes two or three homemade creations of either sauces or dressings that have been requested by the management team of the candidate. The products are then subject to a full sensory evaluation right at the interview and their abilities are put to test, a process some have found quite intimidating over the years.
"It has to taste good for us to even consider the applicant further," Powell notes. "There have been many candidates whom have gotten to that point and sadly brought sauces to us that were quite disappointing. This process not only allows us to see and taste what the candidate believes tastes good, but also get an idea of their knowledge of the targeted cuisine and culture for which they were aiming."
Sales Manager, Mike Kagan, an avid cook and food officionado, points out that knowing what the customer wants is crucial to the entire process. "The customers will give us very little time and sometimes little information to nail it for them, so we need to get a handle on exactly what they're looking for," he explains. "It takes a strong product developer to get it right within a short period of time for the R & D process to work so we can launch the new sauce or dressing by the deadline required of us.
Kagan continues, "Our success can be easily measured by the number of new products we continue to launch each year. Without the culinary and food science skills of our R & D development team, we would not be where we are today."
Exceeding Expectations
Giraffe Foods's ability to be nimble and reactive sets the company apart from its competition, Ari Powell notes. "We know the customer does not have time to waste," he says. "No one has time to go back and forth with numerous samples and feedback, a process that can take weeks or months. They want to get the job done on the first or second round and roll out with it soon afterwards."
The way Giraffe Foods shortens the time required for development is by frequent communication, listening and responding to their customers' needs, sometimes right on the spot. During their "culinary ideations," customers are invited into the R & D kitchen to taste and evaluate a wide range of products prepared by the R &D and culinary teams – including salads, dinner entrees, sandwiches, burgers and appetizers – all using Giraffe Foods sauces, dips, dressings and marinades.
"This is where the good stuff really happens," notes Ellen Powell. "Once you get everyone in a room together with lots of tasty food, the creative juices get flowing and some great collaborating happens there. Sometimes we blend some of this and some of that to result in a product that everyone is really happy with. We leave these ideations not only stuffed, but also very happy that we got lots done in a short amount of time. It's a win-win for both sides."
Powell also notes that the R & D team is encouraged to participate in educational activities that will further their development skills, including attending relevant industry functions, additional culinary training and even utilizing the internet to stay current on retail and foodservice trends. "We stay on top of what is up and coming to ensure we are providing the most successful ideas to our customers and prospects during our Culinary Ideations," she says.
As the R & D teams customizes each formula to meet the customer's specific taste profile, the labeling experts in the Giraffe Foods Regulatory department compile all the necessary technical documentation requested, including nutritional information, ingredient declarations, allergens and more.
In some cases, customers require specific certifications for the purpose of making label claims, such as "gluten-free," "non-GMO," "Kosher" or "Halal." "We provide them with anything they need to be successful, and while that means some extra steps on our part, we know the customers appreciate our taking care of them so they don't need to worry about it," Regulatory Specialist Hamed Zahedi explains.
Successful Scale-up
"We make everything from scratch and don't buy any prepared items," says Commercialization Manager Kirsten Benneter. "This includes ketchup, mayonnaise and mustard, condiments frequently used as ingredients in their sauces. Customers may bring us recipes that they originally created with already made sauces, but we then have to break it down into their individual components for full-scale production.
"I think the biggest misconception with food manufacturers is that they only use strange chemicals or 'fake' food," she continues. "We are making the same things they are in their kitchen – only on a much bigger scale."
R & D Manager Deena Alari notes that while consumers may use a one-pound bag of brown sugar at home, Giraffe Foods uses a 50-pound bag, but it's "still brown sugar." "We're still using the same ingredients that a home cook would, we're just taking those ingredients and mixing it up in a gigantic tank," she says, adding that there is "nothing mysterious" about the company's food.
"We use real ingredients and often times it's better than home cooked food," Alari says. "For example, we have a very big kettle that we use to cook our delicious caramel dip used at a nationwide quick service chain. It's so delicious because it sits in the kettle and cooks for hours, allowing all the buttery cooked notes to develop, whereas at home or a restaurant, who has the time to stand over a stove stirring for hours?"
To keep consumers aware of the ingredients used in its products, the company lists every component on the packaging of its prepared foods. "We know that people are scared to look at ingredient lists because they may not know what some of the ingredients are," Alari says. "However, we use real ingredients that are safe and that people use all the time."
A Family of "Foodies"
Giraffe Foods is a family-owned and operated company. When Powell married her husband and joined the company, she brought more than 10 years of food industry experience as a product developer and certified food scientist.
"It made sense that I join the family business," she says. "By that point, I had worked in product development in small, medium and multi-national food companies, so I had enough under my belt to be solely responsible for the R & D department, then only myself at the time.
"As we grew, I added team members and now we have a large team of food scientists and chefs creating our products," she continues. "I transitioned into technical sales & marketing, working alongside my husband and calling on customers together. My in-laws retired in 2005 and they are now enjoying the fruits of their labor."
She notes that Giraffe Food is a "great family success story," adding that her mother-in-law is Persian and father-in-law is British. "After they married, they moved to Canada, entered the restaurant business and then distribution and manufacturing," she explains. "They could have been content with having a small restaurant, but they saw an opportunity to grow and expand."
Growth through Innovation
It is Giraffe Foods's founders' entrepreneurship that differentiates the company further from the competition. "We are innovative and flexible," Ellen Powell says. "If we see an opportunity for growth that our customers can benefit from and can grow our business, we'll take it. Our introduction of a new flexible, eco-friendly packaging for a large retail customer proved to be exactly what they needed to boost stagnant sales of an existing item that had previously been sold in a traditional glass bottle.
"Their existing packaging proved difficult for the customer to remove all of the product completely and this was frustrating," she continues. "We switched them into our new stand-up, flexible spouted pouch, and the product flew off the shelves as sales exceeded all expectations."
Ari Powell describes how this solution has worked for many retail customers seeking a more eco-friendly package with an eye on reducing consumer waste for a smaller carbon footprint. "The trend towards reducing landfill waste continues as companies are more socially and ecologically conscious," he explains. "The pouch option is becoming more popular because when empty, it compresses into a very thin film that doesn't take up much space in a landfill at all.
"It also has a very low carbon footprint in transport as one truckload of flattened, empty pouches is equivalent to shipping up to 25 truckloads of rigid, air-filled bottles or jars," Powell concludes. "As we look ahead, we will continue to be innovative and keep our customers first."