Throughout its 75 restaurants, Glacier Restaurant Group delivers fresh products and services to its customers.
With a portfolio of high-quality restaurant concepts, Glacier Restaurant Group is Montana's largest restaurant company. Founded in 2007 with the merger of several existing restaurant brands, the company has 75 locations across the United States that include brands MacKenzie River Pizza Grill & Pub, Max & Erma's, Ciao Mambo, Craggy Range Bar & Grill, Latitude 48 and Chalkboard. Each restaurant brand offers a different design and food options, but all share in the common commitment to provide a distinctive dining experience and fresh products.
"It's a matter of always trying to be balanced so that you're providing super-great fresh products to customers in a timely fashion that fits the model of what they're expecting in those restaurants without sacrificing labor," COO Ryan Fuller says. "The pricing structure is different from concept to concept, guest expectations vary depending on the restaurant, but the foundation of freshness exists across all of our restaurants."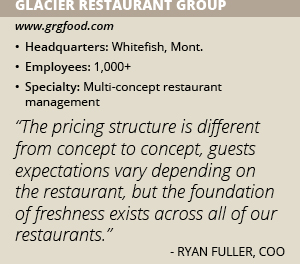 Fuller has been in the foodservice industry for 22 years and has seen the highs and lows, and he knew that the development of the newly formed Glacier Restaurant Group – at the depths of the economic crisis – would be challenging. But everyone at Glacier Restaurant Group stuck to their guns and continued to deliver fresh products.
"That time was a matter of all of us getting together and figuring out how we were going to weather the storm," Fuller explains. "We noticed a lot of competitors – in order to not lose customers – took a lot of discounts and changed menu prices to better accommodate customer budgets. But in order to do so they ended up going away from the fresh focus and going to frozen/pre-made items. We gambled and took the exact opposite approach by making everything from scratch with fresh ingredients."
"And it's paid off for us, up to today," he continues. "When customers were going to heavily discounted restaurants, our competitors found it hard to get away from the discount market when the economy bounced back. With our approach, the discount module wasn't there, and we maintained the fresh focus offering super high-quality dishes."
Doubled Growth
Glacier Restaurant Group's concept locations break down into 57 percent corporate locations and 43 percent franchises, with Max & Erma's becoming the newest acquisition in January. Max & Erma's doubled the size of Glacier Restaurant Group so Fuller sees it having an enormous impact on the company going forward. "It's been a major step in our growth and still very new, so we're continually working on it," he says. "Initially, preparing for that on a corporate level, our priority was to make sure we had enough structure in place to manage it."
Max & Erma's brand history ties directly into the company's overall commitment to maintaining customer satisfaction by delivering diverse and fresh menu options and creating a memorable customer experience. "It's a brand that fits in with our restaurant portfolio," Fuller says. "It has a long-standing community feel to it. People talk about it with a sense of nostalgia. People remember visiting Max & Erma's when they were a kid."
Glacier Restaurant Group always takes an educated approach in how it plans to grow and where, including restaurant innovations and more franchise exploration. "We're not afraid to take risks," Fuller adds. "We have a lot of interest in some of our brands from existing franchisees and new franchise groups. We just want to make sure we don't grow too quickly. We want to maintain the infrastructure in place and don't grow beyond our ability to make sure the customer is always taken care of."
The company is comfortable in its current operations and plans to continue its focus on its existing brands. Maintaining its current restaurant concepts is the key focus for Glacier Restaurant Group. "We just want to make sure we have our systems in place before we think about any other growth," Fuller says. "One of the nicest things about acquiring Max & Erma's isn't just about increasing the size of our company, but gaining the knowledge and experience from their existing team. It has been and will continue to be very beneficial."
Community Involvement
Glacier Restaurant Group may focus on delivering exceptional restaurant experiences, but it also lives by a creed of giving back to the community. From the highest level at the corporate office to the everyday employee at the restaurant level, everyone is perpetuating the company's motto of giving back in some way.
"We are beyond donating time and money and being involved at a planning level with some of these community centers we're involved in," Fuller notes. "We love to hire people who have a passion outside of work, that gets them fired up because anything they're passionate about will bleed into their personality and who they are within the work environment."
Thanks to its dedication to the community, Glacier Restaurant Group received the Restaurant Neighbor Award for 2015 from the National Restaurant Association for outstanding community service with restaurants. The Montana Special Olympics awarded the company Partner of the Year for its time and monetary investments last year. The company has donated more than $30,000 so far in 2016 for many causes such as Habitat for Humanity. Fuller says each local restaurant has the ability to figure out what the community needs and chooses the causes to support.
Glacier Restaurant Group also teamed up with Round It Up America, a nonprofit organization that encourages restaurant patrons to round their bills to the nearest dollar or write in any donation amount to the charities the company supports. Through this program in 2016, its restaurants have so far raised an additional $10,000 for No Kid Hungry, Prostart and Glacier Restaurant Group Restaurant Industry Scholarship Endowment (GRG R.I.S.E.).
In addition to the charitable environment, Glacier Restaurant Group fosters a work hard/play hard culture. Beyond meaning that employees work hard at the job to enjoy their passions outside of work, for Glacier Restaurant Group, it also means that once they have learned the ins and outs of their job, then the work environment doubles as a fun environment.
Fuller likens it to when he learned how to snowboard. "When I first learned, I was a wreck and it was super hard work, trying to figure out all the nuances of staying up and heading the right direction, falling gracefully and recovering correctly," he says. "Once I figured it out, it was super fun.
And that's how we want our employees to view their job – they know the details of the job so well that it doesn't feel like hard work and is honestly enjoyable. And that is our sincere culture. Between our community involvement and work-hard/play-hard philosophy, people want to stick around." And people do stick around, as most people in the corporate headquarters have ascended through the ranks and have been with Glacier Restaurant Group since its inception. Many of its employees and managers have been working at a Glacier Restaurant Group brand restaurant for 15-plus years. "If people enjoy their jobs, they perform better and our guests will ultimately enjoy their entire dining experience more and that's what will maintain our success."