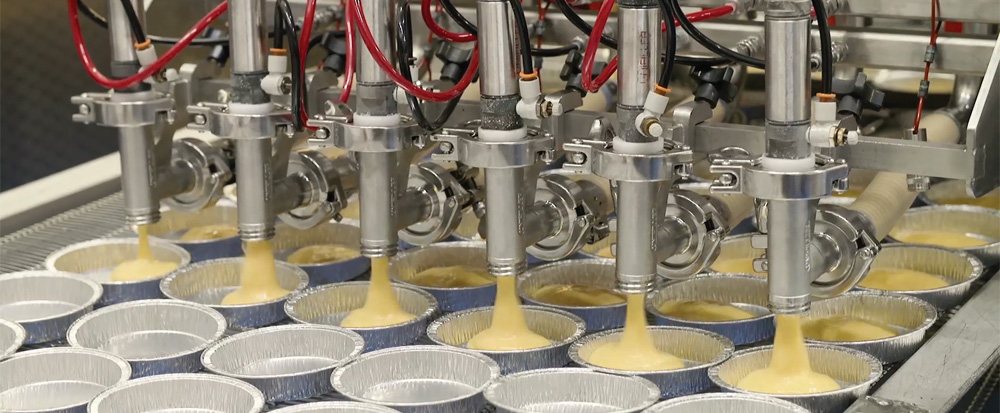 Innovation through quality
With over six decades of industry experience, Glendale Foods Ltd. has a proven track record in the supply of a variety of foods including processed meat, flour based, vegetable & snack products. FoodChain talks to Managing Director, Paul Burkitt and Operations Director, Mark Jones about the rise and continued growth of the company
Glendale Foods is a leading supplier of snacks, processed meat and protein products, both cooked and raw including sausages, burgers, meatballs and dumplings to retailers, independent wholesalers, major food manufacturers, airlines, as well as pub and restaurant groups. While the history of the business extends back for more than 60 years, the company as it is recognised today was founded in 1982 and today has the distinctive Yankee Snacks and Great British Pudding brands amongst its portfolios. Glendale Foods has a few 'quirky' claims; one of the largest suppliers of dumplings within the UK, as well as one of the largest suppliers of English sausages to Spain! Today turnover is around £22 million and it employs circa 200 employees.
"The roots of the company go back to the 1950s when Frank Mortimer started a butcher's shop locally, in fact the Mortimers' involvement in the company lasted until 2015 when myself and Mark bought out the retiring family members having merged our business with Glendale in 2007," elaborates Managing Director, Paul Burkitt. "We produce cooked and raw products, as well as snacks from at our 70,000 sq ft factory in Salford. The main production area was brand new in 2015, having been rebuilt after a major fire in July 2012."
While the fire at its Salford facility in July 2012 was understandably a significant setback for the company, Glendale Foods was able to survive the catastrophic event until on-site production was fully resumed in December 2014. During the time of the blaze the company's site was split into three sections, with only one being affected by the fire. While the factory's processing plant suffered '50 per cent damage', the site's remaining production, cold & dry store and stock survived. By outsourcing the production of several of its snacking products, as well as relying on its existing stock, Glendale Foods was able to keep customers supplied until full production was resumed.
Over the subsequent years Glendale Foods has continued to grow from strength to strength, resulting in the company's latest milestone in a management buyout that was finalised at the end of 2015. Paul Burkitt and Operations Director Mark Jones assumed full control of the business, following the purchase of the shares in the company owned by the outgoing Chairman John Mortimer, Gill Mortimer and Pam Mortimer. Commenting on the buyout, Paul said: "This is an exciting period for Glendale and this transaction represents the next phase in our development. Glendale's success is based on a platform of innovation, customer relationships and service and working closely with our client base to produce new and exciting products. We continue to look forward to
building on the existing customer base to further drive growth and capabilities."
Product development
Mark and Paul have worked alongside the exiting management team since 2007 and helped the company achieve continued growth and to weather the impact of the 2012 fire. The building completely destroyed by the fire was finally rebuilt in just 16 weeks, re-opening in early 2015. The new construction includes revised drainage, an insulated concrete slab bringing the floor up to other building levels on-site, as well as a two-storey steel frame, of hollow rib construction, Hemsec insulated wall and ceiling panels. Today the company is in a strong position with a state-of-the-art production facility, established existing and newly developed production lines and an enviable customer base.
"We have a very varied and versatile factory along with a new 'up-to-date' innovations centre, complete with a development pilot room. Our New Product Development (NPD) team was recently praised in a performance review by one of our largest clients as 'excellent' in delivery of product, from concept-to-launch," Mark reveals. "We are currently working hard in the snacking and food-to-go market development and with the ability to produce the 'protein' element as well as assemble products meaning we can really push the boundaries."
The company's robustness and commitment to continued product development has allowed Glendale Foods to expand its base with new and existing clients. Over the past 12 months the business has strengthened its relationships with key clients and further investment in new equipment to ensure the quality of its manufactured goods. "During 2015 our relationship with the Iceland Group developed tremendously with a number of new launches in several market sectors and we are also seeing a lot of interest in the 'clean label' and 'free from' sectors, which are both areas that are well within our capabilities," Paul says. "We have also recently invested heavily in new state-of-the- art processing and X-ray equipment and as Mark observed, we are very versatile and happy to work on projects that may not at first look viable, however this approach has given us a lot of success and indeed some very strong relationships with clients."
As Glendale Foods continues in the development of new and innovative products, its existing brands continue to be widely recognised and popular throughout the food market. Its Yankee Snacks line for example, offers total convenience in attractive and informative packaging all aimed at the 'call order' retail and wholesale markets. Yankee Snacks offer an ideal solution in retail cabinet freezers, catering kitchens, 24-hour canteen environments or any outlet seeking a quality product combined with a variety of choice. Its Great British Pudding Company brand provides a range of hand baked and generous 370gm puddings that are made in a traditional style with several classic fillings. The line offers great convenience and consistency as all orders are pre-baked and blast frozen to provide an authentic, call order steam pudding every time. The puddings are perfectly suited to the food-service and wholesale market environment.
Glendale Foods will continue to invest in its facilities and workforce, and as proven, to facilitate further industry growth. Having weathered and flourished despite potentially devastating challenges, the company is confident that it will continue to deliver healthy returns well into the future. "The investment in people is a key strategy for the company, we are BRC AA accredited and a percent of our annual investment program is always targeted in areas related to quality and increased standards," Mark explains. "The future is sometimes difficult to foresee in the food market, as we all know, and there will always be a new focus by the public and media to contend with. Operationally, labour costs will be very hard hitting for our sector unlike within the service sector for example and as always raw material prices are a worry no matter what planning is undertaken."
"We appointed two new board members in 2015, so the next 12 months is about settling the business into a, partly, new regime, focusing on our operational efficiencies and our innovation in products and processes," Paul concludes. "In the longer term we want to see a company with a true vision in the sectors where we operate, driving sales and of course profit for the shareholders."