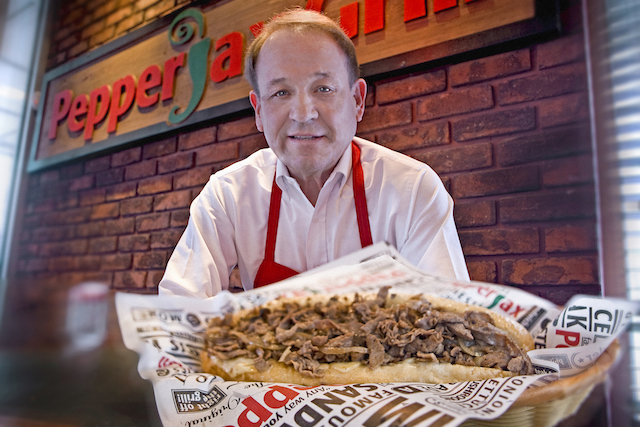 Glenn Valley Foods will open a new facility in Omaha, Neb., in March as it prepares for increased demand with the launch of its 'America's Greatest Philly' program.
To say creating the best Philly cheesesteak sandwich in the country is a passion for Gary Rohwer would be an understatement. For the better part of 40 years, his life's work has focused on perfecting every detail of the sandwich from patenting his own steak to developing the perfect hearth-baked Philly roll with a bakery in Philadelphia.
"I'm having a lot of fun," Rohwer says. "My new objective is to take the sandwich across the country to restaurant chains with the newly developed America's Greatest Philly program through my meat processing company, Glenn Valley Foods. For those restaurants that don't have a Philly cheesesteak on the menu, they can buy Gary's QuickSteak meat, special seasoning, cheese and a proprietary hearth-baked Philly roll from their distributor anywhere in the United States."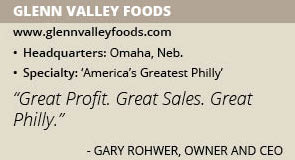 Rohwer founded Omaha, Neb.-based Glenn Valley Foods in 2008, setting in motion a tradition of innovation, automation and uncompromised quality with value that started in 1981 when he opened his first Philly cheesesteak restaurant, Chartrose Caboose, in Lincoln, Neb. The chain grew to five states after only five years, but Rohwer knew his steak meat could be improved. After working with legendary Dr. Roger Mandigo at the University of Nebraska's Meat Science Department for two years, he created the perfect Philly steak. Convinced his steak was that awesome, Rohwer sold his restaurants, got a patent on his steak and pioneered it across the United States selling it to the foodservice industry.
During the next nine years, Rohwer's steak became known as "Steak-EZE." He sold his processing plant in Spencer, Iowa, and his marketing company in Omaha to Advance Foods in Enid, Okla., and believed he would enjoy retirement, but that didn't happen. Bored with retirement, Rohwer looked for another challenge, so he created a quick-casual Philly steak restaurant concept using Steak-EZE that he called PepperJax Grill in 2002 that features his Philly sandwich.
During the PepperJax development period, he spent one year developing the perfect hearth-baked Philly roll in Philadelphia where he and the bakery hosted many focus groups, and tweaked his 35-year-old Philly steak seasoning. "Now this is truly 'America's Greatest Philly,'" he says.
After buying Steak-EZE for eight years from Advance Foods, Rohwer saw the quality go down and the price go up. At the same time, his 10-year non-compete agreement expired, so he started his own meat processing company called Glenn Valley Foods. Rohwer now has his new and improved Philly steak back and calls it "Gary's QuickSteak." "Now I'm on my way," Rohwer says. "Look out!"
Eight years later, Rohwer sold PepperJax Grill, which had become a top 100 restaurant chain in the United States, with restaurants in seven states. Rohwer attributes his "America's Greatest Philly" as the reason PepperJax became very successful. Since selling his restaurants in 2016, Rohwer has been focused solely on his meat processing company.
Gary's QuickSteak
With the founding of Glenn Valley Foods came Gary's QuickSteak, Rohwer's new and improved Philly steak meat. "I'm doing very well now because I have the quality of my steak back," he says. "I started selling my QuickSteak to national restaurant companies, co-packing for foodservice and later created an export division. I also started a retail program currently selling to about 1,700 grocery stores across the country. Retail has been a big part of our business right now. We are going to be national in about three years or sooner."
To keep up with an expected increase in demand, Glenn Valley Foods in March will open a new state-of-the-art meat processing facility in Omaha. The large plant will be SQF certified and completely automated to produce Gary's QuickSteak.
"Currently, I'm rolling out my 'America's Greatest Philly' program," Rohwer says. "Now you can have this incredible sandwich on your own menu. The program includes: Gary's proprietary Philadelphia roll, special seasoning, cheese and Gary's QuickSteak, all with a very aggressive 'off invoice rebate' from your distributor anywhere in the United States. We will also include point-of-sale for promoting the sandwich with a very complete on-site training program to ensure the sandwich is made exactly right. My promise to you is great profit, great sales and America's Greatest Philly."
For those interested in getting America's Greatest Philly on their menu and to be flown in for a tour of the new Glenn Valley Foods plant, call (402) 905- 2706 and ask for Gary or email him at grohwer@glennvalleyfoods.com.