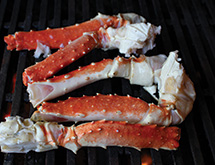 Global Seafoods North America
More than 70 percent of the seafood purchased by Americans from the grocery store is frozen and pumped with chemicals to keep it moist and white. Global Seafoods North America has set out to change that percentage with its fresh and wild-caught products that are easy to get – and cook – thanks to seafood education provided by the company.
"Fresh seafood in the U.S. grocery stores, compared to other countries like Spain, France or Italy, is quite a poor variety," CEO and founder Oleg Nikitenko says. "We have to introduce more fresh seafood to the market, which is an excellent source of nutrition, tastes good and the reason we started our e-commerce business."
Four years ago, the Bellevue, Wash.-based seafood supplier made the decision to slowly exit the wholesale part of its business and transition to e-commerce, selling only to consumers.
Global Seafoods started its e-commerce business with the goals to educate consumers about its seafood and the health benefits, as well as provide recipes and instructional videos on its website.
"We would like to not only sell you the fish, but I want to show you how to cook it in the healthiest and most delicious way at home," Nikitenko adds.
Nikitenko started Global Seafoods in 1998 with a small fish processing plant in Kodiak, Alaska, that it still operates out of today, with the dream of producing more fish and producing it better. "Since we started the e-commerce business we have doubled our sales every year and have given consumers high-quality seafood that can't be found in the frozen section," he adds. "In the grocery store, consumers don't know what to buy or how to cook the fish and grocers don't have the variety of knowledge that you can get from us."
Global Seafoods is in the first phase of its e-commerce business plan and expects to have more recipes and videos on its website in addition to a YouTube channel. Its new consumer-friendly website launched in October and provides answers to a lot of frequently asked questions about its products and shipping, in addition to online ordering.
Overseeing Quality
Global Seafoods can track every box of seafood through its production process back to the part of the ocean it was pulled from. "We can track back to the fishing vessel that delivered it, as well as the name of the captain and first mate on the ship," Nikitenko says. "We can go as far as the fishing ground because every time the vessel brings us a load of fresh fish we know where on the map it came from."
The company's tracking capabilities allows it to ensure the fish is pulled from the ocean exactly where the vessel says it was taken from. "If the vessel says it's fishing in area 'X' and I see them in area 'B' we can inform them," Nikitenko explains. "Luckily, this has never happened because the captains of our vessels are very reliable and live by the rules, but we can track how and where they are fishing. The industry doesn't require us to keep record, but we do it for food safety and people's safety so if there is a problem we can look back to see what went wrong and fix it."
All of the fish produced by Global Seafoods is wild and the company refuses to deal with farmed fish, except for black caviar because it is impossible to get in the wild. "Sometimes I feel like a seafood teacher," Nikitenko admits. "For example, customers call for Atlantic salmon, but it's farmed and we only deal with wild fish. A lot of people don't want fish unless it's wild, but it's up to them to find it."
Brand Recognition
Although Global Seafoods is continuing to build its brand recognition, Nikitenko says that takes time and the company is focused on making improvements in an effort to become a leader in the industry. "We are looking to introduce to the market a better variety of seafood," he adds. "We want to add scallops, lobsters from Maine and Nova Scotia, and other products we personally like."
By next summer, Global Seafoods plans to open a facility on the East Coast to expedite delivery to its customers. "Right now, shipping to the East Coast takes five business days and most customers understand that, but some aren't happy because it takes a long time," Nikitenko explains. "When we open on the East Coast we will cover all of the United States with shipping in two to three days."
The company is working to make its fish more accessible and faster to cook at home. "This year we are introducing black cod fillets and steaks in sealed bags that are ready to go," Nikitenko says. "Usually the customer would have to gut it and make fillets or whatever they wanted. Now it's ready to go and less messy."
Moving forward, Global Seafoods will continue to focus on growing its e-commerce business that Nikitenko says is already seeing impressive growth. In fall 2016, the company plans to open a studio and kitchen to produce videos for its website that will showcase different recipes and its products.
Global Seafoods makes about 10 videos per year now, but Nikitenko expects the company will be able to make 50 to 150 videos per year by opening a studio. "We have a lot of plans for the future," he notes. "We are trying to bring the message to our customers that we are offering the healthiest seafood from the best place in the world."