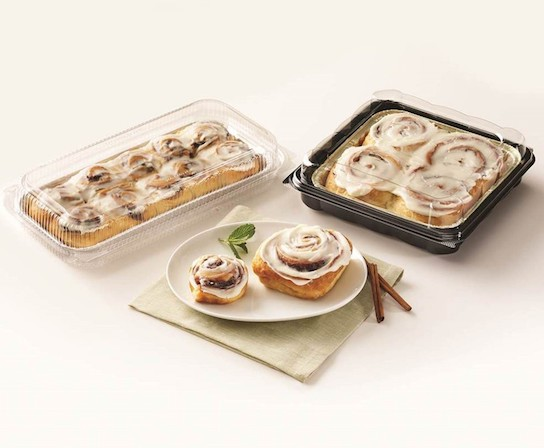 A new leadership team is leading Gold Standard Baking into the future.
With a new senior leadership team in place, Gold Standard Baking is planning to increase its market share by introducing fresh ideas and innovative approaches.
The Chicago-based baked goods supplier plans to start a branded program, increase its share of the cinnamon roll market, introduce new bite-size product options and move towards cleaner labels.
"We have a lot of innovation in the pipeline," says Jeff Dearduff, who joined Gold Standard Baking as its new CEO in June last year. "We're looking to double our size within five years – all organic."
Last summer, Gold Standard Baking began building a new senior leadership team. Dearduff – who has 40 years of experience in the baked goods industry with companies like Aunt Millie's, East Balt Bakeries and ARYZTA – brought a number of new players on board.
Don Van Tassle is the new bakery director for the company's manufacturing plant in Chicago – a four-line, high-speed bakery producing croissants and sweet goods. He came to Gold Standard Baking with experience working at Entenmann's Bakery, Kraft Foods, Bimbo Bakeries USA and ARYZTA.
The company's new high-speed bakery in Pleasant Prairie, Wis., also has a new bakery director. Chris Pelletier comes from Grecian Delight, Turano Baking and East Balt Bakeries.
Wally Quednau is the new director of organizational development, coming to Gold Standard Baking from McDonald's Corporation, East Balt Bakeries and Baldinger Bakery in St. Paul, Minn.
Leading the customer development, sales, marketing and customer service divisions is Haq Chaudary as vice president and general manager of customer development. He comes to Gold Standard Baking from Sara Lee Bakery, US Foods, La Brea Bakery and ARYZTA.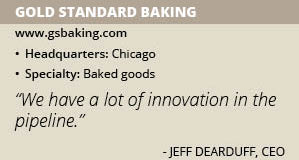 A single member of the previous leadership group, CFO Mark Grosshans has remained on board and is a key part of the growing company.
Branching Out
Founded in 1987, Gold Standard Baking has grown from a neighborhood bakery into a world-class baked goods supplier. The company expanded its capabilities, adapted new technologies and culinary expertise.
Today, it is known for its croissants, Danishes and its new cinnamon rolls, which the company rolled out last year. The company produces roughly 1.5 million pounds of croissants and 500,000 pounds of Danishes and cinnamon rolls per week.
"We're already considered the leader in the food service croissants world," Dearduff says. "But one of the things we want to do is branch out and expand our cinnamon rolls in the market."
Later this year, Gold Standard Baking plans to begin offering some of its products in smaller sizes. "We're looking at smaller bite options," Dearduff adds. "It will get us into some channels that we are not in, such as convenience stores and schools."
In addition, the company is responding to the consumer driven movement that demands transparency and authenticity on its food labels. "We are in the process of converting more of our labels to clean, with the goal of converting all of our products within three years," Dearduff says.
Knowing that an effective brand strategy gives a company a major edge in increasingly competitive markets, Gold Standard Baking plans also to start a branded product program. It plans to launch it this summer.
"In the past it was only a Gold Standard Baking brand but we're looking at coming up with maybe two to three different concepts," Dearduff adds.
In 2015, Gold Standard Baking was acquired by Parallel49 Equity based in Lake Forest, Ill. Since then, the company has made a number of significant capital investments. They include a high-speed Danish line and a high-speed croissant line.
"We strive to provide the best croissants, Danishes and cinnamon rolls that anyone can find on the market," Dearduff says. "We're going to continue to develop products that meet consumer needs as well as developing new products. We've started a journey down a new path."