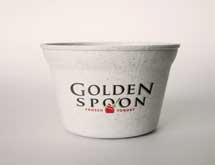 Rancho Santa Margarita, Calif.-based Golden Spoon does not limit its innovations to just its one-of-a-kind yogurt flavors that mimic a premium ice cream experience, a trait for which it has been known for nearly 30 years. "This year, we will be the first and only company in the frozen yogurt industry to sell our products in a radically innovative, backyard-biodegradable, compostable and insulated cup," CEO Roger Clawson states.
Golden Spoon's groundbreaking biodegradable cups were created through a patented process that combines tapioca and bamboo. The creator, Carpentaria, Calif.-based Biosphere Industries LLC, will produce these cups under a one-year exclusive agreement for Golden Spoon. "It's revolutionary in how the cups are made and how they decompose," Clawson explains.
"Biosphere Industries tells us that you can literally toss them in your backyard compost pile, cover it, and it will turn into dust in seven days," he continues. "The U.S. Navy was so impressed that it conducted its own study on this material because it was looking for a sustainable product it could use onboard ships. They concluded that if tossed into the ocean, this material completely disintegrates in 21 days or less and has zero negative environmental impacts."
Since the day McDonald's first introduced the polystyrene hamburger clamshell, the world has hungered for a smarter alternative to insulated packaging. "I spent almost five years in search of a product to meet our needs before encountering Biosphere at a trade show last year and learned more about the patented process," Clawson says. "It was brand-new on the market and simply wasn't available anywhere else. It was not yet as applicable to the hot beverage industry and thus had not received a lot of attention.
"As with most earth-friendly products, it is slightly more expensive than Styrofoam," he admits. "However, it's the right thing to do, and the cost differences are small enough that it made plenty of sense for me to pursue this opportunity. As a result, we will be rolling this product out within all of our domestic stores in the spring of 2012 and international stores by the end of summer."
No Ordinary Company
As one of the two original pioneers of the frozen yogurt industry, Golden Spoon continues to reinvent itself with an updated look to its stores, new flavor launches, and first-of-its-kind pricing and service offerings in 2012. When founder Jeff Barnes opened his first Golden Spoon in Lake Forest, Calif., in 1983, he believed there was a better way to sell soft-serve frozen yogurt.
The only flavors available within the frozen yogurt industry in the early 1980s were variations on flavors of fruit or vanilla. Barnes and TCBY founder Frank Hicken¬botham – known collectively as the godfathers of the frozen yogurt industry – were the first to introduce ice cream-inspired flavors to frozen yogurt fans. Barnes, however, was the first to take a much more creative approach in mimicking premium ice cream in non-fat and nutritious formulations.
"He was nearly laughed out of the local creameries when he requested that they manufacture and sell him a chocolate and other candy bar-flavored frozen yogurt; yet today, these are staple flavors for frozen yogurt," Clawson remarks. "That first request, at the time, was akin to requesting that the creamery manufacture chocolate-flavored cottage cheese."
While TCBY's Hickenbotham quickly rolled out his frozen yogurt business in the early '80s on a national and international scale, Barnes chose to take a more artisan approach and limited his brand to the West Coast. "Our focus has always been on the quality, highly creative side of the frozen yogurt industry," Clawson says. "Only recently, have we begun to accelerate our growth and development, not only domestically, but also internationally."
When Clawson joined Golden Spoon 12 years ago, there were a total of 30 stores in the greater Orange County market. Today, the company has nearly 130 stores open in California, Arizona, Nevada, Utah and Colorado, as well as in Canada, Japan, the Philippines and Qatar.
Feeling the Flavor
One of the key attributes that Barnes instilled in the company was his desire to create frozen yogurt flavors that evoke emotional connections within the consumer. "Every one of our flavors have been engineered over time to mimic an exacting cultural flavor profile and create an immediate emotional connection," Clawson says.
"When we call something 'old-fashioned vanilla,' it must meet the challenge of the ultimate judge, the consumer," he continues. "The profile we chose for vanilla in the mid-'80s was that of the typical childhood memory of licking the side of a melting ice cream sandwich. And when we name something with as much identity as a 'peanut butter cup,' it had better taste exactly like a Reese's™."
Barnes purposefully took this craftsman approach instead of rolling Golden Spoon out on a large scale. He instinctively knew that the only way to build long-term credibility with the consumer was to offer the highest-quality products and to do it with near-perfect consistency. "Jeff would bring in different strawberry flavors from all the different creameries, sample each and personally choose what he felt best represented an exact strawberry flavor," Clawson recalls. "He repeated this process for each of the flavors he carried for the first five years."
Barnes could have received volume discounts if he had only worked with one or two creameries, but instead he worked with numerous creameries to find the perfect flavor profile for each specific product offered in his stores. "He insisted that his Golden Spoon stores would serve only the 'best of the best' when it came to frozen yogurt," Clawson asserts. "That's ultimately what drove him to custom manufacturing his own frozen yogurt formulations."
Today, all Golden Spoon products are custom-made, and the company is proud to be one of only a select few frozen yogurt manufacturers that does not serve customers a watered-down or powdered product, Clawson maintains. On average, Golden Spoon introduces a new flavor once every 60 days, and it maintains an active roster of 80 to 85 formulations at any given time.
"We may not be the first to market with everything, but when we do, we always bring the very best," he asserts. "In the early 2000s, for example, one of our ice cream competitors had a flavor named 'Cake Batter.' It was outselling everything else in the scoop ice cream shops across the country. We introduced it to our proprietary frozen yogurt compound within months. Today, our non-fat Cake Batter froyo is one of our top-10 flavors."
Last year, Golden Spoon was the first to bring Black Cherry frozen yogurt to the market. 2011's Red Velvet is another new flavor selling exceptionally well across its stores. "We struggled with this one as every other manufacturer of this flavor achieves the coloring through the use of red dyes," Clawson notes. "This was simply unacceptable for us. Through a process of trial and error, we were able to meet the consumer's expectation of color through the use of organic beet juice and skipped the carcinogenic red dye additives."
The company also recently introduced Iced Café De Leche, a flavor made popular through Starbucks drinks. "It's our first new coffee flavor in almost 10 years," Clawson says
Two years ago, Golden Spoon created another "first" when it developed the flavor Yuzu for its Japanese stores. Yuzu is a wildly popular citrus flavoring in Japan. "The closest thing we have to it in the U.S. would be a tangerine-lemon combination," he says. "It has been a consistent top-selling flavor in our Japanese stores since its introduction. Despite the challenges, we are continually creating culturally specific, customized and seasonal flavors to meet the evolving needs in all of the markets."
Better than New
With its 30th anniversary coming up in 2013, Golden Spoon has opted to take this year to embark on an extensive retail rebranding. Not only has the company updated its logo and revitalized the look and feel of its brand, but it has also has introduced new and creative concepts that will transform and improve the entire customer experience.
In March 2011, Clawson and his partner, Ed Evans, purchased the company from Barnes and endeavored to bring changes to a brand that hadn't experienced very many, at least from the look of the retail stores. "We looked like your grandmother's brand," Clawson remarks. "We had thrived on the strength of our product, our people and exceptional service. In the last five or six years, we have seen significant penetration of new competition in the marketplace. The ownership change here at Golden Spoon is what finally sparked the process to reposition the company as the quality leader in this industry, as it had been for the first 25 years."
The company recently introduced a retail store concept that is sure to send shockwaves throughout the industry, Clawson says. It is a highly innovative retail experience he calls "Weightless Pricing™" that allows customers to pay in advance on a simple, fixed price, per cup basis. The consumer pays first and is given the option of the "concierge" or "artist" service options.
Through the "concierge" option, the stores have retained the tradition of providing full-service for which Golden Spoon excels above all others. The "artist" option now also provides an innovative self-service component.
"Similar to our new cups, this combination of pricing and service is a first-of-its-kind 'hybrid,' bringing together the best of our full-service experience, while providing all of the options of self-service," Clawson explains.
Consumers have long appreciated the clean, friendly and full-service model that Golden Spoon has provided for three decades, while much of the rest of the industry has flocked to the self-serve concept, he says.
"As we re-launch our new concept stores, roll out Weightless Pricing™ and a new service model, we will retain our full-service genetics," Clawson maintains. "However, the choice is now the customers' and they seem to love having options that cater to their individual mood and needs.
"We have also re-created a warm, clean and orderly environment in which our customers can do it themselves or where we can offer assistance or suggestions," he continues. "Our staff is trained to provide information on calorie considerations, swirling of certain flavors and/or the combinations with certain toppings. They are raving about our service-oriented interaction approach, well-structured nutritional information and a more sanitary environment."
Beachy Stores
The new look of the stores is absolutely stunning, Clawson says, describing the décor as "modern California Beach Cottage." The information on its customized flavors, nutritional values and the company's messages are prominent, yet they blend seamlessly through the design. "We assembled an all-star team between our marketing company, INK, our architectural firm, Tanaka-Riley, and our project managers from Premier Management Alliance," he says. "Since our introduction in January, we have now made plans to open and/or remodel multiple stores in California alone by Memorial Day."
Golden Spoon previously operated as a purely franchised system, but it has recently begun to buy back its domestic franchised units, convert them to the new concept and run them as company-owned stores, although multi-unit franchisees are welcomed within the system, Clawson says. The international stores continue to expand through a master franchise model.
In addition to everything else Golden Spoon is rolling out in 2012, it has begun offering catering services in select markets of Southern California and Northern Utah. "One of our greatest satisfactions comes from using our mobile units in conjunction with fundraisers for schools, community programs, churches and charities," Clawson says. "These events provide us an opportunity to give back to those who so loyally support us."