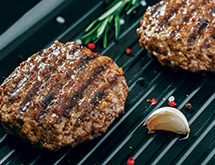 Golden West Food Group's corporate values and partnerships with its customers allow it to retain its position as a nationwide leader in food manufacturing, production and distribution.
"We are committed to providing the safest, highest-quality value-added food products that consistently meet or exceed customer expectations," the Vernon, Calif.-headquartered company says. "Our mission is to produce the highest quality food products with an unrelenting commitment to the freshest, most nutritious ingredients and promotion of eco-friendly business practices."
The company processes and distributes products that can be found in more than 25,000 locations nationwide. Golden West offers fresh, frozen and processed beef, pork and chicken products including custom burgers and patties, meatloaf, franks, and meatballs; and kettle-cooked products including salsas, sausage, dips, hummus, soups and sauces. "We produce a wide array of products under our own and licensed brands," the company says.
In addition to its retail products – which comprise 70 percent of its total business – Golden West Food Group also offers more than 10,000 products to service restaurant chains, distributors, casinos, resorts, theme parks, and the U.S. military. "We pride ourselves on being a full-service purveyor for our customers and strive for perfection," the company says. "We know our customers expect nothing less."
Golden West Food Group works closely with its clients to realize their retail product visions, it says. "From conceptualization to commercialization, we think, imagine, design and create phenomenal products for your store shelves," the company says. "We work closely with customers through the new product development process. We work and design programs based upon your requirements to bring you products you will be proud of."
The company is British Retail Consortium, USDA Organic, Kosher, Global Food Safety Initiative, Oregon Tilth, ISO 9001 and Zabiha Halal certified.
Value Driven
Golden West Food Group conducts its operations with a number of core values in mind. These include:
•Integrity: "We say what we think and do what we say."
•Respect: "We have a deference for, and are inclusive of others' diversity."
•Innovation: "We believe in excellence in everything we do and constant commitment to change and achievement."
•Leadership: "We build our business relationships on loyalty."
•Passion: "We have an unwavering passion for and commitment to our customers, employees, products and business."
•Fun: "We approach every day with enthusiasm, energy and excitement."
•Teamwork: "We work for the good of the company through cooperation and take ownership and accountability for responsibilities, successes and failures."
•Honesty: "We are dedicated to open and honest business practices by embracing the truth about ourselves and the world."
Golden West Food Group also believes in social responsibility to its community. "Our social mission is to conduct operations in a way that actively recognizes the impact business has in society and initiate efforts to progressively improve our local community and beyond," the company adds.