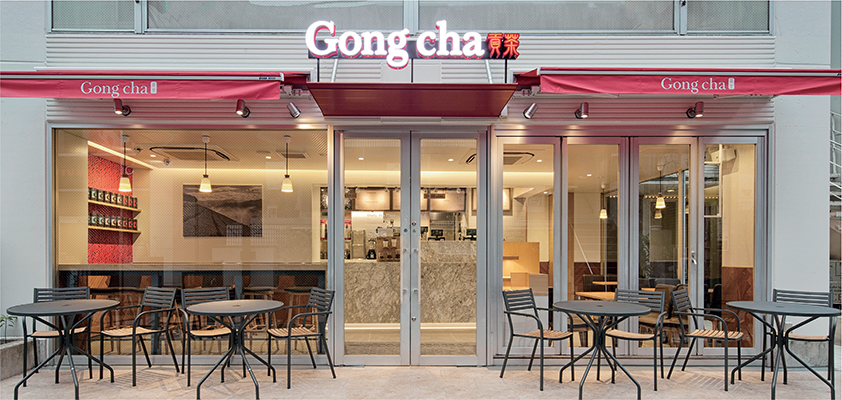 Brewing happiness
Premium bubble tea brand, Gong cha, sees enduring success as it breaks into the US market
Founded in 2006, Gong cha is known for its personalized service and unique range of innovative and delicious bubble tea recipes. With daily-brewed fresh tea, and a variety of authentic Taiwanese flavors, the brand has blossomed, and established a global presence. Now looking to expand its footprint in the US, Gong cha remains dedicated to its core principles of quality, integrity and respect.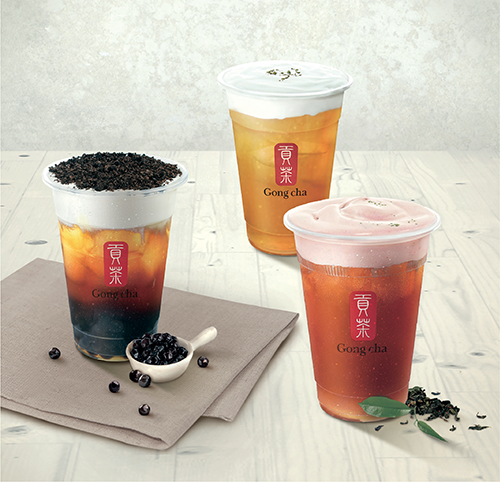 The story of Gong cha begins in Taiwan, with two friends and a shared goal. "In 2006, Zhen-Hua (Super) Wu and Ming-Hsi (Frank) Huang established Gong cha, a multi-location premium tea brand in Kaohsiung. They founded the brand on a desire to create superior quality proprietary tea blends.
"In 2011, Martin Berry, an Australian entrepreneur and venture capitalist, and his wife Jin, fell in love with the brand after visiting a Singapore location. By 2012, they had acquired the Gong cha master franchise rights to expand the brand, beyond Taiwan and Hong Kong to South Korea and other Asian countries. Berry later partnered with Japanese private equity firm Unison Capital to buy the brand and grow it to more than 1,000 locations, before selling Gong cha to TA Associates in 2019.
"Gong cha relocated their global headquarters to London in 2020 and began laying the groundwork for the active, central globalization strategy. By the end of 2022, Gong cha is projected to operate over 2,000 locations around the world," details Andrew Sternburg, Chief Development Officer at Gong cha Americas.
Throughout its long history, Gong cha has sourced and created a range of delicious bubble tea flavors. With organically sourced leaves from expert growers across the world, Gong cha's offering remains second-to-none, as Andrew affirms: "Gong cha sources its teas from the finest estates across Asia, and prepares them with fresh tapioca pearls throughout the day. We also offer customers the ability to customize their beverage to their exact specifications. With over 600 possible combinations of toppings, ice, and sweetness levels available, guests can first select their sugar and ice level, before choosing from six different milk types, six toppings, and if you don't want the classic bubble tea pearls, there's red bean, coconut jelly, basil seed, and more.
"The primary bubble tea varieties we have include black, green, Alishan and Oolong. Our black tea is sourced from Sri Lanka. It is fully fermented before being processed and dried, turning the leaves a dark brown color and giving the tea its signature rich flavor. Also originating in Sri Lanka is our range of Earl Grey tea. This is a premium black tea infused with the essence of bergamot – its signature lemon citrus aroma and flavor brings a unique twist to the traditional milk tea.
"From Vietnam we have our green tea, which is infused with Jasmine to give it a rich aromatic quality. Since the green tea base is non-fermented and lightly roasted, it maintains a fresh green color. We then have the Alishan and Oolong ranges, which come from Taiwan. The Alishan is a kind of lightly fermented Oolong tea, with elegant herbal and floral notes. It is named after the world-famous Alishan Mountain, where the finest alpine tea originated from.
"Finally, our classic Oolong tea has a signature roasted aroma, which pairs amazingly with brown sugar. Having been dried in the sun until slightly withered and semi-fermented, the tea is then roasted to create a warm tone and enticing flavor. Many people enjoy topping our teas with our trademark salty milk foam, which is made super rich with whipped milk, cream, and a salty Taiwanese butter. Gong cha was the first to add milk foam to bubble tea, and it has been a unique selling point for the brand as it has continued to grow."
Focus on quality
Alongside its classic flavors, Gong cha offers a plethora of seasonal drinks, as well as smoothies and tea lattes. The brand is dedicated to constant innovation and creation, as Andrew reveals: "Gong cha is constantly making new products, both limited time offers (LTOs) and permanent menu items. For LTOs, we like to keep things fresh and exciting, which encourages customers to experiment with our new offerings. Usually our LTOs are seasonal, often with fruit-flavored infusions in warm weather months and chocolate flavors for the winter. Later this year, we are looking forward to launching a new golden pearl, a slightly sweeter version of our black pearl, but with a golden hue that makes our drinks even more visually appealing.
"We have a corporate product innovation team in Taiwan that is constantly creating and testing new menu items, including seasonal specials, limited-time promotions, and new core standards, all of which keep our offerings fresh to meet today's consumers' demands. In addition, we have another product innovation team in our pre-eminent Korea market. While they create products specifically for that market, other regions, including ours, often have an opportunity to offer these new menu items as well."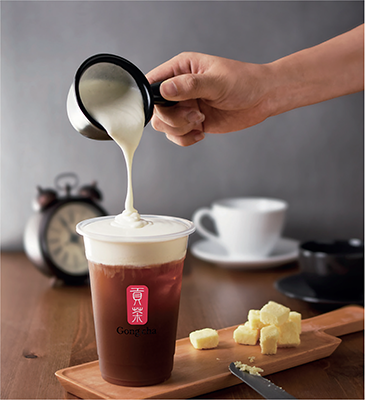 Over the past few years, bubble tea has become a rapidly growing category in the fast-casual beverage space. "Orders of bubble milk tea shot up 505 percent during the first half of 2021, and the global bubble tea market is projected to reach $3.39 billion by the end of 2027.
"Gong cha differentiates itself with its commitment to quality. It starts with our name: 'Gong cha' means 'to offer the best tea to the emperor from all of one's possessions'. We source all our signature teas from the finest tea estates in Asia, and manage the entire process of tea production, from the selection of tea leaves to cultivation, drying, fermentation, and purification.
"Our worldwide reputation for the high quality of our tea products drives organic growth. The company's success can also be attributed to its commitment to superior quality, a simple and scalable operational model, strong corporate support for franchisees, and its master franchise model," Andrew discusses.
Brand expansion
Gong cha's thriving network of franchisee's speaks to its success as a people-centric brand. The company has always been committed to helping its team members prosper, as Andrew asserts: "People are the driving force behind building any successful business. We have worked hard to create a people-first culture, not only at the corporate level on the Americas team, but also across all of our regional master franchisees. We offer competitive salaries and benefits to show people how much they are valued within the company, and, most importantly, we strive to create a culture of value and respect each and every day.
"We are also very transparent with our people, keeping them informed of the company's goals and objectives, as well as the strategies we are putting in place in order to achieve those things. By continuously providing a clear understanding of our mission, as well as ongoing feedback and support, our employees feel they have a stake in our common success, which is critical to fostering a people-first organization."
Having successfully created a positive, mutually respectful and productive working culture, Gong cha continues to thrive. As Andrew enthuses: "Gong cha is one of the fastest-growing bubble tea brands in the US and internationally. With more than 1,660 locations worldwide, it is projected to reach 2,000-plus stores by the end of 2022.
"The brand has successfully capitalized on increased interest from consumers and entrepreneurs, demonstrating significant yet steady growth as a leader in the bubble tea space. Over the next few years, we will continue to grow our presence in the US. The company will soon be opening its first four corporately owned US locations in the Chicagoland area, as part of a long-term trajectory that hopes to see Gong cha exceed 500 US locations by 2025," he concludes.
www.gongchafranchising.com