Delicious and nutritious
With a determination to inspire healthy diets for children across the United States, good2grow is continuing to produce clean label beverages with a fun and unique element
Founded in 1998, the Atlanta-based business, good2grow, uses fun to encourage kids to eat and drink healthier. The company offers an innovative line of healthy children's beverages that feature collectable 3D character tops to make nutritional products fun for kids to drink, while also helping parents reinforce good dietary habits. To achieve this, the company partners with popular names in children's entertainment to bring kids their favorite characters; from Disney, Universal, Mattel, Hello Kitty, Hasbro, Nickelodeon, Warner Bros and more. Above these exciting benefits, the character tops are also reusable, dishwasher-safe, recyclable and BPA-free.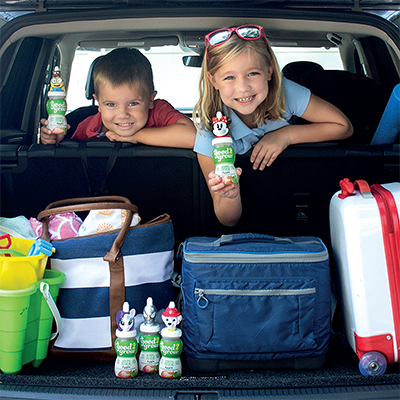 A further advantage to good2grow's range of juices and waters is the fact that no sugar is added, they are non-GMO, and have no artificial colors. Its current line of 100 percent juices, organic 75 percent less-sugar juices, and fruit and veggie blends can be found at retailers across the convenience, grocery and mass channels.
As the company has developed itself into an established and preferred name over the last two decades, it has also pushed for the diversification of its catalogue. In particular, over the past two years, good2grow has introduced a fantastic selection of products that come under its name; for example, in March of 2021, the company brought its first organic milk drink to the shelves. The new product, which is available in single-serve, eight-ounce bottles comes complete with a re-closable top to avoid spills, and was launched in retail stores such as Hannaford Supermarkets, Casey's General Stores, Stripes Stores and Circle K Texas.
While good2grow has long been at the forefront of the healthier beverage space, this new product marks its first move into the dairy sector, with the first 'grab 'n go' drink for kids between the of ages two and five. As a hefty source of vitamin A and D, calcium, and eight grams of protein per serving, the delicious drink is available in chocolate and strawberry flavors, and is, of course, accompanied by good2grow's beloved character top.
good2grow is also proud of its fortified water, which launched in June 2019 and comes with unique PODZ licensed characters on top of each drink. In two tasty flavors, Orange Mango and Raspberry Lemonade, the drink brings together fun and nutrition, and serves as the ideal thirst quencher for a day in the sun. The PODZ feature characters in clear domed collector lids from favorite shows and movies such as DC, Marvel, Trolls, Shopkins, My Little Pony and Minions, and come in a larger ten-ounce size.
This refreshing drink not only keeps kids hydrated, but also ensures they are receiving their daily dose of vitamin D and calcium to keep their bones strong. Like all good2grow products, PODZ contain no added sugar, no high fructose corn syrup, and no artificial colors, flavors or preservatives.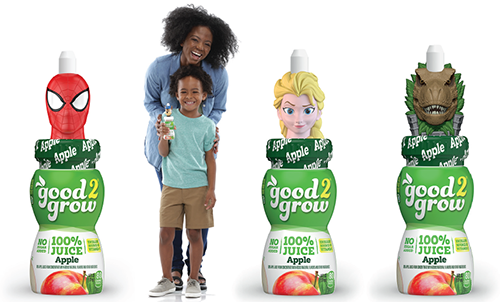 Setting aside its innovative collection of fresh and fun products, good2grow also believes that giving back is fundamental to the success of its operation. From local community service events in its home town of Atlanta, to working with national children's charities, the company is proud to partner with organizations like Children's Healthcare of Atlanta, Horizons Atlanta, and Ronald McDonald House. Taking these initiatives one step further, the business is looking to expand on its innovation to get more of the community involved in the fun, after it launched its first online Collectors Club and accompanying app.
In June 2018, the company introduced the good2grow Collectors Club website to help families maintain their collection of tops of their favorite characters, while simultaneously gaining access to exclusive branded content, games and rewards. The more they engage with the Club through their online collection, the greater their access to exciting content becomes. New club members receive a specially designed Collectors welcome kit that features all-new collectable stands to display their tops, stickers, and more. The Collectors Club also launched as an app in March 2020.
Turning our attention to new developments happening within the company, good2grow recently exchanged hands from its previous owner, Kainos Capital – a food and consumer-focused private equity firm that has been with good2grow since 2018 – to Wind Point Partners (Wind Point) in 2021. The Chicago-based private equity investment firm currently holds approximately $4 billion in assets under management. Wind Point focuses on working together with management teams to acquire well-positioned, middle market businesses with the opportunity to establish a clear path to value creation.
With a delicious selection of beverages, and a large dose of fun, good2grow appears to be ready to take on the future with a high level of innovation and creativity. There is no doubt that its US customers will keep a keen eye on store shelves for the company's unique selection of healthy beverages. As we have seen, good2grow is just as determined to continue to bring new and exciting elements to its portfolio and will strive to do so for many years to come. D
www.good2grow.com