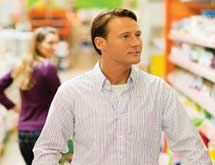 People appreciate being able to walk into their local supermarket and recognize not only employees stocking shelves and filling out orders behind counters, but also the names on the groceries that they are purchasing. Gordy's County Market wants to deliver exactly that with its seven supermarket locations across Wisconsin's Chippewa Valley region. The company started small and has grown along with the area it serves. Gordy and Donna Schafer established it in 1966 in Chippewa Falls, Wis. Ever since, the store has not faltered from its goal of delivering quality grocery products from local suppliers while maintaining its family atmosphere.
Gordy and Donna Schafer still play a role within the organization, but it is now run by the Schafer's children: Jeff, Rick, Jenna and Dave. Dave Schafer says the company credits its growth to "staying up with the times and staying current with the changing needs of consumers."
The company expanded in 1983 from a single-store operator into a two-store chain. However, now the company is growing at a much faster rate, having recently opened its seventh store in the past five years. Gordy's County Market now serves the Chippewa Valley in:
Augusta
Cornell
Eau Claire on Birch
Eau Claire on Hamilton
Ladysmith
Lake Wissota
Deep Roots
To continue to be a successful grocery chain, Gordy's County Market makes sure to keep an eye on the trends in the marketplace.
"We monitor what people are doing not just in our own market, but also around the country," Schafer says. "We keep a close eye on that, and ask our customers what they're looking for. For instance, we recently started in 2007 building large-size liquor stores onto our groceries. We noticed there was a trend in the community for alcohol sales, and we took advantage of that."
But the most important aspect of operations at Gordy's County Market is that it is still a family business. "It means a lot to us to remain a family bus­iness," Schafer explains. He adds that he is proud to be a part of the second generation at the store.
"It is important to say we are still a family business and have worked together for many years, and recently took over ownership," Schafer notes about his siblings and himself. "It is important to growth and sustainability to remain a family business and serve the local market we are in."
To go along with its belief in being a family business with local roots, Gordy's County Market created its "close to home" program. The company notes that it could be one of the most important programs in its history, as it promotes food grown and produced locally, focusing on a five-state region of the Mid­west consisting of Wisconsin, Minnesota, Illinois, Michigan and Iowa.
"It lets consumers know that these pro­ducts are close to home and not from California or Mexico," Schafer explains. "Consumers like to see products that are locally sourced, and recognize where products are coming from. It has been more in demand in the last 12 months.
"It means a lot to stay close to our roots," Schafer continues. "It makes us stay humble and never take anything for granted. Obviously, without the com­munity, we don't have anything. It is important to stay close and connect with customers."
Adding to the Market
One thing that distinguishes Gordy's County Market is that it operates gas stations at both Eau Claire locations, as well as Chippewa Falls and Lake Wissota. The grocer created a special program called "pump perks" for custo­mers to get savings on gas through the purchase of groceries.
For every $10 a customer spends, they receive a penny of gas. Also, Schafer mentions that there are discounts on gas throughout the store with coupons and the purchase of certain items. "Con­sumers see a huge value on [the program] because not only can they save money when they shop in our stores, but also save on gas," he says.
For the future, Schafer does not anticipate growth at Gordy's County Mar­ket to slow down. "The company is on a growth pattern right now, and we like to continue to grow like this," he says. "We would like to see our business plan continue with local sourcing that maintains our growth. In the last three months, we have added four stores – we would like to continue to go in that direc­tion and increase our market share."