Wisconsin's Gordy's Guru built a niche as a community grocer with high-quality products.
When Matt Selvig joined Gordy's Market six years ago he did not simply want to be the public relations director and spokesperson for the supermarket chain. He needed a different title that fit his kid-at-heart personality. Someone suggested "guru," which Selvig liked because he planned to become an expert in groceries and Gordy's Market.
The Gordy's Guru has become a staple of TV advertising in western Wisconsin. Unlike the standard grocery advertisement featuring alternating images of a pitchman followed by packaged food, Gordy's Market commercials are often shot at actual Gordy's Market stores and put Selvig's charm and wholesome humor at the forefront. The idea is to be memorable while reinforcing the idea that Gordy's Market is its customers' hometown grocer. "That's driven the growth and a lot of the reason why we've been successful the last several years," Selvig says of the strategy.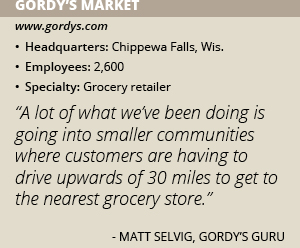 Although Selvig is the current face of the company, his use of local messaging is a philosophy that has been with the company for 50 years. For each commercial and public appearance, Selvig taps into the Gordy's Market foundation that Gordy and Donna Schafer cemented when the couple opened their first store in 1966. Gordy Schafer put all that he had into the business while Donna lent her support and raised their seven children. Together, the couple created an example of being aggressive and taking chances, a legacy their children continue today.
The company is marking its 50th anniversary in 2016. Customers are sharing in the celebration through free giveaways, visits from popular food mascots like the Kool-Aid Man and Mr. Peanut and other events. All 26 stores are outfitted with 50th Anniversary in store danglers, outdoor banners and a variety of point-of-sale marketing signage, as well as a "Just a Kid from Chippewa" campaign running on gordys.com/about in conjunction with its YouTube channel, Gordy's Market. Throughout 2016 Gordy's intends to continue to keep its 50th Anniversary front of mind for their customers with a continuous push throughout its media outlets, including digital, print, radio and TV.
There are plenty of reasons to be excited about the company's next 50 years following a period of strong growth. When Selvig joined the company in 2010, Gordy's Market operated only six stores. That number has more than quadrupled as the company opened its 26th store in mid-May.
That expansion has occurred during a time of heightened competition between large grocers and big-box stores. Many independent or smaller chains have been the casualties of that battle, creating a void in the industry that Gordy's Market can fill. "A lot of what we've been doing is going into smaller communities where customers are having to drive upwards of 30 miles to get to the nearest grocery store. We want to provide them with their own local grocery store to serve our customers closer to home," Selvig says.
In other cases, Gordy's Market bought out an owner who was ready to retire or wanted to leave the industry. By stepping in, Gordy's Market expanded its presence throughout western Wisconsin while enabling towns to keep their local grocery store.
Hometown Market
When Gordy's Market opens a new store it caters to the needs of that community instead of using a set template. Locations range in size from 15,000 square feet to as large as 65,000 square feet. One of the newest supermarkets, located in Stanley, Wis., is one of the company's first Gordy's Market built from the ground up and is 27,000 square feet in size. Whether the company continues to build more ground-up stores or repurposes existing buildings will depend on the market and if the building can accommodate Gordy's Market's layout, Selvig explains.
The company has found success with its customers by cultivating the idea that Gordy's Market is part of their community. "We want to be known as folks' local grocery store," Selvig says. Associates know customers by name, root for the same high school sports teams and provide a familiar face at the cash register and in the aisles.
Gordy's Market also sponsors local events such as the Tomah, Wis., fireworks display, and the Gordy's Gives Back program donates to local organizations. "We do our best as far as giving back to the communities we serve and making sure we're supporting as many of the local organizations and events as we can," Selvig says.
Gordy's Market finds what is important in each community and tries to become involved. Selvig has visited places like Highground Veterans Memorial Park in Neillsville, Wis., to meet residents and show that Gordy's Market is invested in their town. "I feel it's very important to get out and shake hands and kiss babies," he says.
Staying Competitive
It's not enough for Gordy's Market to be its customers' hometown grocer to stay ahead of the grocery industry. The company must also match that local feel with superior products and services. Gordy's Market is constantly working to introduce higher-quality foods into its stores.
Many of its supermarkets now offer smokehouse meats, including sausages and 15 varieties of homemade brats. "Brats are a big deal up in Wisconsin," Selvig jokes. "If you don't have a brat and a beer in your hand there's something wrong."
In addition to its fresh, homemade smokehouse meats, Gordy's Market makes custom cakes, take-and-bake pizzas, fresh salads and grab-and-go items from the deli, as well as partnering with a local group to make the sushi it offers. Selvig says all of its items are competitively priced, creating value for customers.
One area where Gordy's Market has improved in the past year is in bridging its in-store experience with its digital presence with a revamped website. The sites refreshed and streamlined design, combined with enriched content and optimization for mobile devices, not only allows visitors to better interact with Gordy's Market online, but at store level, as well. "Our mission as an independent grocer is to provide a user experience rivaling that of larger retailers," said Maggie Cook, marketing director. "We are constantly researching and developing new methods for connecting with millennials, as well as ways to continue improving the shopping experience all customers have been accustomed to at Gordy's."
Those offerings and high-quality products are helping Gordy's Market differentiate itself among fierce competition. Supersized grocery stores, big-box shops and discount stores continue to encroach on western Wisconsin – and the rest of the country – but Gordy's Market is not wrapping itself up in what those rivals are doing.
Instead, Selvig says the company is focused on providing the best grocery shopping experience to its customers and serving as a leading example of innovation. "We are going to do what we do well while continuing to research and develop methods to better serve our customers in an ever-evolving market to continue to bring customers into our stores and get excited about grocery shopping," he says.