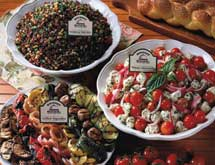 Successful businessmen do not enter into an industry based on a whim, but instead research the market to find an area where it can offer services that appear to be lacking. Jan Sussman found an opening in the foodservice industry when he discovered there were few companies offering fresh, preservative-free healthy food choices. In 1995, Sussman created Gourmet Boutique LLC in a 2,000-square-foot manufacturing facility.
With Sussman as its CEO, the company entered the market with a focus on producing complete meals and protein-based components for supermarkets, gourmet food stores and delis that were sold fresh and tasted like an actual home-cooked dish.
The company started out by servicing markets in New York City, creating its products by hand without relying on heavy machinery. "Most companies in a food manufacturing environment use commercial equipment to aid the production of their products," Sussman says. "These methods produce a result that does not look like or taste like the food prepared in the kitchen of a home. Our goal was to provide products that mirrored all aspects of foods produced in the kitchen of a restaurant or home. Once we achieved this, we knew that we had created real food by real people.
"The largest opportunity we saw in deli operations and supermarkets came in fresh, ready-to-eat convenience foods," he continues. "America is all about wanting to eat quickly. The average person is making their decision on what to eat for dinner at 6 p.m. It's not like it used to be where people would plan out what they want to eat for dinner the night before and then go home and cook. This left a glaring hole to fill."
Gourmet Boutique found its niche business and has since grown its headquarters in Jamaica, N.Y., to include an 80,000-square-foot complex. To reach its customers nationally and provide  signature products with freshness, the company added a 60,000-square-foot manufacturing facility in Phoenix.
"You can walk into any supermarket in any of the 50 states and find our foods," Sussman states. "Bring it home, put it in the microwave or oven, and in three to 15 minutes you have a great home-cooked meal."
The Fresh Process
"There is a substantial difference between frozen and fresh foods in regard to quality and price," Sussman says. Both President Jason Sussman and Jan Sussman stress that the fresh food Gourmet Boutique manufactures is just that, fresh and never frozen. "We worked on proprietary packaging, formulation and processing methods to achieve a desirable shelf life enabling us to get our products out to customers in a timely fashion," Jason Sussman says. "This allows time for the retailers to get our products through their supply chain profitably."
According to the Sussmans, there are two key components to manufacturing fresh dishes and maintaining high quality – food science and packaging. Jason Sussman notes Gourmet Boutique has an extensive R&D staff that combines its knowledge of food science and the culinary arts to tackle these challenges.
"Certain combinations of food components do not maintain their freshness and quality over an extended shelf life unless formulated properly," he says. "Gourmet Boutique's product development team – lead by Executive Chef and Director of R&D Paul Zullo – performs a multitude of organoleptic and laboratory tests where they examine many aspects of the food system's attributes. Most importantly, how the individual ingredient's physio-chemical aspects interact in the system and change overtime. Understanding this helps to ensure the product maintains the proper moisture, texture, color and flavor profile originally intended, giving the product high performance marks at store level.
"The science that goes into it is really startling," Sussman continues. "It's not like recipes that you make at home, where you are not paying attention to chemical compounds and how they breakdown over time.
"We look at how certain characteristics of food work, how proteins and grains interact with each other, for example, and determine the best formulation to provide the consumer with the desired eating experience."