GraceKennedy Foods focuses on expanding its Grace and La Fe footprints throughout the United States.
GraceKennedy Foods plans to expand its portfolio of products and work to better understand the consumer to further grow its Grace and La Fe brands throughout the United States. Derrick Reckord has been instrumental in the development and growth of the company's business in the United States since his first U.S. posting in 1994. On Jan. 1, Reckord became president and CEO of GraceKennedy Foods to lead it into the future.
"The most important thing in the long term is to engage with the people," Reckord says. Our consumers and employees are the catalyst for success. "Our primary focus is to tend to the consumer and deliver on the promise and product that represent flavorful options, but ones that are healthy and relevant to their lifestyle."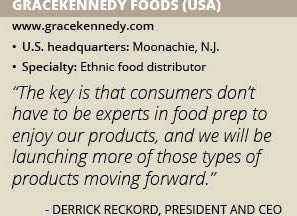 W.R. Grace, an American, and Fred W. Kennedy, a Jamaican, founded GraceKennedy on Valentine's Day in 1922 in Kingston, Jamaica. The business partners were looking for ways to supply Jamaica with basic necessities. The company became the very first in Jamaica to offer its shares to employees in Jamaica and always operated as a professional run organization.
GraceKennedy Foods started out as a small trading and wharf operation, focusing on staple products like rice, salted fish, flour and some produce. The company has grown over the past 95 years to include a range of beverages, sauces and condiments, vegetables and beans, canned meats and fish, frozen meats, soups, instant porridge and oats and coconut products that all have Caribbean flair. The company's brands are synonymous with quality Caribbean foods and for many Jamaicans it is simply "Grace, the good food people."
Today, GraceKennedy is one of the Caribbean's largest and most dynamic corporate entities with a network of 50 subsidiaries and associated companies across the Caribbean, North and Central America, the U.K., Europe and Africa. The company has operations spanning the areas of food processing and distribution, banking, finance, insurance and more. "Jamaica remains the biggest center for commercial activities for GraceKennedy and we are listed on the Jamaican Stock Exchange," Reckord notes. "At any given point, we have revenue among the top-three companies in the Caribbean."
Recognizable Brands
Grace is one of the largest single-entity food manufacturers in the Caribbean with more than half of its products sold under the Grace brand. Many of these products are manufactured in one of the six factories operated by the Company in Jamaica. "Grace is the premium and No. 1 Anglo-Caribbean brand," Reckord notes. "It is the brand that represents the best of Caribbean food. Grace is the brand that people grow up with and that represents the key categories we buy as Caribbean people."
Manufacturing provides an opportunity for innovation in the organization and many of GraceKennedy Foods popular items were developed at its own facilities. For example, the Grace Tropical Rhythms line was developed at Grace Food Processors (Canning) in Kingston, Jamaica, and continues to be manufactured there. The Grace Cock Soup, a range of packaged soups, and the new Grace Instant Porridges are manufactured at subsidiary National Processors in Temple Hall, St. Andrew.
Grace Hams, Grace Bacon and Grace Vienna Sausages are made at Grace Food Processors, the company's processing plant in Savanna-La-Mar, Westmoreland. Dairy products like "Tastee" cheese and "This is Really Great Yogurt" are manufactured in Kingston at Dairy Industries Jamaica Ltd., a joint venture between GraceKennedy and Fonterra, New Zealand.
In 2014, GraceKennedy acquired Moonachie, N.J.-based La Fe, which was founded in 1968 by Cuban immigrants and offered frozen Hispanic products to the community. La Fe is a full-service distributor of 1,400 food and beverage products, including frozen vegetables, tropical fruit pulp, frozen entrées and frozen root crops. "We represent some of the top brands of food products from the Caribbean, Central America, South America and Europe," the company says.
GraceKennedy Foods has dedicated it's time to understand the U.S. consumers who are underserved in the marketplace, Reckord says. "When we looked at the Hispanic marketplace we saw a growing market and the numbers suggested a good 15 percent of the American consumers are of Hispanic decent and even more will be influenced by Hispanic foods in the future," he adds. "That's a significant market opportunity and we recognized that the market is still underserved, which was the main reasons for our investment in La Fe Foods."
Expanded Network
When GraceKennedy acquired La Fe, it gained a significant presence in the US Hispanic market. La Fe is one of the most recognized Hispanic brands delivering the best line of frozen and chilled food products to consumers. GraceKennedy also gained access to the company's distribution network with facilities in Moonachie, Miami and Atlanta.
GraceKennedy had previously used third-party partners to distribute its product. "La Fe has distribution from Maine through to Florida, which allows us to move Grace and key third-party principal brands through that distribution network in addition to the La Fe brand," Reckord says. "It gave us the opportunity to do our own distribution and get closer to the consumer."
GraceKennedy Foods' biggest challenge was upgrading the supply chain to improve service levels. "We had to up the service levels to what we believe should be the standard," Reckord says. "Today we run 95 percent in terms of service level."
The second hurdle after the acquisition was to ensure the talented employees who are committed to the company were engaged and saw their future in the organization. "We had to address that quickly and now people are seeing the difference," Reckord says. "Our culture now is focused on having a better understanding of the consumer and looking externally to the innovations from the market that will shape our organization and help us to better serve our consumers. That's a big cultural change for the organization."
Greater Share
In honor of La Fe's 50th anniversary this year, GraceKennedy Foods will be re-launching the brand in the marketplace with a new logo and packaging. Consumers can expect to see the changes in second-quarter 2018. "We are excited by that and the type of communications we will launch in support of the reimagined brand," Reckord says. "It's evolutionary and updates the feel and touch of the brand."
In addition to the new look of La Fe, the brand will also launch new products later this year. "The food trends we looked at showed consumers want things that are fresh, convenient and healthy," Reckord says. "The frozen side of the business offers much more opportunities to provide consumers with something that is much more fresh and healthy than traditional brands have provided in the past."
La Fe has healthy products, but Reckord says they have not yet been aggressively marketed. "Now that we have cleared up the logistics issues, we can focus on marketing those products and looking for solutions to get the brand in front of the consumer," he adds. "We will also be offering more better-for-you products that you will begin to see in the second half of 2018."
"The key is that consumers don't have to be experts in food prep to enjoy our products, and we will be launching more of those types of products moving forward," Reckord adds. "The most important thing over the long-term is to continue to engage with our consumers and deliver products that are relevant to their lifestyle."