Grand Central Oyster Bar continues serving fresh seafood daily.
Grand Central Oyster Bar and Restaurant Executive Chef and co-owner Sandy Ingber knows all about putting in a long day. While most are still asleep, Ingber begins his day at 3 a.m., heading out to Fulton Fish Market in Hunts Point, N.Y., to select that day's supply of oysters and fresh fish for one of New York's most famous seafood restaurants.
"I handpick almost all of the fish," Ingber says. "Some come from Europe, most from the North Atlantic and some are caught in Florida and trucked up to the market." And of course, Ingber also chooses the oysters, most of which are dropped off at Fulton Market from oyster farms on either coast. And all of the products he chooses are fresh, never frozen. "We're all about freshness," Ingber says.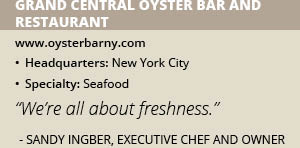 If Ingber sounds like an expert in finding fresh seafood, it's because he is. When he first joined Grand Central in 1990, he did not come aboard as a chef, though he had extensive experience at a seafood restaurant on Long Island. Instead, he began as the head buyer. Eventually, he became executive chef in 1997, but still uses his buying experience to this day.
"When I started with Grand Central I thought I was somewhat of a hot-shot seafood chef," Ingber recalls. "I realized immediately that I knew nothing. It took me four months to feel comfortable in the purchasing job.
"Eventually I learned the purchasing part," he continues. "It's all about knowing the seasons and what is popular and unpopular."
Grand History
Freshness is not the only experience one enjoys when visiting Grand Central. The other is an amazing sense of history. It opened in 1913 along with its namesake, Grand Central Terminal. Located underneath the terminal at 42nd Street and Vanderbilt Avenue, the restaurant thrived in the heyday of rail travel in the United States, and has become a true landmark of the New York culinary scene.
It has not always been smooth sailing, however. As rail travel declined with the rise of the automobile and the airplane, the terminal itself, along with the restaurant, reached a period of decline in the 1960s. Fortunately, renovation efforts led by Jacqueline Kennedy Onassis led to a revamping of Grand Central Terminal, which finally took place in 1997.
It was also a seminal year for the restaurant. Not only did Ingber become executive chef, but a fire that same year caused extensive damage to the venerable restaurant. That forced a major renovation, which included replacing about 75 percent of the Guastavino tiles that lined the restaurant's legendary arched ceiling.
As it turned out, the restaurant and terminal reopened at the same time. "Once Grand Central Terminal had a grand reopening," Inber recalls, "that doubled our business overnight."
A Modern Icon
While business has continued to boom, Grand Central Oyster Bar has continued to change and evolve with the times. On the technology side, Grand Central moved to computerized inventories in 1998, which gave Ingber and his staff the ability track which types of oysters were being used the most.
That was a significant boost, given the amazing variety of oysters the restaurant serves. "We can now track to the cent what oysters we are using each day," Ingber explains. "And there are upwards of 30 different kinds of oysters we use."
The restaurant also went through another year-long modernization phase, starting in 2013. It optimized its seating capacity, installed modern equipment, and updated its bars and kitchen. Most importantly, the restaurant's legendary ceiling tiles were fully restored, with new tiles supplementing some of the original tiles that were saved from the 1997 fire. The restaurant was only closed from January to March of 2014.
One of Grand Central Oyster Bar's most significant changes can't be found in its interior or on its menu. In 1999, then-owner Jerome Brody, who took over the restaurant in 1974 when it was in dire shape, sold the restaurant to an employee stock ownership plan (ESOP). Brody was loyal to his employees and wanted to make sure they could take part in the restaurant's continued success. Today, the restaurant is owned entirely by its employees, and overseen by Ingber and two management partners, Janet Poccia and Mohammed Lawal, who also started in 1990.
Creating the ESOP has created a loyal environment for the restaurant. Indeed, while many restaurants are known for being transient workplaces, Grand Central is the opposite. "When I'm interviewing employees," Ingber says, "I tell them, 'This is the kind of place you can settle into and work for a very long time.'"
And Ingber should know. He has been there 27 years-and counting. "It has been a grand experience," Ingber says. "My journey has been amazing with a beautiful destination."