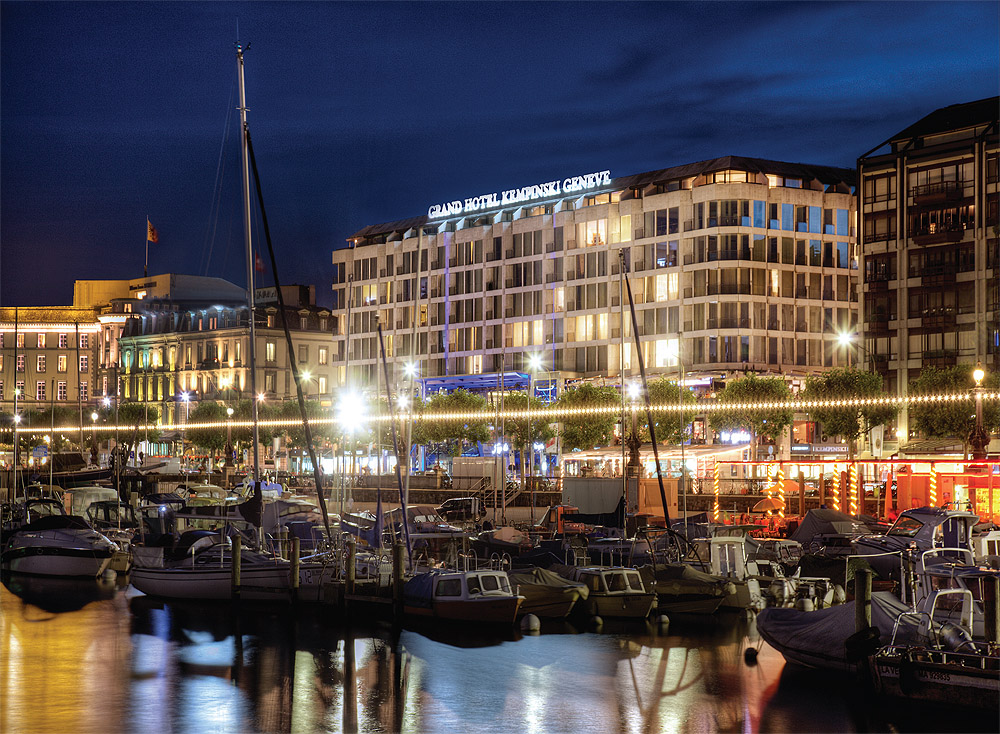 Grand Hotel Kempinski Geneva
Redefining conventions
Providing a five-star service to both business and leisure guests, Grand Hotel Kempinski Geneva more than complements its stunning, picturesque surroundings
"Located at the heart of the city, directly at the lakeside with a view out over the famous Jet d'Eau and the awe inspiring mountains of the Swiss Alps, Grand Hotel Kempinski Geneva is one of Europe's very best fivestar hotels: "The hotel has been ever present since 1980 when it was opened as the Noga Hilton," states Kristina Mees, sales and marketing director of Grand Hotel Kempinski Geneva. "In the seven months between November 2006 and May 2007, the entire hotel was renovated before reopening in its present form boasting 412 rooms and suites and 14 residences for long-stay rentals, giving it Geneva's largest five-star capacity.


"As far as the hotel's customer base is concerned, it benefits greatly from Geneva being as much a business destination as a weekend getaway location. By offering a diverse and complete product Grand Hotel Kempinski Geneva caters for both types of guest equally, with its leisure customers especially fond of the fantastic views available of Lake Geneva, the hotel's large, Cinq Mondes Spa and the famous Java night club. For its business clients the hotel has a particularly large conference capacity featuring an auditorium that seats 1300 as well as a number of break-out rooms."
Contemporary designed rooms, the Geneva Suite, the largest in Europe measuring 1080 square metres, and ten multi-functional conference rooms are just a few of the breathtaking number of facilities and services provided by the hotel. For those seeking entertainment and leisure, Grand Hotel Kempinski Geneva houses a mix of high-end boutiques, an indoor pool, fitness centre, three restaurants, a lounge and the Théatre du Léman: "There are many beautiful hotels situated throughout Geneva, but only the Grand Hotel Kempinski offers such a diverse palette of services and facilities. So much so that the hotel defines itself as a 'destination within a destination'," Kristina continues.
As Kristina goes on the explain, the hotel is in no way standing still, continuing to breathe new life into its facilities and offerings through sustained investment: "May 2011 saw the opening of the renovated FloorTwo Restaurant with a completely new look and a menu designed to refresh the local gastronomic scene. The core reason behind this investment, and others like it, is that as one of the top hotel's in the region Grand Hotel Kempinski Geneva needs to be modernising on a constant basis in order to retain a strong presence on both the local and international map.
"The hotel's restaurants are also very popular with locals and given the fast moving nature of the local scene, one needs to constantly offer creative new products in order to attract this form of clientele. Alongside physical renovations, the hotel has introduced a new executive chef, James Norman, to head up its gastronomic experience. A true artist in every sense of the word, James is
able to present creativity and delight on the same plate, for example in his range of tapas available at the FloorTwo bar that need to be tasted to be believed."
Green council
Aware that due to its size and the nature of its business the hotel has a significant output and impact on the environment, Grand Hotel Kempinski Geneva has introduced its own 'Green Council': "Consisting of associates from all its departments, the Green Council meets on a regular basis to brainstorm and discuss various initiatives," Kristina says. "Being an employee driven initiative, the Council has been responsible for a number of positive outcomes including making electronic bikes available for clients to discover the city, a green meeting package that focuses on waste reduction and special food and beverage arrangements that are now in place to decrease the hotel's carbon footprint. Even more work is simultaneously being done behind the scenes where reviews into internal procedures will ultimately result in a reduction of paper usage, electricity and waste materials."
Economic factors
External economic factors such as the strength of the Swiss Franc have made the Swiss luxury hotel market particularly challenging in recent years. In the business sector, meeting planners that have a choice between several destinations often need to be convinced that spending additional money when choosing Geneva as their location of choice is the right decision to make, something that has never been easy and probably never will. Nevertheless, as Thierry Lavalley, general manager, concludes, Grand Hotel Kempinski Geneva refuses to stand still: "There are many projects in the hotel's pipeline, such as the creation of three new conference rooms that will be inaugurated by December 2011. Such undertakings encapsulate the passion the hotel has for innovation and its drive to be a leading figure in both its industry and in its local surroundings. With this desire, coupled with its countless other strengths, Grand Hotel Kempinski Geneva can push forward in achieving what is also its motto, and that is to go from being good to being the best."