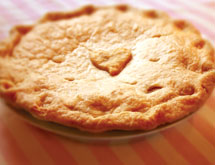 Because bad news travels fast, the country and much of the world is well aware of the woes of the Motor City. But what's not exclaimed in the news is Michigan's strong agriculture industry. In 2009, Michigan ranked as the No. 1 U.S. producer in 11 different commodities including Niagara grapes and squash, according to the National Agriculture Statistics Service. And it has long been known as the No. 1 producer for tart cherries and blueberries. In 2009, Michigan supplied 74 percent of the country's tart cherries and 26 percent of its blueberries. It's also the No. 2 grower of apples and No. 1 for producing apple slices.
One company looked at these three fruits and knew it would make a great pie – The Michigan ABC (apple, blueberry, cherry) Crumb Pie. It's ordered every day at Grand Traverse Pie Co. based in Traverse City, Mich.
"All of our flour and sugar, even our strawberries come from Michigan," says Mike Busley, owner and founder of Grand Traverse. "Agriculture is growing. You hear about cars and all the problems, but agriculture continues to grow in Michigan. We purchase 95 percent of our product from Michigan. Whenever we can find a Michigan source that meets our needs, that's what we will use."
For the past 15 years, Grand Traverse has been getting a lot of use from Michigan's bounty ever since Busley and his wife Denise returned to Michigan – their native state – from Southern California with their two young children. Busley was a professional engineer, but always had been fascinated with the idea of owning a business. Denise Busley was a medical saleswoman and felt the pull to have an occupation that would allow her to spend more time with their children. After visiting the Julian Pie Co. in California, where Busley says "the world's best apple pies" are made, the couple had an epiphany.
"We had the idea of owning a company for a couple of years, but we didn't know what," Busley says. "But we went into this pie company in California and the seed was planted then. From that point to when we opened the first store was about 10 months."
In less than a year, the Busleys, with no baking or restaurant experience, were mentored by the owners of Julian Pie and ready to open their first Grand Traverse in Traverse City. At first, the concept was all pie made from scratch every day – cherry, blueberry, apple, peach and cream pies. They operated a twofold business: retail for direct consumers and wholesale for grocers. They came to intimately know the challenges and benefits of each market, and though it retains both sets of clientele, the Busley's identified retail as the most promising venue.
"I realized a few years into it that wholesale is a tough business," he explains. "It's a good business, but tough. We wanted to strengthen our retail side, and we wanted to broaden our offerings. We developed into a fast-casual like Corner Bakery or Panera. It's similar to ours because it's based on a bakery, but offers sandwiches and salads. So it's more like a restaurant. We felt we could fit into this market based on the unique focus on pies.
"The others are also bakeries, but they focus on bread," Mike Busley continues. "The focus on pies is unique, and also the fact that it's tied to our region is unique with Michigan's connection to cherries and blueberries."
A Comforting Concept
His entrepreneurial instinct was right. In 2000, Grand Traverse began taking on a fast-casual theme with its already beloved pies lending credibility to the entire brand. The beloved pies and extensive food menu keep customers coming back again and again. Grand Traverse's food menu consists of traditional comfort foods such as chicken potpie, which is the No. 1 menu item at every Grand Traverse. It also serves up quiche, hot and hearty soups, and egg sandwiches. Demonstrating a culinary flair, Grand Traverse also offers a Mediterranean veggie sandwich, a seasonal strawberry fields salad and cherry chicken salad, which places number two on the menu.
In 2011, FastCasual.com declared it one of the Top 100 Movers and Shakers in the industry. Today, the Grand Traverse family is made of five corporate-owned stores in Michigan and 14 franchises between Michigan and Indiana. It also operates an online sales business, and each store provides catering services.
It opened two new corporate stores this year – a second store in downtown Traverse City, which launched in May, and another in downtown Lansing, Mich., in January that serves as the new employee-training center because of its central location. All of the Indiana locations are owned by the same franchisee. The Michigan franchisees all own one store each, but the company is in talks with a few current franchisees interested in owning a second location. In the near future, Busley says the next most logical expansion would be a venture into Midwest neighbor Chicago. He expects that will happen in the next 24 months.
"We have thought about expanding into Washington, D.C., which does very well in the economy, and Florida we have also thought about, but not in the near term," Busley says. "Chicago would be the next step for us and our brand would still be close to home."
Wherever it goes next, Grand Trav­erse will take its cozy Midwestern charm along for the ride, as well. Each location, ranging between 2,800 to 3,200 square feet, is designed to be that "third place" that sociologist Ray Oldenburg talks about in his book "The Great Good Place." It's the comforting community stronghold that fosters interaction and creativity in an informal way.
"We want it to feel like your second home, that third place," Busley says. "It's not work, it's not home, but it's that place where you feel it's your own. You can eat lunch, catch up on emails, meet a friend or have dinner with your family." Each location offers as much seating variety as possible. Traditional tables and chairs or booths and soft seating surrounding a fireplace offer opportunities to dine with friends or hold study groups. This way, Grand Traverse "can serve a customer's needs today vs. their needs from yesterday," Busley explains. Warm tones such as amber and an autumn-like orange adorn the walls. The colors complement the reclaimed maple chairs, tables and counters that furnish the new Grand Traverse stores.
Employees Count
More important than the design, what really makes Grand Traverse customers feel at home is the employees (or "pie people" in the company's language). "They are exposed to the brand values with the intention of them feeling part of something special, a team of folks who care for each other, their guests and their communities," Busley says.
"Food costs, commodity costs, packing costs – those things are consistently going up," he continues. "Even healthcare is another one. We try to find the best solutions to those. While we cannot control these costs at the regional or national levels, we do work to find sources and create relationships to minimize this escalation. However, the most important thing we can control is the relationships with our people. We continue to strengthen those relationships, and we want them to feel proud of this company." Grand Traverse fosters a "we're all in this together" environment by keeping all employees – not just corporate leaders – abreast of the company's standing, challenges and successes.
Even before a new employee is considered for hiring, Grand Traverse cuts out any confusion about the concept this company is founded on. "The mission and values are clear: to make the best homemade from scratch pies anywhere," the company says. "The vast majority of today's commercial food offerings are mass produced at vast automated facilities, distributed to hundreds of outlets and sold by individuals that have no real connection to or understanding of the product. This is exactly opposite of the Grand Traverse Pie Company. As an employee, you will take part in something special and getting rarer: operating a business that strives to connect with the community every day."