Grande Cheese excels at providing high-quality cheese products thanks to its engaged associates and a focus on social responsibility.
From producer milk to the slice of pizza on your plate, Grande Cheese strives to provide the highest-quality cheese product to pizzerias throughout the United States. From its milk supplier – which has received 5-Star Certification from the Milk & Dairy Beef Quality Assurance Program – to the end- customer, Grande Cheese strives for "trademark excellence" in everything it does.
"We have a very high threshold for quality acceptance," CEO Wayne Matzke says. "For people who subscribe to an end-product in their pizzeria or casual-dining restaurant, they have to subscribe to a high-quality experience, including only the highest-quality ingredients, along with cheese. We have to understand the totality of their business. That's trademark excellence for us."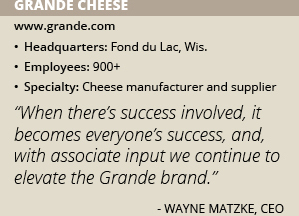 Grande Cheese's focus is as an advocate of the independent owners and operators. Its distributors help the company reach this independent business base throughout the country. "We have a good presence among that base," Matzke says. "It's really what we focused on when building our brand and trying to make their business more successful – to increase their level of business and grow the amount of cheese usage in their facilities."
Matzke says consumers are more discriminating than ever before. They want to know what ingredients are in their food to ensure it is healthy and nutritious. Grande Cheese produces a natural product, leaving out additives so customers can feel confident when consuming its cheese or whey products on the value-added side of its business.
"We work very hard to be at the leading-edge of the industry with those kinds of initiatives," Matzke continues. "It makes the brand attractive to the changing consumer dynamic. Our Value-Added Custom Ingredients group is creating specialized protein for protein additives in drinks and puddings, which is a hugely evolving market."
Social Responsibility
Grande Cheese is committed to being a socially responsible leader in its community by being aware of issues in business sustainability, the environment, its community and with its associates. These four factors are considered pillars that the company feels strongly about maintaining.
In business sustainability, Grande Cheese focuses on the farms providing the company with the milk. The main focus of this pillar is animal welfare and to ensure cows are treated humanely on the farms and especially during the milking process. Grande Cheese supports its producers with a staff that includes a full-time herd health and wellness veterinarian to ensure overall herd health and milk quality.
For environmental sustainability, the company focuses on crop rotation so the ecosystem can continuously regenerate. In addition, 34 percent of Grande Cheese's milk supply is produced with renewable power such as from methane digesters. Grande seeks to receive Gold Lead Certification on its new home office and research center. "We want to be good stewards of air and water resources by appropriately contributing to those related areas that help us as an entity and take care of our environment," Matzke says.
Community sustainability is something the company has been proud of for many years. Grande Cheese's associates dedicate their time and talent to several organizations such as Big Brother/Big Sister and the Boys and Girls Club of America. A recent initiative with the salesforce was to sponsor a young person in the Make-a-Wish Foundation. "That has been very moving for everyone in the company," Matzke adds.
What truly makes Grande Cheese successful, however, is its associates. Ensuring they have a safe, inclusive environment is another one of the company's pillars. Matzke says the company prefers the term "associates" because it shows how everyone works together to make the company successful. "We give people the understanding that they can have a career here; it's not just a stop in the job market," he notes.
Since its inception 75 years ago, the company has grown steadily, now employing more than 900 people. It has grown so much recently that the company had to build a new home office and research center in Fond du Lac, Wis., twice the size of its old office. Grande Cheese moved into the new facility this past June. The new office also includes a health and wellness clinic and fitness facilities that anyone in the company can use 24/7.
"It was a labor of love, but it allowed us to build for today and the future," Matzke explains. "With the home office and research center in one building, we can trade off the synergies of what associates bring to one another. There's more room and it's a better atmosphere."
In addition to the new home office, Grande Cheese worked with Tippmann Group, which designed and built the company's new warehouse and distribution facility in Lomira, Wis. This new 150,000-square-foot facility consolidated the inventories of four different facilities into one central facility. It opened in May 2015 and has given Grande Cheese the ability to become more efficient in its inventory practices.
"I'm proud of the initiatives the facilities have around efficiencies and productivity," Matzke says. "It comes back to the engagement of our associates, the interest they have in our account base and the ability to know the product we put out there every day is both a safe product and trademark excellence product that meets consumer needs. You can see the pride they have. When there's success involved, it becomes everyone's success, and with associate input we continue to elevate the Grande brand."