Grandma Hoerner's Foods produces natural, on-the-go snacks and other healthy delicacies while giving back to the community.
It can be hard to eat healthy if you're always on the go. Packing a banana or an apple for a healthy snack during your busy work or school day may only lead to bruised and damaged fruit. Grandma Hoerner's Foods wants to change the way people snack healthily with its Big Slice Kettle Cooked Apple Pouches.
"We're a manufacturer that produces natural and organic products and we always want to create product that exceeds customers' expectations of quality and deliciousness," co-owner and Vice President Regina McCoy says. "Our customers are mainly millennials who are looking for a healthy, convenient, shelf-stable, on-the-go snack. They're looking for a unique product that has a feel-good quality and they can feel like they're giving back."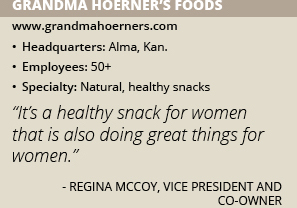 Founded in 1987, Grandma Hoerner's is celebrating 30 years of always honoring its customers. McCoy says that means going above and beyond to create a positive experience that allows the customer to believe in the company, product and team. For example, a customer recently had difficulties finding Grandma Hoerner's products in stores, so the team went out of its way to send her product and do research on where she could find the product closest to home.
"We're at that high level of customer service, even down to the individual consumer," McCoy says. "We want them to have an amazing experience with us, even if it costs us time or money. Whatever it takes, that's us."
Premium Products
Grandma Hoerner's produces more than 80 products in its factory that meet natural, organic or non-GMO status, and it develops new products seasonally as well. The company invested heavily in its shelf-stable pouches for the Big Slice brand and upgraded all manufacturing equipment and expanded its facility with more secure areas to improve food safety.
Grandma Hoerner's employs several food scientists to research and develop new and unique cutting-edge, delicious products. Besides its on-the-go fruit snack pouches, Grandma Hoerner's sells its Big Slice Kettle Cooked Apples and fruits in shareable jars for home cooking, such as a topping on waffles or just a snack. It also has a huge sauce collection, pie fillings, dessert toppings and savory products such as salsas and barbecue sauces.
"Our main focus is getting the nation to know how great this new, healthy fruit snack is," McCoy explains. "If we do a great job with people knowing about that, they'll know our other products are great too. They'll say, 'Wow, Grandma Hoerner's puts out the best healthy foods and we'll trust them when we want to buy delicious sauce, fruit butter or pie filling. We've fallen in love with their brand, mission and calling. We're going to buy into their company and trust them with all their product lines.' I want people to know our products are friendly, easy, but outrageously delicious and ensure people's experience with our company exceeds their expectation on every level."
Finding the Sparkle
Grandma Hoerner's is not only passionate about bringing a healthy snack to consumers everywhere, but the company also wants to give back in a big way. McCoy founded a nonprofit organization called Sparkle, which helps girls and women in need, especially those who were exploited in underground human sex trafficking. Sparkle is near and dear to McCoy's heart and a portion of every Big Slice pouch sale goes to the Sparkle foundation, which then distributes monetary gifts to charitable outreaches such as The Center for Victims of Torture, Polaris Project and Love 146, among others.
"I was adopted very young, but my parents kept the sparkle in my eye and spirit," McCoy recalls. "I didn't have to go from home to home and experience messy situations. In life, what we're seeing with these girls is that their sparkle is being destroyed. So, what we want to do is put the sparkle back in their eye, hearts and spirit. And you do that by giving to charity organizations and ministries to help them.
"I feel that our customers care about more than just the quality and taste of their snacks – they want to know that the company they are supporting is giving back, too. It's a healthy snack for women that's also doing great things for women."
This charitable feeling extends to the Grandma Hoerner's team. Everyone feels like they are part of a family and truly have a purpose within the company, McCoy says. This past holiday season, the company donated money to The Homestead in Manhattan, Kan., which houses girls who are being healed and helped. McCoy wanted to do more than give money; she wanted to give them a special gift but ran out of time.
Then, one of her team members bought each girl a shower and bath kit out of her own pocket. "I was so floored because I wanted to get something fun and pretty for the girls to make them feel good," McCoy says. "This world is filled with so many people that need help and to know someone cares, that there is hope."
Grandma Hoerner's is actively growing and wants to spread its healthy snack and message throughout the nation – and hopefully the world. It is looking for suitable partners to do just that, who can infuse capital for more brand awareness and marketing. "We want to get the message of our product out to the world: how you eat it, why it's so great and the special unique charity outreach that it has," McCoy says. "It's a big vision we have for our company – to be a global brand. It has that potential, and to have a global charitable outreach.
"I'm proud of everyone having such a giving heart that we want to give back and help and put out a great, delicious, premium, safe, high-quality product," she continues. "The mission in our hearts is for each other and what we can do on the bigger level. How can we live what we believe every day? Sparkle is one way we do that."